H1Z1 hits back: forget Battle Royale, meet Auto Royale
Last stand.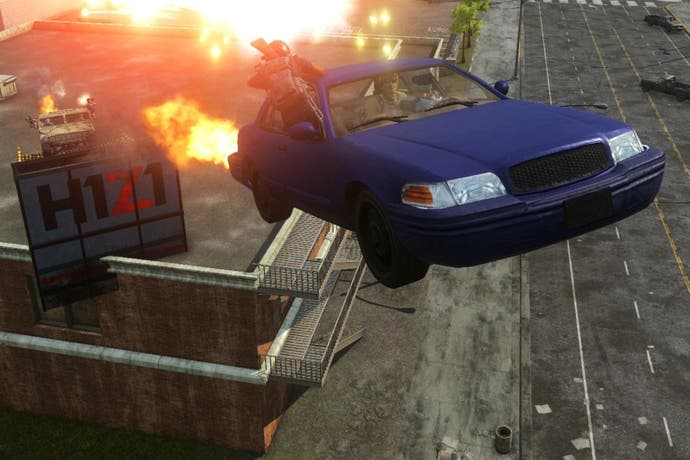 Remember H1Z1? The early Battle Royale Steam hit has seen a drastic drop in player numbers ever since PlayerUnknown's Battlegrounds and Fortnite took hold of the genre. But its developers have come up with a plan to get the game back into the big time - and it involves cars.
H1Z1 (the game formerly known as H1Z1: King of the Kill) leaves Steam Early Access today with a new "Auto Royale" game mode. The developers at Daybreak describe Auto Royale as an "arcadey, vehicle-only" Battle Royale experience. Essentially, it's Battle Royale with cars.
The mode sees up to 30 teams of four battle to be the last vehicle standing. There's a massive map packed with power-ups, weapons, ammo, fuel and health. Auto Royale introduces two new vehicles to the game: a sedan and an armored recon vehicle (ARV). Expect ramps, land mines, oil slicks, turbo boosts, vehicle jumps, corrosive smoke and more.
Daybreak hopes Auto Royale will help spark renewed interest in H1Z1, which was originally released on Steam as an Early Access title in January 2015. Recent reports have suggested the player base for King of the Kill dropped by 91 per cent after a peak in July 2017. H1Z1 has clearly struggled to retain and grow its audience in the same way PUBG and Fortnite have. Why?
"What we're seeing is that this is a very new genre and it's very volatile," Anthony Castoro, General Manager of H1Z1 told Eurogamer in a Skype interview.
"And we were the first ones that really came out with its own standalone version of Battle Royale. We're three years into it and so other people have come along with good games and followed that path. It's to be expected people are going to want to try different things.
"We've been working really hard for months on coming out of Early Access and providing this new content and our expectation is people are really craving new content. You're already seeing a lot of fatigue in some of the other games because they've been playing them for, four, five, six, sometimes nine months and as soon as another thing comes around that's a little different, people want to try it.
"Obviously we're aware of those numbers and while that news was unfortunate to come out, it's not something we're too concerned about because we know that we have a large fan base.
"There are a lot of people who haven't had the opportunity to try H1Z1 yet and when we come out with this content all at once with a car mode that nobody's ever seen before, we expect that we'll have a lot of new players, as well as returning players. We're really excited about the future of the game and what that entails."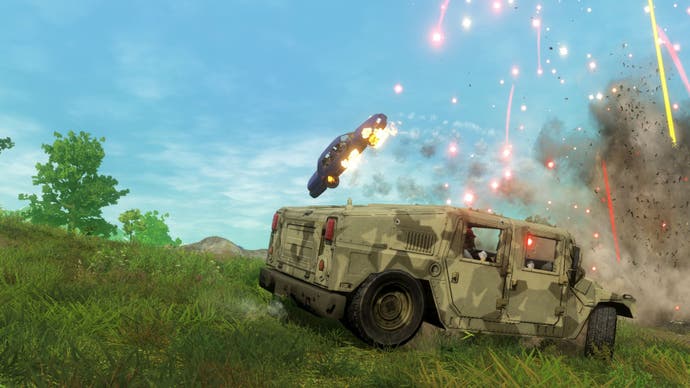 H1Z1 was a big hit, selling millions of copies and sitting pretty near the top of Steam's most-played games list. Daybreak aims to tempt those who played the game back when it was hot to return. That includes popular Battle Royale streamers, too.
"We've sold millions of copies right, so there's so many people out there who've played the game, who talk about it," Castoro insisted.
"Even when they're playing other Battle Royale games you'll hear them saying they started in H1Z1 or that the best players in these new games all came from H1Z1, or the most popular streamers of those games all started in H1Z1. So we know that a lot of people are going to come back. We know that a lot of the popular streamers are going to come back and a lot of people who've never seen H1Z1 are going to hear about it because of that and they're going to want to try the new car mode and if they like the car mode they're gonna try the regular Battle Royale experience. And so all of these things coming together in one big package is going to be really exciting and bring a lot of new growth and players back to the game."
Here's how the Auto Royale mode works: players start in the map in a crate, which opens to launch out their car. One player drives, the other three shoot. You drive over powerups to activate them, and shoot open crates to nab different weapons and equipment. Auto Royale employs the same ruleset as Battle Royale, so as the map shrinks the deadly gas comes in. The last team alive wins, as you'd expect. But the players are stuck in their car and can't get out. Daybreak describes it as a mashup of Mad Max, Dukes of Hazard and Mario Kart.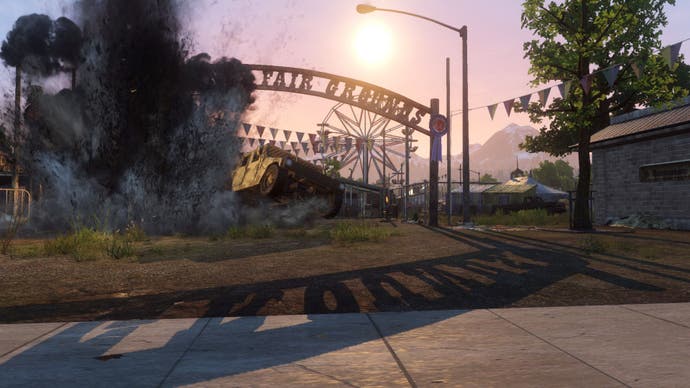 H1Z1 remains a premium product as it leaves Early Access, but the developers at Daybreak will consider going free-to-play, as Epic has done with Fortnite.
"We talk about that business model quite a bit and it's not something we have any plans to announce, but we're always looking at different business models to see what makes the most sense for our service and F2P certainly is one of the ones that we evaluate," Castoro said.
While H1Z1 leaves Early Access today, Daybreak said the Auto Royale mode is in beta. Meanwhile, Daybreak said it plans to release Z1 Remastered, a revamped version of the fan-favourite map from H1Z1's early days. Daybreak also maintains Just Survive, the post-apocalyptic survival game that emerged following the original H1Z1 split in 2016.