Guild Wars 2's world/server transfer system explained
Both paid-for and free via a "guesting" system.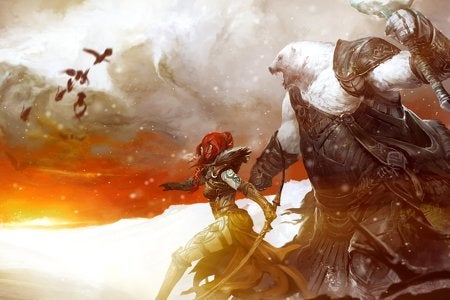 Guild Wars 2 let's you swap worlds/servers that you play on - once a week, if you wish, but for a fee.
All characters linked to your account will migrate to your new home, and all subsequently created characters will live there (unless you swap again) as well. Thankfully, it sounds like Europeans can inhabit US servers and vice versa. Changing a region means being "logged out for a short period of time while your account is moved", developer ArenaNet explained.
The fee for swapping worlds/servers is 1800 gems - the micro-transaction currency.
Guild Wars 2 will also let you "guest" on other worlds/servers free of charge, although doing so has some restrictions. You can't take part in world versus world battles, for instance.
That's because world versus world battles pit entire worlds/servers against each other in huge, hundreds-strong battles. And you fight in world versus world battles for the prestige of your world/server - not some "guesting" holiday home.
World/server transfers are up and running for this weekend's Guild Wars 2 beta test. You're given 2000 gems free of charge - enough for one transfer should you need it. The world/server guesting feature, however, won't be available in this weekend's beta.
The meaty list of servers available during this weekend's Guild Wars 2 beta are below.
Eurogamer recently flew out to ArenaNet's home in Seattle, US, to find out more about the people making Guild Wars 2.
US Worlds
Anvil Rock
Borlis Pass
Yak's Bend
Henge of Denravi
Maguuma
Sorrow's Furnace
Kaineng
Jade Quarry
Fort Aspenwood
Ehmry Bay
Ferguson's Crossing
Darkhaven
Vasburg
Eredon Terrace
Crystal Desert
Tarnished Coast
Steamspur Mountains
Blazeridge Mountains
Isle of Janthir
Sea of Sorrows
Deldrimor
Scavenger's Causeway
Moladune
Eternal Grove
EU Worlds
Kodonur
Gandara
Kodash
Blacktide
Istan
Vabbi
Kourna
Fissure of Woe
Underworld
Ring of Fire
Far Shiverpeaks
Petrified Forest
Jade Sea
Desolation
Magus Falls
Whiteside Ridge
Fort Ranik
Ruins of Surmia
Sharp's Corner
Aurora Glade
Riverside
Elona Reach
Augury Rock
Abaddon's Mouth
Will you support Eurogamer?
We want to make Eurogamer better, and that means better for our readers - not for algorithms. You can help! Become a supporter of Eurogamer and you can view the site completely ad-free, as well as gaining exclusive access to articles, podcasts and conversations that will bring you closer to the team, the stories, and the games we all love. Subscriptions start at £3.99 / $4.99 per month.