Grid 2 review
Off the grid.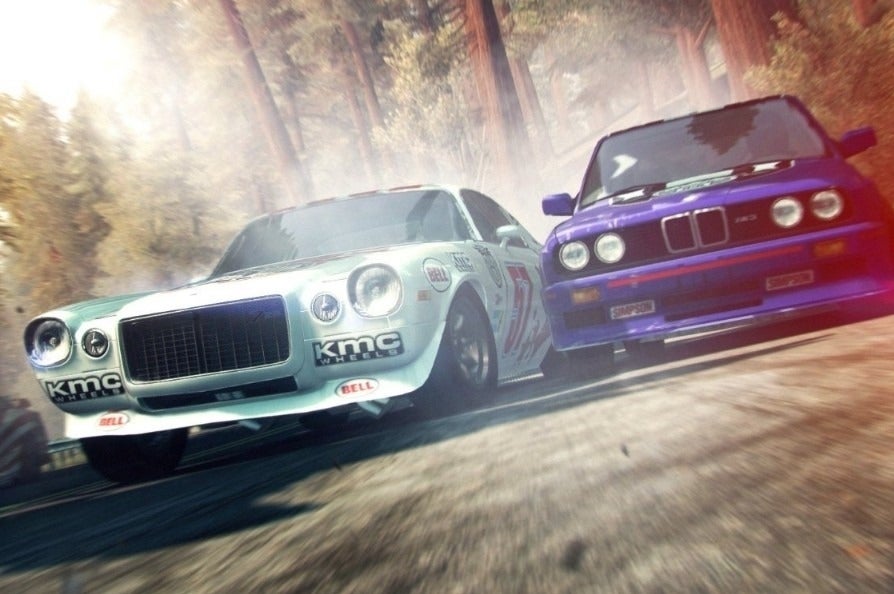 There's something excessively, charmingly melodramatic about American motorsports. When much-loved Brazilian Tony Kanaan took Sunday's Indy 500, it wasn't enough that he'd broken a 12-year duck in a race that saw 68 lead changes, nor that it was the fastest run in the event's 97-year history. Part of broadcaster ESPN's grand narrative revealed that, nine years earlier, Kanaan had given his good luck charm to an Indianapolis girl preparing for a life-and-death operation. On the eve of this year's race, he received a package that contained the charm and a simple note: "Here's your good luck charm back. You take it and win the Indianapolis 500."
When Kanaan, still soaked in the celebratory pint of milk as he stood in his cockpit, lifted the charm from the pocket of his overalls, it was an undoubtedly touching moment, and one that spoke of the pageantry and emotion that define US sport. Codemasters has been leaning on that attitude more and more heavily in its racing games - and with Grid 2, the UK studio's American accent has become so pronounced that it's screaming in your ear.
This is a racing game that's all about drama. It's there in the moody mist hanging over the Californian hills that house point-to-point races. It's there in the stirring soundtrack that kicks in during the last lap of a sprint around the streets of Chicago. It's there in the overstated rumble and roar of its garage, and it's absolutely explicit in the new partnership with ESPN, with its narrative that threads through all of Grid 2's disparate parts. The problem is, Codemasters' quest for the spectacular has left Grid losing more than it gains.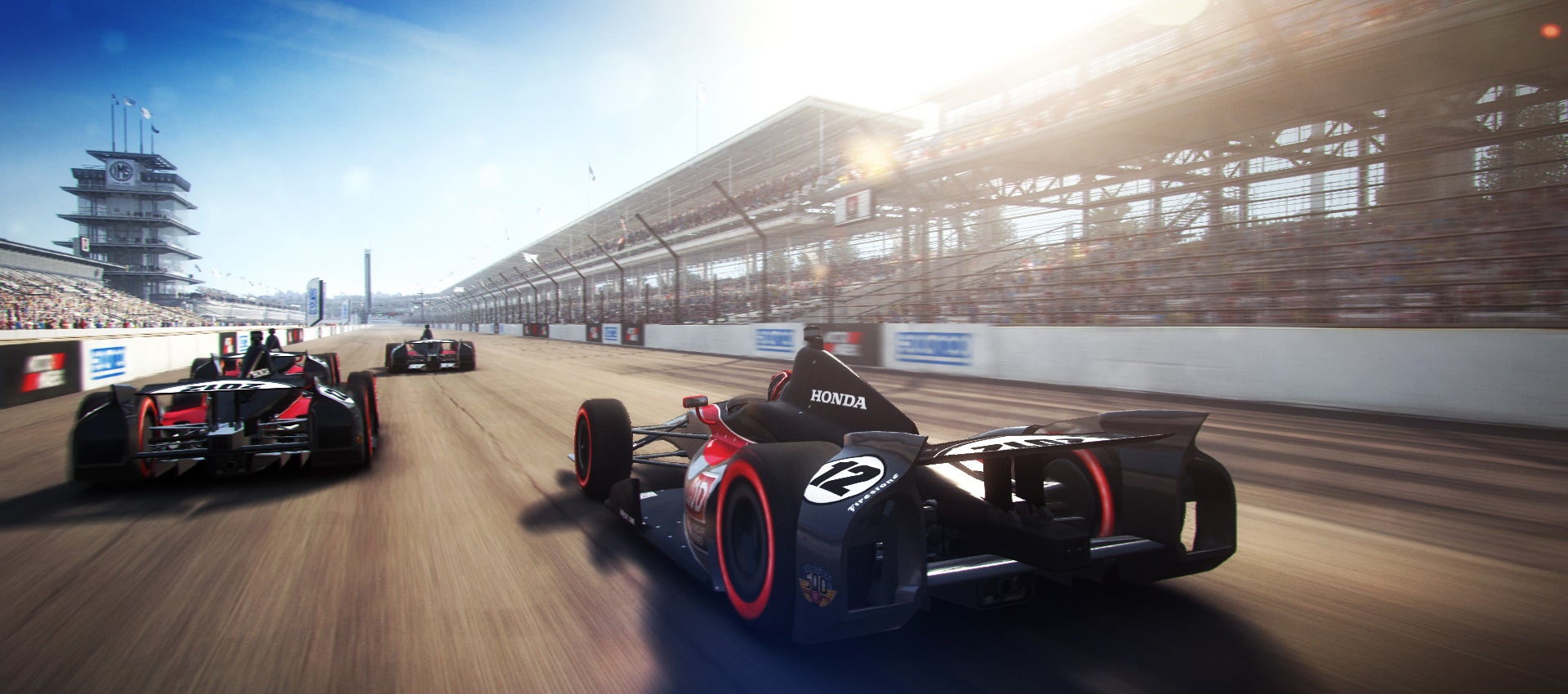 Like its predecessor, Grid 2 cobbles together a far-flung assortment of motorsports and places them all in one unifying, globetrotting career. It's an eclectic, eccentric selection - closed road face-offs rub up against checkpoint dashes and drift championships, and there's even room, albeit diminished, for standard track events - that ensures any session, online or off, is never wanting for variety.
And, like its predecessor, it's a smartly constructed assortment, presented with no small amount of flair. Race menus are housed, at first, in a ramshackle garage where your starter car jostles for space with a beaten-up mountain bike and where a laptop is lost amongst a jostle of toolkits and scribbled notes. Over time, and as more seasons are raced through, the space evolves to reflect your success behind the wheel.
Aside from the view, you're left wondering what exactly has been added for Grid's second outing
This level of presentation is, once again, matched on-track. Grid 2 looks sublime, never failing to cast any of its disciplines in a spectacular light. The wonderful new Portimao Circuit in the Algarve looks splendorous in the thick Portuguese sun, Big Sur is as imposing a backdrop as it should be, while cities such as Paris, Hong Kong and Dubai glisten with detail. The cars are all drawn with a muscular grace and are all prone to being hungrily torn apart piece by piece by the scenery and by their rivals.
Aside from the view, though, you're left wondering what exactly has been added for Grid's second outing. LiveRoutes, one of the headline additions, mixes up track layouts on the fly, turning a run through one of the urban environments into a tricky, unpredictable tour where a left corner may magically transform into a right-hander over the course of a single lap. It makes as much sense now as it did in 1997's Porsche Challenge - and there's a reason there's been little like it in the 16 years since.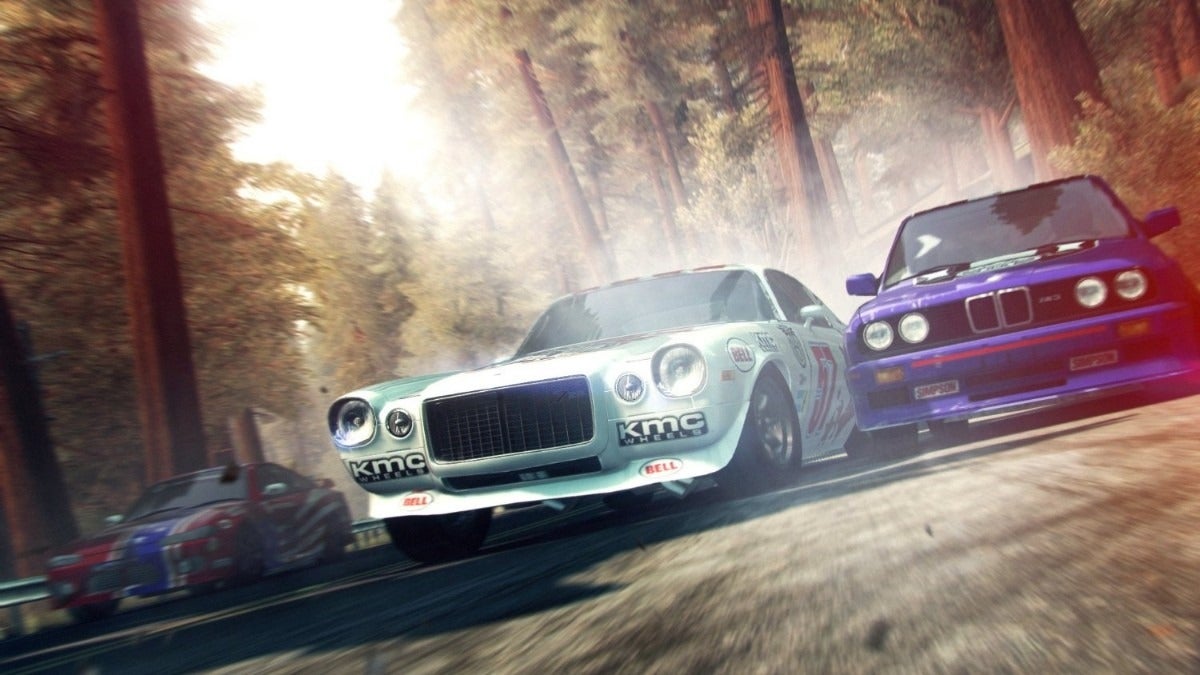 The career is now aggressively fronted with a tale - the story elements that were slowly pared back throughout the TOCA Race Driver series now making a belated return. You're in the employ of Patrick Callahan, creator of the fictional World Series Racing that frames the global tour. It's an odd, slightly regressive move that does little more than ground the obnoxious narration that's become a part of Codemasters' games in some sort of reality - and it certainly doesn't provide any real impetus to progress.
Thankfully, some of the original Grid's systems return to fulfil that role, though they've been stripped of some of their power. You're still building a team, designing the livery and assigning sponsors who pay out when particular objectives are met, but you're no longer able to hire a teammate, and the new currency is frustratingly obtuse. Events are now rewarded and unlocked by winning over fans, although Grid 2's too busy trying to thrill you with pointlessly animated counters to explain explicitly what success in any particular race actually means.
This is something that's handled more convincingly in Grid 2's separate online mode, where a simple levelling system feeds into a series of upgrades and customisation options. Splitting the single-player and multiplayer down this line only serves to underline how bloodless Grid 2's career can feel. RaceNet - Codemasters' alternative to Forza's Rivals and Need for Speed's Autolog leaderboard systems - is at least integrated across the whole game, lending single-player races a sense of meaning where the overriding narrative fails to.
There's a similar split present on-track - and it's just as disruptive. The first Grid managed to occupy the fabled middle ground between arcade and sim racing, providing driving that was snappy and fun even if it did lack a little in substance. With the assists off, there was enough to occupy the more serious player, while it adapted well enough to those after a lighter drive.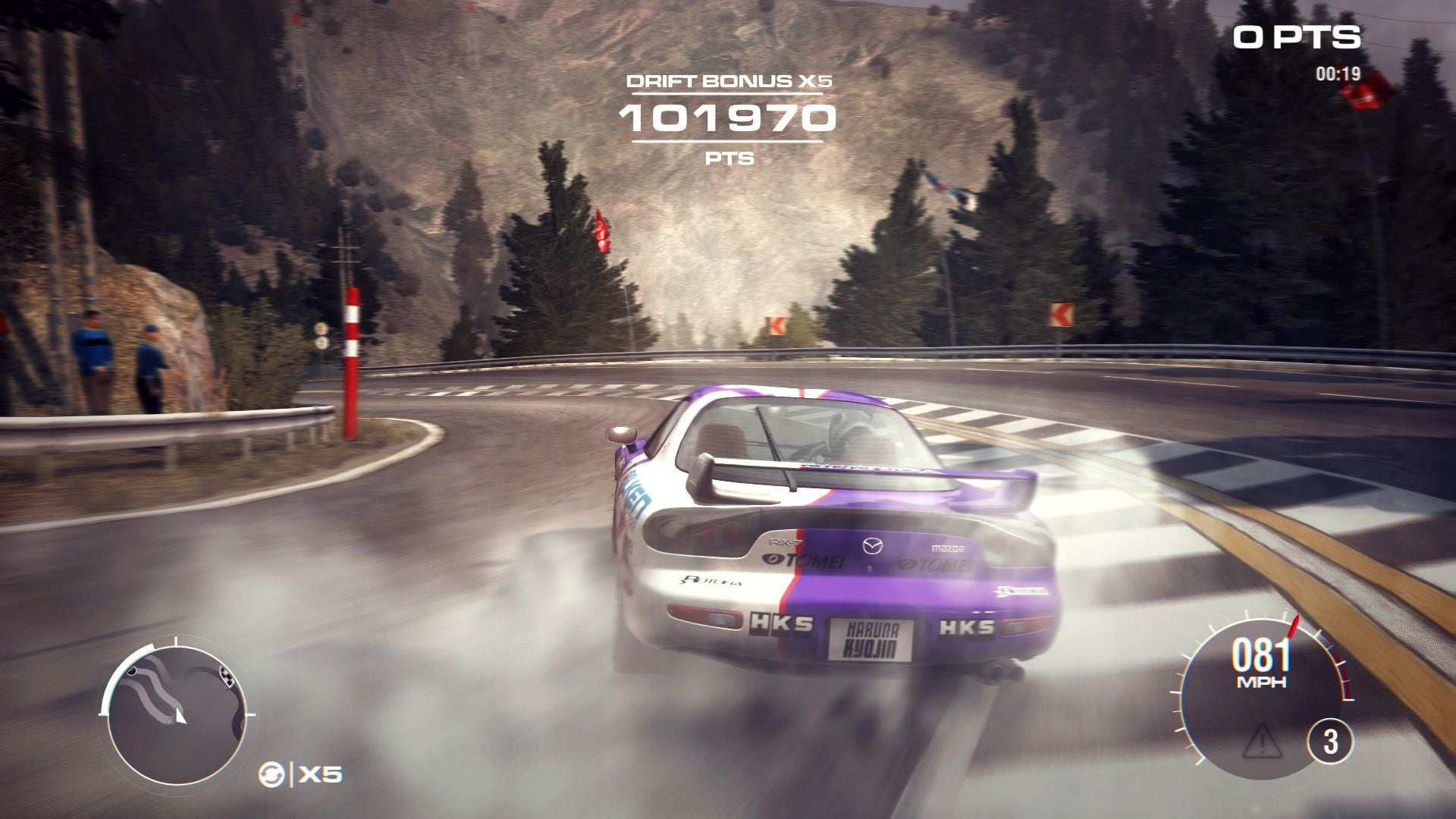 Grid 2's jettisoning of driver aids sees it firmly staking its own place in those muddy waters between arcade and sim racers, but where it ends up isn't wholly satisfying. Cars are uniformly nervous and tend to be unpredictable - two traits that ensure that, in spite of its attempts at accessibility, Grid 2's handling can be just as hard to come to terms with as Gran Turismo 5 or iRacing.
Still, once its peculiarities have been figured out, it's a fun ride where there's less emphasis on braking zones and more focus on bravery and improvisation. It's a model that doesn't suit circuit racing particularly well, and combined with several drivers strong-arming cars around in online races, it makes for chaotic, scrappy racing. But in the point-to-point events, it makes much more sense.
This puts Grid 2 in an odd predicament. In Dirt, Codemasters already has a series that excels in point-to-point driving, even if its emphasis is more off the tarmac than on it - and that series has begun to lose its less-than-convincing American twang. So Grid 2 is a strange backwards step, one that manages to retain some of what made the original great while getting lost in its own peculiar sense of drama and never adding enough worthwhile of its own. What should have been the return of a racing great instead feels like another curious offshoot, leaving Dirt now clearly Codemasters' premier brand.