Codemasters forum goes offline
Replacement "taking a little longer than intended".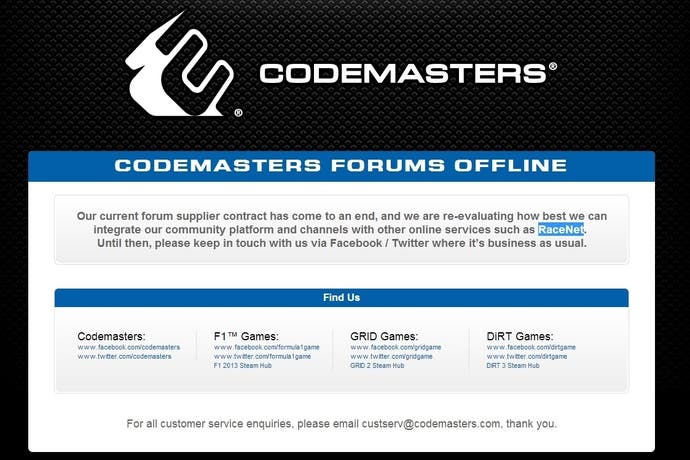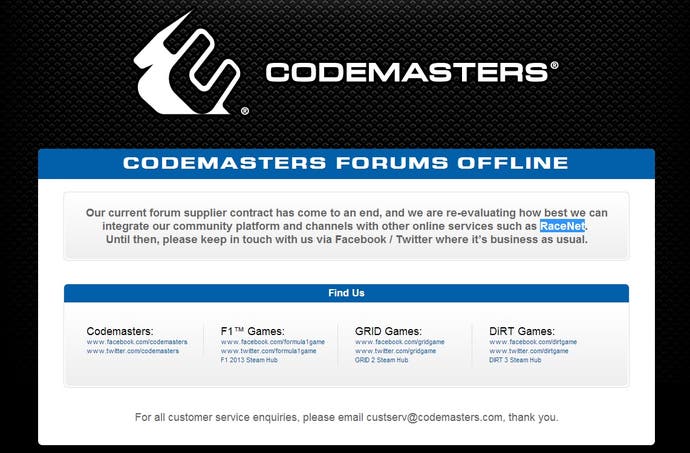 Codemasters' forum has gone offline.
The veteran UK racing game developer shut its forum down after it allowed its contract with its forum supplier to come to an end, according to a message posted where its forum used to be on the Codemasters website.
"Our current forum supplier contract has come to an end, and we are re-evaluating how best we can integrate our community platform and channels with other online services such as RaceNet," Codemasters said.
"Until then, please keep in touch with us via Facebook / Twitter where it's business as usual."
The message suggests the developer doesn't intend to replace the forum, but a Codemasters spokesperson told Eurogamer a new system was in the works, but wasn't quite ready yet.
"We're in the process of moving to a new platform that will expand the functionality of the forum and integration with RaceNet," the spokesperson said.
"It's just taking a little longer than intended... we'll be back soon."
Codemasters has a number of PC and console games in development, including ongoing work on the officially-licensed F1 games, and has in recent months experimented with mobile games.