Grasshopper considering Shadows of the Damned sequel
EA would "probably" be behind it.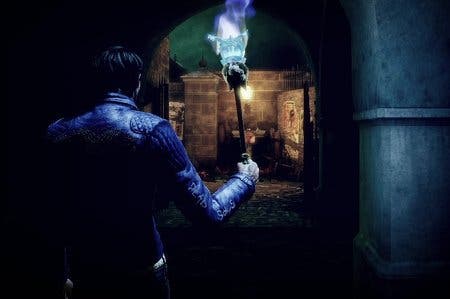 Japanese developer Grasshopper is seriously considering a sequel to its schlocky action horror game Shadows of the Damned - and says publisher EA would "probably" be interested in it.
Shadows of the Damned released last year, a collaboration between Grasshopper's Suda 51, Shinji Mikami of Resident Evil fame and featuring a soundtrack from Akira Yamaoka, most famous for scoring the Silent Hill series. It was warmly received by critics, and its ending left the door wide open for a sequel - but a poor response at retail seemed to rule out that possibility.
Shadows of the Damned came in a lowly 31st in the UK charts when it launched here, and fared little better elsewhere, selling only 24,000 units in its first month on sale in the US and shifting just 9145 units on its first week on sale in Japan.
Grasshopper's Goichi Suda has since expressed regret about the game. "I think it's really difficult to be successful with a new IP," he told Eurogamer at last year's TGS. "You really need an extraordinary amount of support to have a new franchise be successful. Unfortunately we couldn't really do as well as we hoped for."
Since then, Grasshopper has moved to a series of smaller titles, including the recently released shooter Sine Mora, produced in collaboration with Hungarian developer Digital Reality.
Eurogamer asked Yamaoka whether, considering the lacklustre sales of Shadows of the Damned, a sequel's still likely.
"I'm thinking of a sequel, actually," came Yamaoka's short reply. "I can't tell you here, but clearly I'd like to."
Asked whether it's something that EA, who worked in partnership with Grasshopper on Shadows of the Damned, would back any sequel, Yamaoka's reply was equally curt, if a little more definitive. "Probably," he said, before conceding: "Well, yes."