Grand Theft Auto 5 was the UK's biggest video game launch ever
UPDATE: Makes more than $1 billion in three days.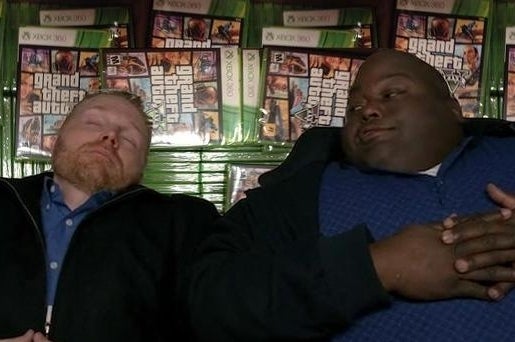 UPDATE# 2: Grand Theft Auto 5 has achieved $1 billion in retail sales worldwide despite having only been out for three days, publisher Take-Two interactive has announced.
The publisher noted that it believes this is the fastest that any entertainment property has achieved this milestone, and that includes film. The previous record for games was Call of Duty: Black Ops 2, which took 15 days to hit the one billion mark, while The Avengers set the box office record with 19 days to accrue that same amount.
UPDATE: Grand Theft Auto 5's worldwide day one sales have exceeded $800 million, publisher Take-Two Interactive has announced.
It also noted that GTA 5 had the highest launch day retail sales of any game in the Grand Theft Auto series or at Take-Two full stop.
"We are incredibly proud of Rockstar Games' creative achievement and could not be more pleased with the success of this launch," said Take-Two CEO Strauss Zelnick, stating the obvious.
Original Story: If you thought Japan's fervour over Monster Hunter was nuts, get a load of this: Grand Theft Auto 5 sold over 1.57 million units in the UK alone in one day.
This makes it the country's fastest-selling video game launch ever.
According to GfK Chart-Track (via GamesIndustry International), GTA 5 generated revenues of £65 million across its releases on both PS3 and Xbox 360.
The previous record was held by Call of Duty: Black Ops, which sold 1.41 million units and generated £58 million upon its 9th November, 2010 launch. It's worth noting that Black Ops was also available on PC, Wii, and DS (for some reason), which opened up a lot more avenues for gamers to play it. Just imagine how much more Grand Theft Auto 5 would have sold had it also launched on Steam. The mind reels.