Gears 5 goes smoke free
"I've seen firsthand the devastating impact of smoking."
Gears 5 is a smoke-free game. In fact, going forward, smoking is banned across the Gears of War universe.
Previous Gears of War games have featured characters who smoked. COG Michael Barrick, for example, was a chain smoker with an addiction to cigars. In Gears of War 3, Barrick would hold a cigar in his mouth while you were playing as him in competitive multiplayer.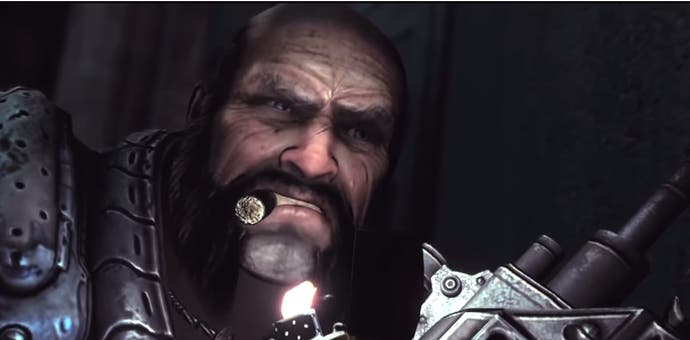 According to Variety, the decision not to include smoking references in the 18-rated Gears 5 came after not-for-profit anti-smoking organisation Truth Initiative approached Turner Broadcasting, whose ELeague esports division has broadcast rights to the game, about making a change. (There's a Gears 5 ELeague tournament taking place this weekend.) An Xbox representative said the decision was made solely by developer The Coalition.
Adding context, The Coalition chief Rod Fergusson issued a statement to Variety: "I've seen firsthand the devastating impact of smoking. It's always been important for me to not use smoking as a narrative device, which is why we made the conscious choice to avoid highlighting or glorifying smoking in Gears 5 and throughout the Gears of War Universe moving forward."
Fergusson then added more detail in a tweet, saying his anti-smoking push has been around for some time, and Gears 4 and 5 didn't feature smoking in the first place:
Just to clarify, I've always been anti-smoking and have pushed back on having it in Gears since day 1. There was no smoking to remove from Gears 4 or 5 because there never was any smoking to begin with. And as long as I'm in control, there never will be. Sorry for the confusion.

— Rod Fergusson (@RodFergusson) July 13, 2019
Pre-empting the obvious double-standard criticism (ban smoking but the glorification of violence remains), Seth Ladetsky, senior VP, Turner Sports Sales and head of Turner Sports Digital and ELeague sales strategy and revenue, cited research that shows a correlation between higher exposure to tobacco depictions in entertainment and a higher incidence of smoking adoption among younger people. "As you remove these images, it does have an impact," he said.
This is certainly a win for Truth Initiative, which is a US-focused organisation dedicated to ending tobacco use among young Americans. Citing research showing 62 per cent of esports viewers in the US are 18-34, CEO and president Robin Koval said: "In the midst of the pervasive reemergence of glamorised smoking imagery in pop culture, we commend [The Coalition] for taking smoking out of Gears 5 and ELeague for featuring this tobacco-free game during this weekend's competition.
"We are hopeful that this decision will encourage other game developers and streaming tournaments to follow this lead and level up the gaming experience by going tobacco-free."