Gang Beasts to receive Oculus Rift support
Esper developer Coatsink handling the conversion.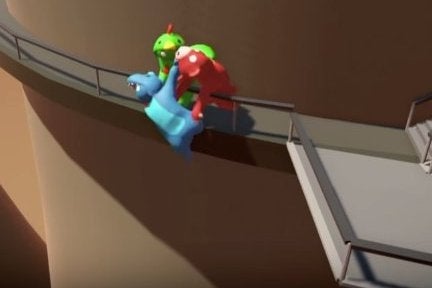 Ridiculous physics-based brawler Gang Beasts will receive Oculus Rift support with developer Coatsink handling the VR conversion of Boneloaf's insane multiplayer rumble.
Gang Beats is the debut effort of Boneloaf, a studio founded by three brothers: James, Jonathan, and Michael Brown. Since the game received so much attention at various gaming events and Steam Early Access, the studio has grown in size to eight.
Coatsink is no stranger to VR either, as it previously made the first-person supernatural puzzler Esper for Samsung VR (and coming to Oculus Rift). The developer just announced a sequel to that today with Esper 2, starring Nick Frost, Sean Pertwee and Lara Pulver.
Even in its early form Gang Beasts was a blast, as former Eurogamer editor Tom Bramwell praised it in his Early Access impressions over a year ago.