Gang Beasts for Xbox One delayed yet again
Stuck between The Rock and a hard place.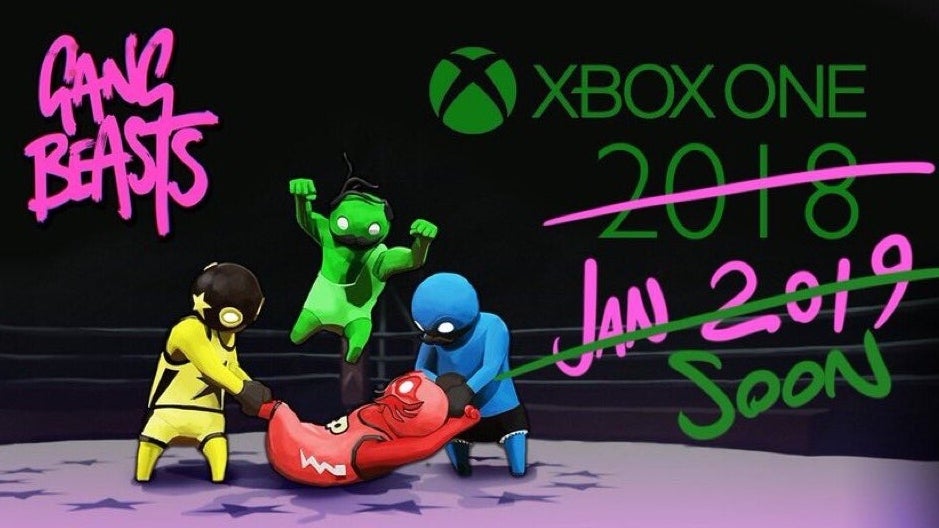 Despite initially being planned for release in 2018, it seems Gang Beasts for Xbox is still wrestling with a few problems, as the port has been delayed a second time.
In a tweet yesterday, Gang Beasts explained "a number of issues" were preventing the Xbox version from being released on schedule, prompting the change in release date to a vague "soon". The knock-on effect of this means plans to open up pre-orders today have also been scuppered.
Happy New Year! Miserable News! Unfortunately, we're still working to fix a number of issues stopping us from opening Xbox One pre-orders from tomorrow. We'll post more information with new pre-order and release dates as soon as we can, sorry for the wait https://t.co/WSOoX2iioI pic.twitter.com/N5sqr7cefq

— Gang Beasts (@gangbeasts) January 8, 2019
The indie brawler, which pits players against each other in messy melees, has become a popular party game on PC and PS4. The Xbox version was announced at last year's E3, with an initial release date of 2018: but this date was then pushed back to January 23rd. Hopefully it won't be a flop when it eventually release. Whenever that may be.