Gang Beasts will be kept alive via new self-published updates
As Double Fine Presents indie label "winds down".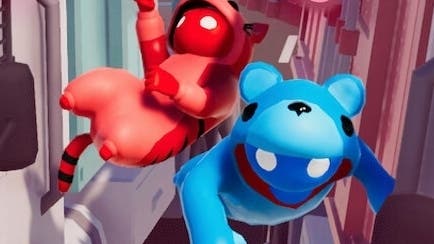 Colourful platform brawler Gang Beasts will continue to receive updates despite its developer parting ways with publisher Double Fine.
The acquisition of Psychonauts studio Double Fine by Microsoft last year left the future of its indie publishing scheme in doubt. Subsequent comments from boss Tim Schafer suggested the studio would call time on the initiative. Double Fine Presents publishing boss Greg Rice then left the company last November.
Today, in a new blog post, Gang Beasts studio Boneloaf said it was now taking on publishing duties itself as Double Fine Presents was indeed "winding down".
The first update published by Boneloaf will feature only small changes, before new stages and costumes arrive in the future.
Boneloaf's blog post on parting ways with Double Fine goes on to thank the studio for its help and friendship over the years. It is titled "Boneloaf take Double Fine to a fancy restaurant so they won't make a big scene".
The Double Fine Presents program had helped publish nearly a dozen indies, including Gang Beasts, Knights and Bikes, Everything, Escape Goat 2 and Gnog.
Microsoft announced Double Fine's acquisition at its Xbox E3 press conference last June. In September, Schafer told Destructoid the future of Presents was "kind of an unknown".
"It doesn't make sense to do exactly the kind of publishing stuff if we can't do it - like if the platforms are limited," he said. "From a business sense, I don't know if it structurally makes sense to have a publisher within [another publisher]. It's a complicated issue."