Multiplayer brawler Gang Beasts gets PS4 release date
Beef-em-up.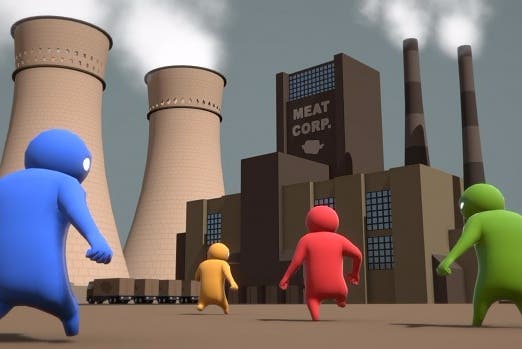 Hysterical multiplayer brawler Gang Beasts is coming to PlayStation 4 on 12th December, just in time for family arguments this holiday season.
According to the official PlayStation blog, Gang Beasts will arrive with new modes like "clumsy-yet-brutal two vs two soccer matches", a four-player co-op horde mode and various customisation options.
Gang Beasts sees players take on the role of Beef City thugs, going toe to toe in a variety of challenges (mainly: punching, kicking and humiliating each other). You can hurl your foes from fearsome heights, into fiery incinerators and hazardous machinery. Just the fun kind of violence everyone needs after a filling Christmas dinner.
If you want an idea of the chaos Gang Beasts has in store, just check out the video below which shows Eurogamer's Ian Higton, Tom Phillips and friends going head-to-head:
Eurogamer has praised Gang Beasts on numerous occaisions through its long road from Early Access to final release - and it made its way onto our favourite local multiplayer games list last year.