Gamescom 2020 preparations "continuing as planned"
"We look forward to you and your participation."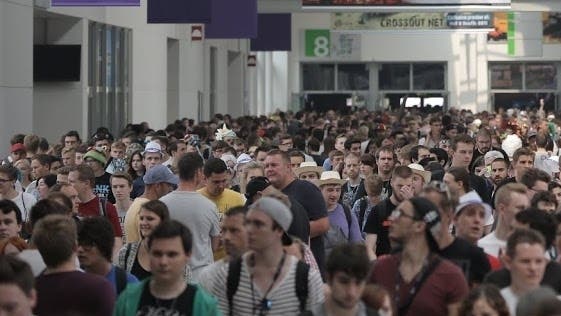 Rezzed, GDC and E3 may be canned, but Gamescom 2020 - due to take place later this summer - is still on the cards.
Addressing speculation it too might be called off, Gamescom has now released a statement saying that - for the moment at least - the annual Cologne-based show will still go on.
"We are currently receiving enquiries about how a possible threat from the coronavirus could affect Gamescom," the event stated via Twitter. "We take this topic very seriously because the health of all trade fair visitors and partners is our top priority."
Cologne authorities last week banned gatherings of more than 1000 people until 10th April.
373,000 people attended Gamescom in August last year.
The show - which has a large area open to the public - is notorious for its tightly-packed walkways and heaving halls. And, outside the Kolnmesse convention centre itself, its participants flood the city and its public squares. Every year I've gone, this has been a typical scene trying to get in:
Gamescom 2020 isn't due to take place until the end of August, but it seems likely Cologne's ban on large events will be extended at least for a while longer.
"We will of course follow the recommendations of the responsible authorities regarding major events," Gamescom concluded, "evaluate them on a daily basis and make our decisions after careful consideration. The preparations for Gamescom 2020 are continuing as planned according to the current status for the determined date."
With E3 off, Gamescom is the biggest potential platform for publishers to show off new games and for Microsoft and Sony to flaunt new hardware before the holiday season kicks off. The question is whether the show will be allowed to take place.