GameCube classic Killer7 is getting a PC re-release
Five alive.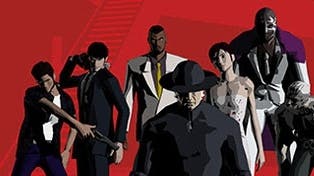 13 years after its original release, GameCube classic Killer7 is getting a new PC version.
Directed by Suda51 and co-written by Resident Evil's Shinji Mikami, Killer7 is a rail shooter where you play as one of seven hitman personalities, each with their own abilities.
Originally intended as a GameCube exclusive and part of the legendary Capcom 5 (Resident Evil 4, PN03, Dead Phoenix, Viewtiful Joe) Killer7 eventually arrived in 2005 for GameCube and PlayStation 2.
Publisher NIS America announced the remaster yesterday - although there's no word yet on what exactly is being updated or changed. Here's a trailer:
"It's a concept game, an arthouse game, a simple game, an often beautiful game, but most certainly never an everyman's game," Kristan Reed wrote in Eurogamer's original Killer7 review. "It's a damned fine effort."