Four years after it was announced, Crackdown 3 is in a tough spot
Pie in the sky.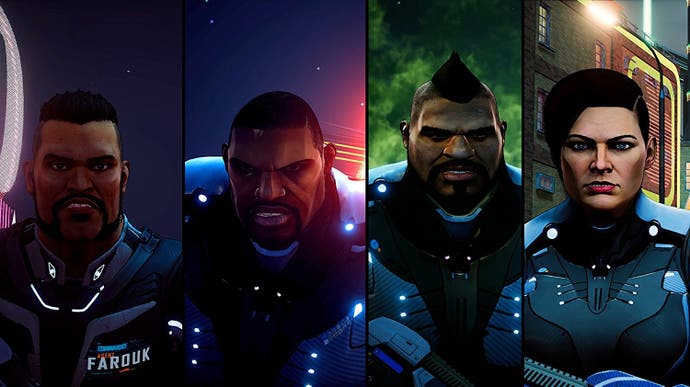 When Dave Jones, one of the chief creators of Lemmings, Grand Theft Auto and the first Crackdown game, took to the stage during Microsoft's 2015 Gamescom media briefing to present pre-alpha in-game footage of Crackdown 3, gamers were promised a competitive multiplayer open-world experience with "100 per cent destructible environments". By connecting to the Microsoft cloud, Crackdown 3 would benefit from 20 times the computational power of the Xbox One, we were told. As virtual buildings blew apart in the most realistic, expansive way we'd ever seen in a video game before, Crackdown fans dared to dream about the kind of game they would eventually play.
As with so much to do with video games, however, dreams rarely turn into reality.
Fast forward to 2018 and Crackdown 3 is in a tough spot. It's suffered multiple delays, met with apathy online and was even rumoured to be cancelled. Behind the scenes, developers - a raft of developers - have worked hard to turn Crackdown 3 into a real video game that will actually come out. They have faced multiple challenges along the way, which, people close to the project speaking with Eurogamer anonymously have indicated, has a lot to do with that pesky cloud-powered multiplayer, its "100 per cent destructible environments" and exactly who is - and isn't - working on the game.
---
At Gamescom 2015, Microsoft announced Dave Jones as creative director of a company called ReAgent Games. Jones, whose last high-profile video game was the failed MMO APB, talked to press about an ambitious cloud gaming technology that would power Crackdown 3's multiplayer destruction. This tech was built by another company called Cloudgine, which was set up by other ex-Realtime Worlds employees in 2012 and invested in by Jones. Crackdown 3's appearance at Gamescom made it look like the game was being - and would continue to be - developed by ReAgent Games and powered by Cloudgine tech. Neither is now the case.
In fact, Jones was only ever a consultant on the project. The chief developer of the wonderful first Crackdown game, which was built by the now defunct Realtime Worlds, told Eurogamer: "I wasn't doing the development."
"I really felt I was there more importantly at the start to get the thing off the ground," Jones told Eurogamer. "If we were going to do a Crackdown 3, what would be some of the strong features for it? I was really there in an advisory role more than anything else."
Sumo Digital, the UK developer behind Snake Pass and the upcoming Team Sonic Racing, is the main developer behind the new Crackdown. In fact it has been throughout the project. But work for hire studios are often left off publisher press releases and official websites, their contributions to big games either going unnoticed or unannounced - to the frustration of many of the bosses of these studios.
"Sumo was really doing the development," Jones said. "That's fine. Once it was fully underway and under development, my role diminished anyway."
Now, Jones is no longer working on Crackdown 3 at all. In 2017 Epic Games, maker of Fortnite, bought Cloudgine and its tech and with that Jones began life as a member of staff at the North American company, working on the cloud and esports. A source close to the development of Crackdown told Eurogamer Jones officially left the project in September 2017, although Microsoft did not announce this at the time. Jones remains a director at ReAgent Games, but we understand the Dundee-based studio has effectively downed tools. Its official Twitter account hasn't tweeted since January 2017, and its official website is offline.
Sumo Digital isn't the only studio that's worked on Crackdown 3. Microsoft Studios has contracted a number of UK work for hire studios to contribute, including Ruffian and Red Kite Games. Ruffian's involvement is not without a sense of irony. Development of the embattled Crackdown 2 went to Ruffian, which, like Realtime Worlds, is a Scottish studio. Ruffian and Jones' companies have enjoyed a "friendly rivalry", as one source put it to Eurogamer, so when the former was parachuted in to help turn Crackdown 3 around, there were more than a few wry smiles up in Scotland.
---
The new Crackdown has soldiered through a number of challenges in development, many of which are a familiar story in the video game industry. We've heard Jones' ambitions for the game - tantalisingly outlined at big media shows such as Gamescom - were simply too big to be made a reality in a fully functional, multiplayer environment on Xbox One. We've also heard Crackdown 3 has struggled in terms of solidity of vision and lacked clear management. As one person familiar with the project put it, who was and wasn't working on the game was a source of many past and present issues.
Crackdown 3's ambitious competitive multiplayer, too has proven troublesome. Microsoft has yet to demo Crackdown 3's PvP to press, instead preferring to focus on the locked-down, Sumo-led campaign (which we played at E3 2017). Jones' eye-catching demo that showed impressive destruction tech in a multiplayer Crackdown-themed environment, it turns out, was only ever about showing off the potential of the cloud. It was never intended to represent gameplay gamers might actually get to experience.
"That was an example of the kind of thing you could potentially use cloud to do," Jones told Eurogamer. "It was not vaporware. It's there. It's real. That's why I say, I think cloud still has a huge part to play in the future of gaming."
Phil Spencer, boss of Xbox, told Eurogamer that Sumo Digital should be thought of as the primary developer of the game. He said Dave Jones was "critical" in the early system design and intellectual property design for Crackdown 3, but, "at some point then it becomes, okay we've got to finish the game".
"Dave's obviously now a part of something else and the acquisition that went through. He's very much somebody who's great at starting games and getting those ideas in place."
Dave Jones, who is still based in Scotland, now has a new job title: Director, Cloud & Esport Strategies at Epic Games. He's currently getting to know his new colleagues and thinking about how to make Fortnite a global, mass appeal spectator esport even those who don't play the all-conquering battle royale game will watch.
---
As of June 2017, Microsoft was confident enough in Sumo's work on Crackdown 3 to offer a playable build at E3 and then at Gamescom. This meant putting together a version of the Crackdown 3 campaign that would impress gamers and press. Then, the competitive multiplayer portion of Crackdown 3, the part of the game with 100 per cent destruction, was set in an arena that supported up to 10 players online. The idea for the competitive multiplayer was that it would feature 20-30 minute battles, with the aim of the game to destroy the enemy team's tower before the time runs out. The campaign, which Sumo Digital has had locked down for some time, is different. It lets you play with up to four friends online, but you can play offline on your lonesome. The two experiences are different enough for them to be considered two separate games. Indeed, the competitive multiplayer game has its own name: Wrecking Zone.
The question now is whether Crackdown 3 uses any of this Cloudgine-built tech at all. Jones told Eurogamer that the ball is in Microsoft's court.
"There was a bunch of technology that Cloudgine developed for Crackdown," he said. "How that gets used, I don't know. Ultimately that's Microsoft's decision. But that depends on cost - there are many factors on that. I was really just there to show the potential for the cloud, and then Microsoft would keep working on that depending on how they wanted to surface that."
Microsoft told Eurogamer the technology created with Cloudgine and Dave Jones "is the foundation for the Wrecking Zone mode of Crackdown 3".
"A sincere thanks to Dave Jones and the Cloudgine team for their work done in partnership with MS Studios to build the cloud-powered technology in Crackdown 3 from scratch," reads Microsoft's statement sent to Eurogamer. "The development of Crackdown 3 is not impacted by Epic Games purchase of Cloudgine. We look forward to sharing more on Crackdown 3 and having fans get their hands on the game when it launches in February 2019."
Crackdown 3's showing at E3 and Gamescom in 2017 did not blow gamers or press away. The build suffered from a number of bugs, which worried many given the game was due out alongside the Xbox One X on 7th November that year, but perhaps more concerning for Microsoft was it failed to excite the gaming audience. In short, the reception to Crackdown 3 was apathetic, and the planned reveal of the competitive multiplayer game later in 2017 failed to materialise.
Just before E3 2018, Microsoft announced Crackdown 3 was once again delayed, this time to early 2019. "Our fans' response to the signature antics and explosive gameplay of Crackdown 3 has been incredible," Microsoft said in a statement. "To ensure we deliver the experience they deserve, Crackdown 3 will be launching in Feb 2019." While Microsoft released a new video for Crackdown 3 at E3 2018, it did not bring a playable build of the game to the show - a year after it let the press and public play the game at E3 2017.
At points throughout the last 12 months I'd heard from some within the UK video game development community that Crackdown 3 was in danger of being cancelled as a result of its apathetic reception among gamers and its development troubles. Xbox boss Phil Spencer, himself a fan of the first Crackdown game and the person who gave Crackdown 3 the green light, told Eurogamer that he decided to delay Crackdown 3 after playtesting the latest build.
"I might be partially to blame on this one," Spencer told Eurogamer. "I'm a huge fan of Crackdown. I played a lot of Crackdown 1. It's one of my favourite Xbox franchises. Earlier in the spring I got asked by somebody whether it was cancelled. I said no, the team has a date. They know the date and they're shooting for it, which was the date I had in my head. And then I started playing the game and it didn't feel right to me. I felt like the game needed more time to reach what I think of as Crackdown, which I think should be a strong Xbox franchise."
One of the aspects of the game the developers have worked on behind the scenes is its appeal to people who might not have played a Crackdown game before. While Crackdown was critically-acclaimed and much-loved within core gamer circles, it was never Microsoft's biggest franchise and suffered in comparison to the likes of Halo, Fable, Forza and Gears of War.
"You can't just create a game that fools like me, who played a tonne of Crackdown, love," Spencer said. "You also need to be inclusive to people who've never seen the game. That's just work. The team is on it and they've got a plan."
After Microsoft decided to delay Crackdown 3 yet again - the final time the company is willing to do so, I've heard - some of the developers at the various studios on the game were faced with continuing to work on the project after having previously thought they'd be done with it in June 2018 - this for what some expect will be a disappointment of a release no matter how much money and resources Microsoft throws at it.
"It's hard to move games," Spencer said. "There's no doubt about that. It's expensive. You have to make sure the team has the energy for it, so it takes time to go and have all of the discussions, make sure you're saying you've got clear ownership and leadership in place for the important issues. But we made the decision we were going to move the game because we wanted to give it the time to be right."
Talking of leadership, Microsoft has pushed Ken Lobb, who is perhaps best known for working with Rare on GoldenEye for the Nintendo 64 in the mid '90s, to lead the management of Crackdown 3 and provide the developers with a focal point for decision-making.
The delay was also about giving Crackdown 3 as favourable a launch window as possible. Its previous release window, which was autumn 2018, is a crowded one, with a number of big-budget video games set to launch.
"I also wanted to move it to a time where I thought it could be successful," Spencer added. "Let's just say this fall is a little crowded, when you go through Call of Duty, Battlefield, Red Dead, Just Cause, Assassin's Creed. I wanted to make sure it had time to actually find an audience, where everybody just wasn't out playing another game.
"We landed on a spot where we can make a better game, and it'll be at a time where it has an opportunity to find an audience. It's hard though. It is financially expensive to extend it. But we did make sure we got the leadership straight in terms of how we're managing that and who the people are."
Unfortunately for Crackdown 3, early 2019 has all of a sudden become a crowded window for the release of games. Games such as Anthem, Days Gone and Metro Exodus all launch on the same day as Crackdown 3 in February. Then March sees the release of The Division 2. It's tough to see Crackdown 3 holding its own in that bunch.
---
Speaking to people close to Crackdown 3's development, we've formed a picture of what has been a challenging development. The making of video games is often a messy business, and the making of Crackdown 3 has, so far at least, been no exception. And, four years later, we still haven't seen Crackdown 3's ambitious multiplayer.
"Multiplayer is in some ways more complicated than single-player," Spencer told Eurogamer, "but we're committed to both."