Fortnite Battle Royale is heading to mobile devices very soon, features PS4 and PC cross-play
UPDATE: Cross-play confirmed for Xbox One too.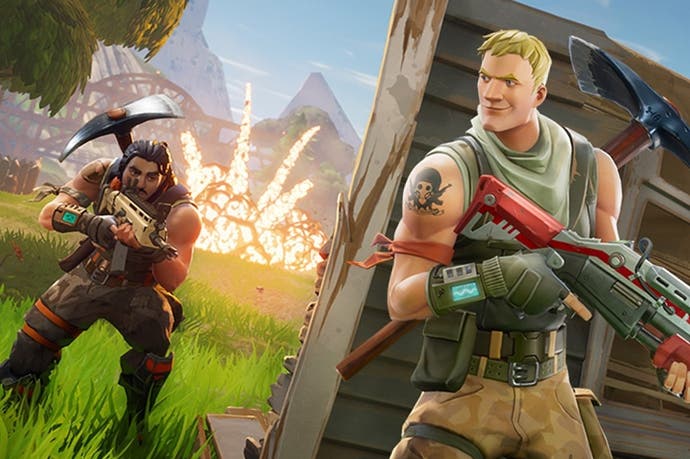 UPDATE 12TH MARCH: Fortnite Battle Royale cross-play is also coming to Xbox One.
"We're happy to announce today that in partnership with our friends at Microsoft, Fortnite will feature cross-play, cross-progression, and cross-purchase, between Xbox One, PC, Mac, iOS and (in the next few months) Android," the Fortnite Team announced at the weekend.
"Contrary to what may have been implied, Microsoft has long been a leading voice in supporting cross-platform play, connecting players across PC, mobile and all consoles. We've been working together with them over the last several months to make this possible, and will bring this functionality to Fortnite players on Xbox right along with other platforms."
Notably, Xbox One and PS4 audiences will not be able to play together. On Twitter, however, Xbox's Phil Spencer and Fortnite developer Epic both said they would like PS4 and Xbox One audiences to be able to, suggesting Sony is the spanner in the works.
ORIGINAL STORY 9TH MARCH: Epic has announced that Fortnite Battle Royale will be heading to iOS and Android mobile devices, with iOS users able to sign up for action from next week.
Android and iOS players will be able to enjoy the full Fortnite 100-player Battle Royale experience, says Epic, featuring the "same gameplay, same map, same content, same weekly updates" seen on the PC, PlayStation 4, and Xbox One versions. The game will arrive on Android "in the next few months", while roll-out begins on iOS from Monday, March 12th.
Fortnite on mobile will support cross-play and cross-progression "in partnership with our friends at Sony". This means that PlayStation 4, PC, Mac, iOS, and eventually Android, users will all be able to team up and play together. Xbox One players are notably excluded from the cross-play fun, however. Microsoft, of course, struck its own last-man-standing exclusivity deal with PlayerUnknown's Battlegrounds last year.
To get involved with Fortnite on iOS, at least in the early stages, you'll need to sign up to Epic's "Invite List" via the official website, with registrations opening on March 12th.
A select number of registrants will be invited to play the game soon after, and additional invites (featuring a download link to the App Store) will be sent out regularly over the coming months. Invitees will also receive codes to share with their friends, says Epic.
In order to play Fortnite on iOS, there are a couple of stipulations: you'll need an internet connection and iOS 11. Supported devices, meanwhile, are restricted to iPhone 6S/SE, iPad Mini 4, iPad Pro, iPad Air 2, iPad 2017, or higher.