FIFA 19 Ultimate Team players in uproar after EA makes some cards virtually "extinct"
Ronaldon't.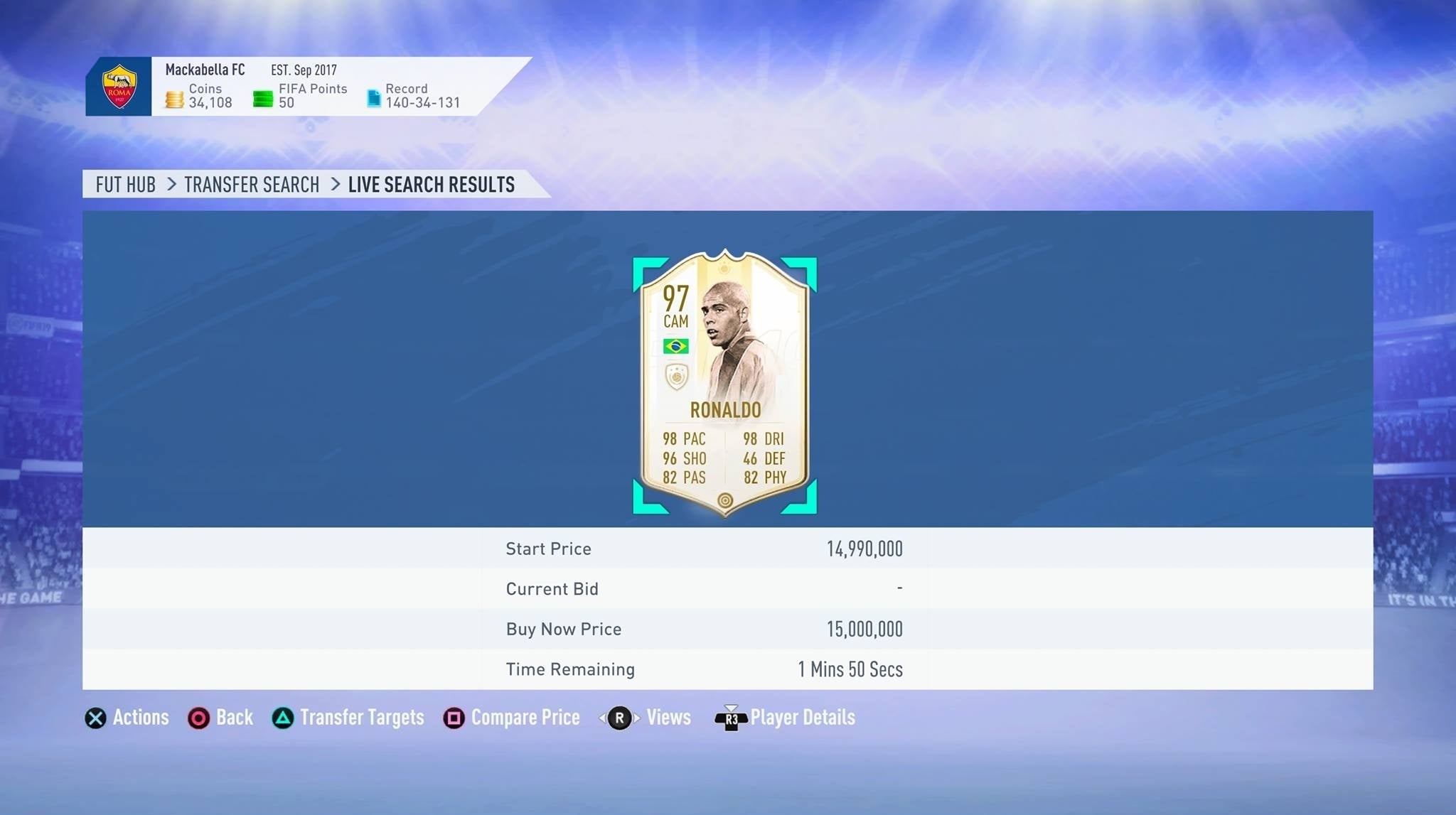 EA has come under fire for the way it's handled Icons in FIFA 19 Ultimate Team after a recent move that made a number of the best cards in the game virtually impossible to get.
For context, EA recently added Prime Icon Moments cards to FIFA 19 Ultimate Team. These are even better versions of Prime Icons - what were already considered the best versions of Icons such as Brazilian Ronaldo and Dutch superstar Ruud Gullit.
Then, yesterday, EA launched Squad Building Challenges for Icons in FUT 19. Squad Building Challenges, or SBCs as they're known, task you with trading in a number of cards for a reward. The more valuable or sought after the reward, the more valuable the cards needed to be traded in.
A tweet from EA then set the cat among the pigeons. EA said it didn't make Prime Icon Moment cards available as SBCs because their value was "above the threshold that we aim for an Icon SBC".
"The feedback from the community has been that you want to progress towards getting your favourite Icons and therefore we made the decision to release them as Prime SBCs."
Why not just lower the requirements for the Prime Icon Moments, then? EA, at the end of the day, is in control over FIFA 19. What's stopping it making an SBC below the threshold it's comfortable with?
According to EA, Icon SBCs in FUT 19 "are directly priced based on their market value".
And then, confirmation that this latest set of Icon SBCs would be the last for FUT 19. "No further individual Moments or Prime Player SBCs will be released in FUT 19," EA said. This means those Prime Icon Moments cards that haven't had SBCs won't ever get one.
To say these tweets haven't gone down well would be an understatement. The FUT community is currently in uproar over the decision, and has taken EA's statement as casting blame on the community for a situation of EA's own making.
Perhaps more worryingly, what the move has essentially done is make certain cards - those Prime Icon Moments cards only available in packs - virtually impossible to get as we near the end of FIFA 19's life.
Brazilian Ronaldo's Prime Icon Moment card is a case in point. This card is not available through any challenge, SBC or otherwise, and, according to EA, it never will be. The drop rate for the card is close to zero - potentially even the lowest in the game - if you fancied trying to get it from opening packs. And if you wanted to buy Ronaldo's Prime Icon Moment card from the in-game auction house, you'd be looking at forking out an eye-watering 15m FIFA Coins. And that's if the card is even on the auction house (it rarely is).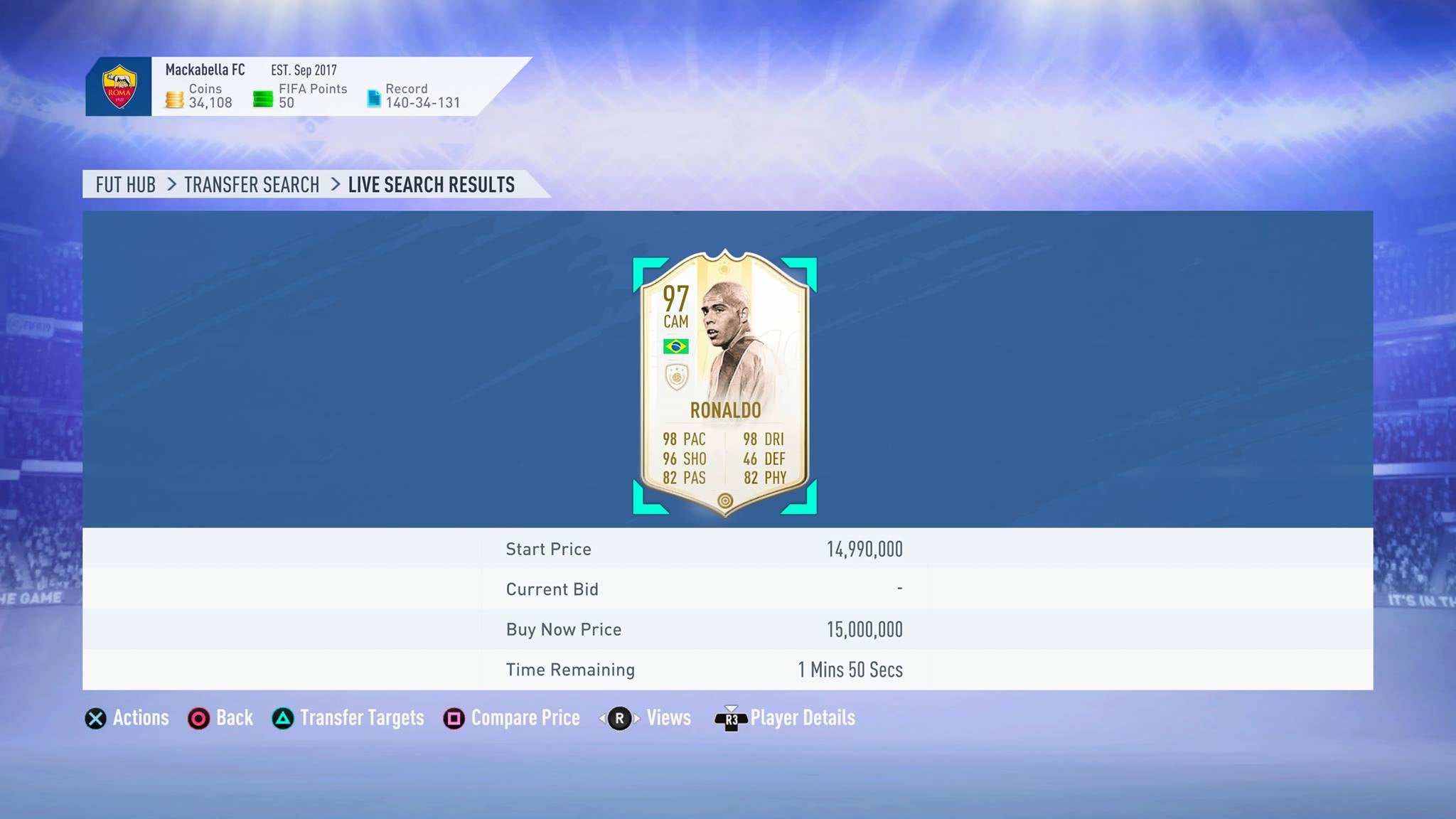 I had a look on the PS4 auction house today and found just one Brazilian Ronaldo's Prime Icon Moment card for sale at 15m FIFA Coins. The auction ended with no bids, so the card was pulled from sale.
Let's say Brazilian Ronaldo's Prime Icon Moment card pops up on the auction house again. How might you go about getting 15m FIFA Coins? Well, you could grind for them, but according to a well-thought out estimate from redditor harshmangat, that would take around 100 weeks - or twice the length of the FIFA 19 lifecycle.
Or you could, of course, buy packs with FIFA Points (the virtual currency you buy with real-world money). But to get 15m FIFA Coins from packs, you'd need to spend around $10,000. Yep, $10,000.
So, effectively, the Brazilian Ronaldo's Prime Icon Moment card is "extinct", as the FUT community calls it.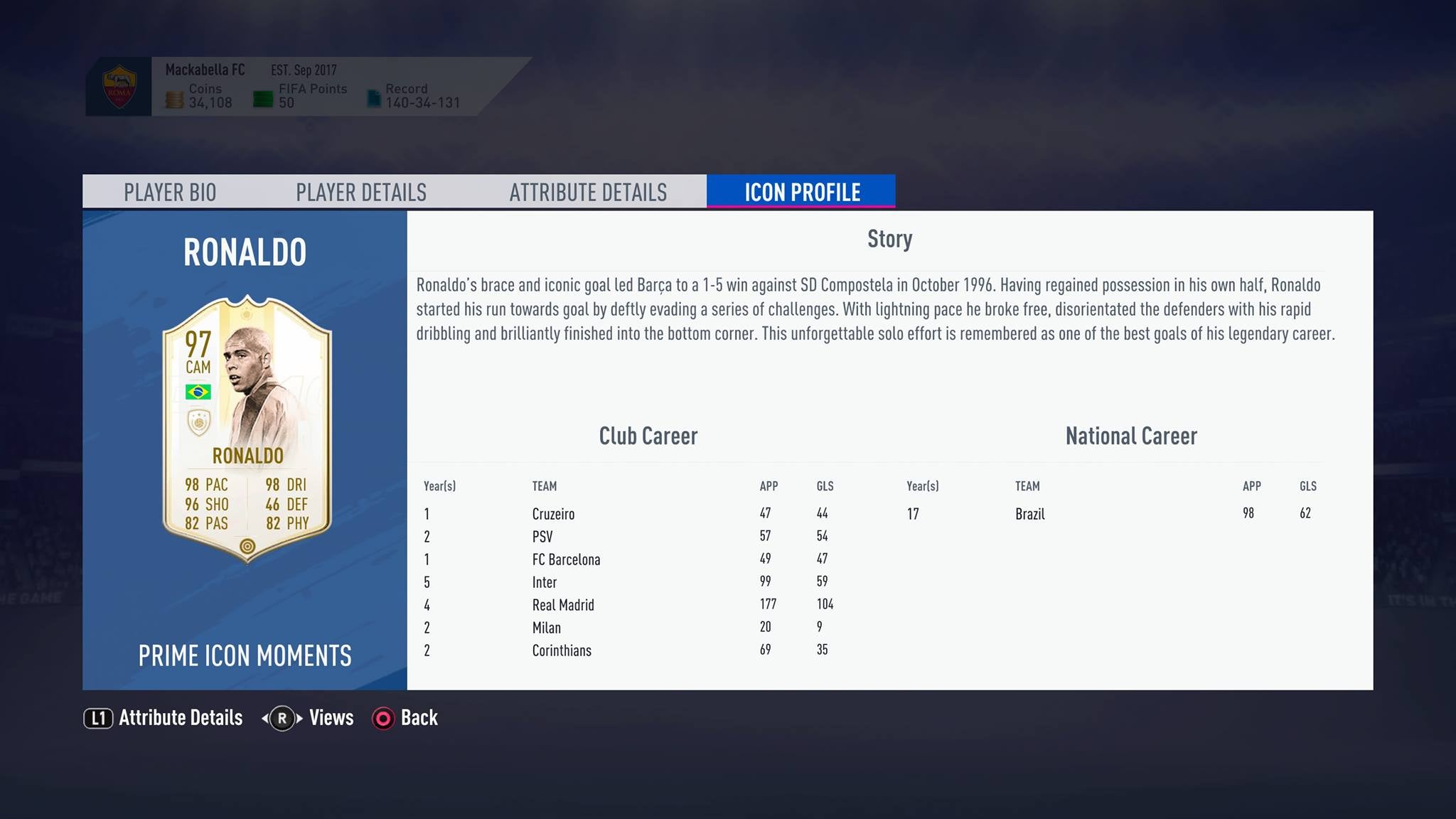 Brazilian Ronaldo's Prime Icon Moment card isn't alone in being extinct. It's a similar deal for Ruud Gullit's Prime Icon Moment card, as well as the Prime Icon Moment cards for ex-Arsenal star Patrick Vieira and Portuguese legend Eusébio.
The debacle has put into focus the short-lived life of a FIFA game and what players can reasonably be expected to grind for in Ultimate Team. A new FIFA comes out each September. The new Moments versions of Prime Icons were introduced in February, and now some of these are "extinct" just five months before we expect FIFA 20 to come out.
"No card should be unobtainable for 99.99 per cent of the community," wrote SpeedsterBR_in a thread on the FIFA subreddit.
"One thing I don't understand is why the best team, heck even just one of the best players on the game is unobtainable to 99 per cent on a game which RESETS every September. That means, as you should know by now, that everything you achieve on this FIFA will be redundant five months from now (unless you keep playing FIFA 19). I'm not saying free OP Gullits and R9s, but a games company should never have to tweet that some of their games features will never be obtainable for the vast majority of their community because they'll cost too much in in-game currency.
"EA COULD make it affordable, but don't want to. It's absolutely staggering."
The FIFA subreddit is littered with similar complaints.
"HOW DARE YOU expect to use a digital commodity in a game which only has a few months left of its cycle," wrote Momuss97. "ENTITLED.
"If they had released a Prime Moments R9 for the same poverty price of six million coins eVeRyOnE wOuLd HaVe HiM."
"Props to EA, at least they've finally made it fair on everyone," wrote kitchinho. "In the sense that everyone will never use him."
In truth, FIFA Ultimate Team has had a bit of a shocker this season. FIFA pros told Eurogamer recently the mode is more pay-to-win now than it's ever been. EA has been repeatedly criticised for its time-limited promotions, soul-destroying pack odds, various gaffes and now making some cards pretty much impossible to get for most players.
Thoughts now turn to FIFA 20, which, if EA follows the established pattern, will be shown at E3 in June. The game is under pressure to make significant gameplay improvements, and Ultimate Team players will be watching with keen eyes to see if it looks like next season's FUT will avoid becoming the debacle this year's has ended up as.
Become a Eurogamer subscriber and get your first month for £1
Get your first month for £1 (normally £3.99) when you buy a Standard Eurogamer subscription. Enjoy ad-free browsing, merch discounts, our monthly letter from the editor, and show your support with a supporter-exclusive comment flair!