FIFA 19 is having a tough time after multiple Ultimate Team gaffes
On a (left) wing and a prayer.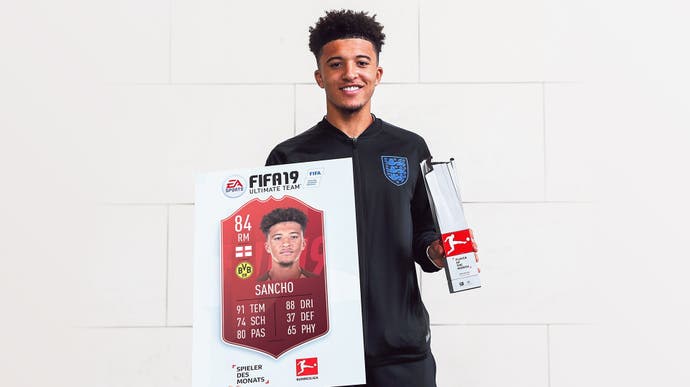 FIFA 19 isn't in the best place right now after a raft of odd mistakes from EA Sports resulted in compensation for players.
The issues revolve around Ultimate Team, FIFA's most popular mode, and the Squad Building Challenges.
Squad Building Challenges, or SBCs as they're called, involve trading in a set of cards for rewards, such as another card or a pack of cards. But there are rules to the set of cards you trade in - puzzles, in effect.
SBCs are pounced upon by the FIFA community because their rewards are often sought after and time limited.
This week, EA messed up three SBCs within the space of just a couple of days - and they're odd mistakes, too.
First up, EA released a weekly SBC set called Marquee Matchups based on the international games that are playing out in real life. Nothing wrong there. But one of the puzzles, for the upcoming real-life Czech Republic vs Slovakia match, included Czech Republic vs Slovenia by mistake.
Second, EA Sports released the Prime Icons 3 SBC, a set that unlocks one of five Icons (these are particularly sought after). It didn't take long before players realised they could repeat this SBC to get cheap Rare Player Packs, which usually cost 100,000 FIFA Coins, by recycling the Icon rewarded as a prize. In response, EA Sports pulled the SBC about an hour after it went live.
And finally - and this is probably the strangest mistake of all - EA Sports released the much-anticipated Bundesliga Player of the Month SBC, which rewarded Borussia Dortmund and rising England star Jadon Sancho. But players noticed his card was set as a left-sided winger (LW), even though he's a right-sided midfielder in real-life. EA Sports response? They pulled the SBC.
POTM Jadon Sancho SBC has been removed and will be republished with updated rewards in the near future. More information to follow for players who partially and/or fully completed it before it was removed. #FUT

— EA SPORTS FC (@EASPORTSFC) November 16, 2018
EA Sports representatives have been fighting fires on social media over the last few days as the FIFA community has reacted in uproar over the multiple cock-ups. EA Sports has since said those who partially completed the Prime Icons SBC 3 when it was removed will have the players they submitted returned to their club. The Prime Icons SBC 3 has also been reinstated, but it now costs more and offers worse rewards, which isn't going down well.
Players who partially completed the Prime ICONS SBC 3 when it was removed will have the players they submitted returned to their club. This process can take a few hours to complete, we appreciate your patience.

— EA SPORTS FC (@EASPORTSFC) November 17, 2018
And the POTM Jadon Sancho SBC will be republished with updated rewards (his position, as you'd expect, is corrected). Of note: players who have the LM Jadon Sancho will be allowed to keep it and it will not be updated. This card will no doubt go down in FIFA history as a collector's item, as it will be impossible to get from now on.
It's been a tough week, then, for EA Sports, its representatives and FIFA 19. But EA Sports is having a tough time of it generally. EA's FIFA 19 global series disciplinary committee recently suspended three players for a raft of violations, including hate speech and harassment. One FIFA 19 pro, Tassal "Tass" Rushan, was suspended for using a homophobic slur in a video. (He said he didn't know the slur was homophobic because he's from London.) Tass' suspension has now been lifted and he's free to compete again.
And there's cause for concern among the executives at EA, too. Revenue from Ultimate Team, EA's golden goose to the tune of hundreds of millions of dollars each year, is down with the launch of FIFA 19.
EA boss Andrew Wilson addressed this during a recent financial call, saying players were distracted by some of the new non-Ultimate Team modes EA Sports put in the game.
"With FIFA 19, we set out this year to create a game that expanded our core FIFA product, adding the UEFA Champions League and innovative new game modes," Wilson said.
"As we have seen previously when we have delivered innovative and creative new ways to play such as The Journey, FIFA players will jump into the new content first, and over time move into Ultimate Team. So far since launch, we have more players engaging across a great breadth of modes, from Career mode to Kickoff and Tournaments."
Generally, across EA, live services such as Ultimate Team are expected to be flat up to five per cent growth year-on-year, according to EA CFO Blake Jorgensen.
"This is lower than our original guidance, primarily due to reduced expectations for Ultimate Team, the delay of Battlefield 5, and the FX headwind," he said.
It'll be interesting to see how the FIFA 19 community reacts as EA Sports pulls its live service levers over the next six months.