EA added the strongest card in Ultimate Team history to FIFA 19 as part of its soul-destroying Team of the Year promotion
Luka here.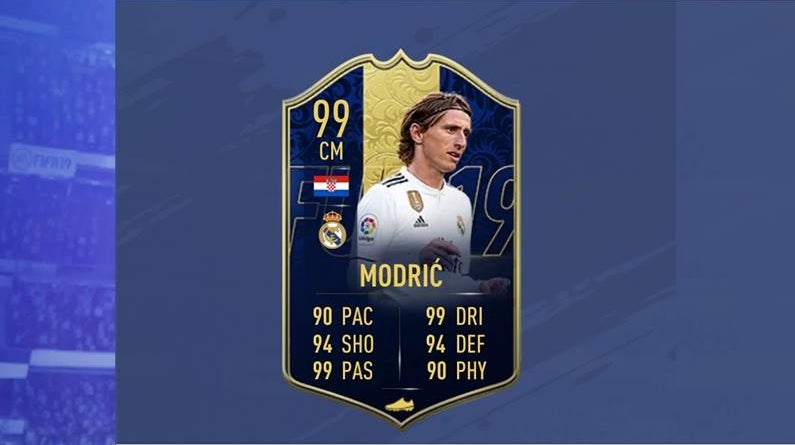 A special version of World Cup star Luka Modrić has just been added to FIFA 19 - and it's the most powerful card in FIFA Ultimate Team history.
Modrić's Team of the Year card is rated 99 - the highest rating a player can get in Ultimate Team - but it's his in-game stats that are astonishing. Modrić's pace, shooting, passing, dribbling, defending and physical stats are all in the 90s. There is no weakness, here. But what makes TOTY Modrić the most powerful card ever is his in-game stats total: 2701. That's more than FIFA 17's infamous TOTY Radja Nainggolan, dubbed "9Golan" by the FIFA community, which had an in-game stats total of 2588. FIFA 19 TOTY Kevin De Bruyne is Luka Modrić's closest competition, with an in-game stats total of 2599.
I reported on EA's Team of the Year FUT promotion yesterday, which sparked FIFA streamers and YouTubers into spending thousands opening loads of FUT packs in the hope of finding one of these ultra rare cards. If nothing else, it reminded us the odds are very much against us.
There's a less than one per cent chance of packing a Team of the Year card, but thousands of players are currently trying anyway, fuelled by EA's time-limited roll-out of the Team of the Year cards themselves. Last night, EA pulled the Team of the Year forwards (Messi, Ronaldo and Mbappe) from packs after a 24 hour release window, and replaced them with midfielders Modrić, De Bruyne and Chelsea and France star N'Golo Kanté. These three are in packs for 24 hours before they'll be replaced by the Team of the Year defenders. Will these players ever return to FUT packs? I'd like to think so, but EA makes it sound like they won't. It's all pretty calculated and unquestionably pay-to-win.
There are already a number of TOTY Modrić cards on the in-game auction house. Today, on PlayStation 4, I counted 17 of them up for sale with astronomical "buy it now" prices. I also saw one card sell for an incredible 4.235m FIFA Coins. If you wanted to buy that amount of FIFA Coins on the black market (despite what EA says about FUT, you can very much cash out for real world money), expect to pay around £450. You could buy a ticket to see Luka Modrić play in real life for that. And for what? A virtual footballer who will be redundant in nine months as everyone moves over to FIFA 20. As mentioned, Ultimate Team is big business for EA, bringing in hundreds of millions of dollars each year. Promotions such as Team of the Year are a big part of that revenue, and spark increased spend from players who understandably want to play with the best cards in the game.
But FUT is currently embroiled within the ongoing debate about loot boxes and whether or not they should be considered gambling. EA says loot boxes are not gambling, but FIFA YouTubers opening pack after pack after pack with less than one per cent chance to get what they're after is certainly not a good look.
As someone who plays FUT pretty much every day, I find FIFA 19 a conflicting experience. I love FUT while knowing it's deeply troubling. I grind FIFA Coins and open packs every now and then while casting a jealous eye at those who are able to play with the best players in the game. I'd love to have Team of the Year Luka Modrić, even though everything about the card feels grubby.
Oh well. At least there's a chance.