Now FIFA 19 discloses pack odds, the true horror of FUT is laid bare
The less than one per cent club.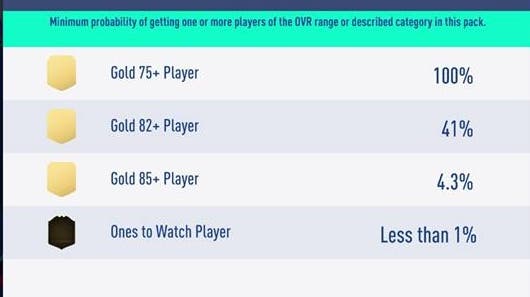 For the first time, FIFA discloses pack odds - and now FIFA 19 is live, the true horror of FIFA Ultimate Team is laid bare.
FIFA 19 launched proper this week (although EA granted early access through a variety of means), and FUT's first promotion is live: Ones to Watch.
This promotion has injected 23 brand new live items of the highest profile and most promising transfers from across the world. Included are special versions of Cristiano Ronaldo, who moved from Real Madrid to Juventus in the summer, and Riyad Mahrez, who moved from Leicester to Manchester City.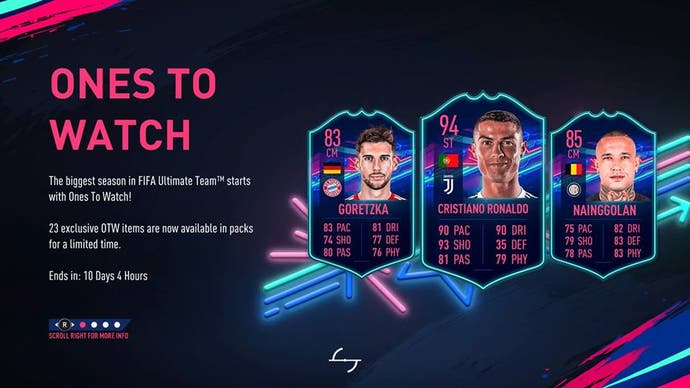 These Ones to Watch cards are sought after because they are dynamic - that is, they get a permanent ratings boost throughout the season whenever they perform well for their new clubs. So, if Ronaldo goes on a tear and does well for Juventus, his overall rating may exceed the standard 94, which makes Ones to Watch Ronaldo better than standard Ronaldo.
These Ones to Watch cards are in card packs now, and via the new Show Pack Probabilities feature, we can see just how unlikely it is to nab one.
According to EA, there's less than one per cent chance of getting a Ones to Watch player from a pack in FIFA 19. Less than one per cent.
This may be an even more dire situation than it looks at first glance. The wording of "less than one per cent" probability is clearly deliberate - it may be 0.01 per cent, for all players know.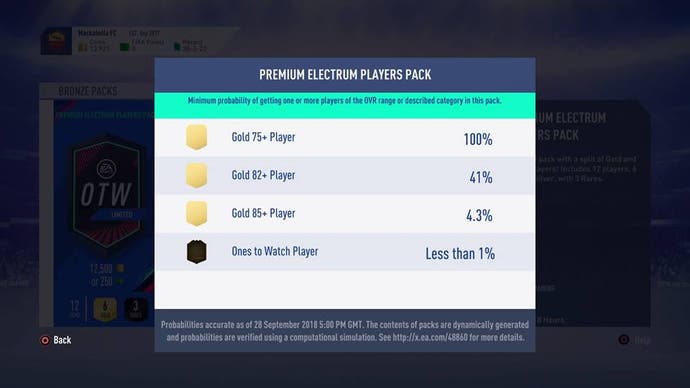 The true nature of FUT pack RNG is hitting home for many FIFA fans now this new feature is in the game. The stark reality is it's incredibly unlikely to pack a Ones to Watch card. Subsequent promotional cards will no doubt carry similar odds.
None of this is to say FUT fans will all of a sudden down tools and refuse to buy packs while on the hunt for special cards (I'm still enjoying FUT, for my sins), but the more EA pulls back the curtain on the inner workings of its golden goose, the more players realise just how stacked the odds are against them.