Far Cry 3 patch will allow you to tailor the HUD/UI
Because who wants to read mission prompts when you're being attacked by a tiger, amirite?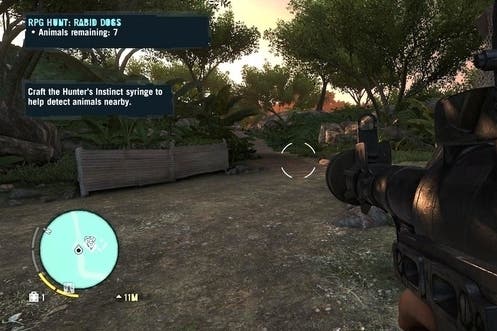 Far Cry 3 may be a gorgeous, brilliant open-world adventure, but its mesmerizing visuals and exotic tigers are often obstructed by an obtrusive UI that impedes the immersion by mothering you with objectives and tips.
Ubisoft has responded to these criticisms by announcing that it's working on a patch that will allow players to tailor the HUD/UI to their liking.
"Based on feedback from both press and fans, the Far Cry 3 production team is working on a patch that will allow you to toggle most HUD/UI elements based on player preference," said Ubisoft in a statement to Kotaku.
"The patch will also avoid issues encountered in the .dll hack that might create a mission walkthrough break (missing QTE prompts, critical information, etc;)," the publisher added. "The team is excited about how the Far Cry 3 community and fans of the game are enjoying themselves, and finding new ways to experience the Rook Islands."
When I asked for an ETA on the patch, Ubisoft responded, "The team is working hard on the patch, but we don't have a date yet as to when it will be available, though it will be soon."
Our Tom Bramwell gave the game a rare 10/10 in his Far Cry 3 review where he called it, "the new apex predator of open-world shooters."