Far Cry 3: Insane Edition revealed with new trailer
Includes exclusive one hour single-player mission.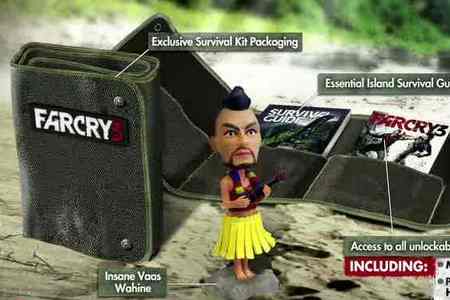 Ubisoft has revealed the Far Cry 3: Insane Edition with a new trailer.
It comes with all the digital content for the game, including Monkey Business (an exclusive one hour single-player mission) and extra single-player and multiplayer content (three packs: the Hunter Pack, Predator Pack and Warrior Pack, and the two bonus missions that come with the already announced Lost Expeditions single-player content).
On top of that you get an essential island survival guide, exclusive survival kit packaging and the insane Vaas Wahine bobblehead.
The content in full:
A 12cm Vaas Wahine with bobble head.
Monkey Business - Discover Hurk, a new memorable character and quest giver, and his four unique missions (one hour additional gameplay).
The Lost Expeditions - Two suspenseful action packed missions totaling over 40 minutes of additional gameplay and an exclusive weapon (The Japanese gun).
The Hunter Pack - The M700 hunting rifle and its three collector's skins.
The Warrior Pack - A handcrafted dagger and two exclusive tribal tattoos.
The Predator Pack - Four exclusive rare predators and a multiplayer bow.
An 'Insanity Guide' containing hints and tips to help you survive the island.