Famed Witcher cosplayer reimagines Geralt as a samurai
His hair's a bit bushido.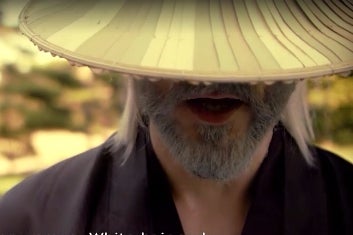 What if mutant monster hunter Geralt, the eponymous witcher in The Witcher books and video games, were a samurai? What if The Witcher 4 went East?
It's all a daydream but one brought to some kind of life by Maul Cosplay in a short live action video. Maul Cosplay has been hired as a Geralt impersonator by CD Projekt Red in the past - he even has his own rather raunchy Witcher cosplay calendar.
In the samurai-inspired clip, Geralt faces off against a ninja, using a curved katana blade rather than a witcher's iconic dual longsword - one steel, one silver - setup.
It's not the first Witcher-inspired short film Maul Cosplay has starred in. In February an impressive five-minute Witcher fan-film project was aired.
Behind Maul Cosplay is professional cosplayer and stuntman Ben Schamma. Besides Geralt he's cosplayed as Joel from The Last of Us, Corvo Attano from the Dishonored series and Solid Snake from Metal Gear Solid. Facebook is the place to keep up with Maul Cosplay if you so desire!