Fallout 76 Atoms: How to get easy Atoms from completing Challenges
How to get easy premium currency from Fallout 76's Challenges.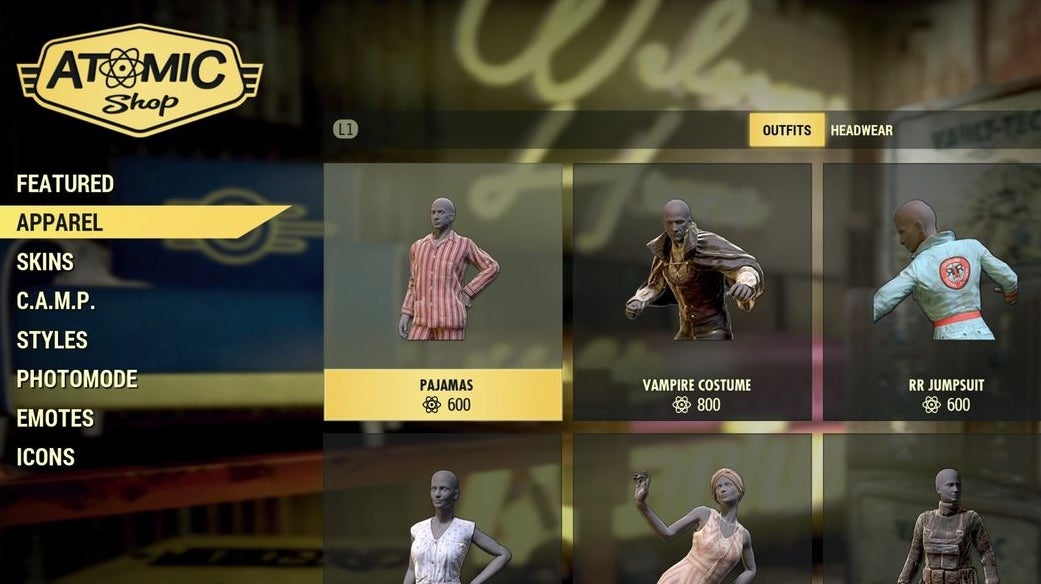 Fallout 76 Atoms are the game's premium currency - allowing you to buy new cosmetic items from the game's Atom Store.
You can opt to spend real world money on Atoms - allowing you to get new furnishings, emotes and outfits quickly - but if you're patient, you can get what you need without spending a penny.
That comes from the many Fallout 76 Challenges, which come in a number of varieties, and can give you easy Atoms if you know how to get them.
How to get Atoms in Fallout 76
There are essentially four ways to get Atoms in Fallout 76:
Purchased with real world money: Have some cash burning a hole in your pocket? You can buy Atoms with money. The more you purchase at once the better value they become, but with 500 costing £4, then it works out at around £1 per 125 Atoms.
Daily Challenges: There are five Challenges that update in-game every 24 hours, at 3pm UK time. These are usually very simple actions - from levelling up to interacting with other players.
Weekly Challenges: These are slightly more involved Challenges - including claiming specific Workshop locations - that reset every week on Tuesdays at 3pm UK time.
Challenges: As well as temporary Challenges, there is a list of preset Challenges you can tackle at any time. Though more will appear as you complete them (depending on the category) at a glance you can see a wide list of objectives to complete, and adjust your playstyle towards them - earning you easy Atoms.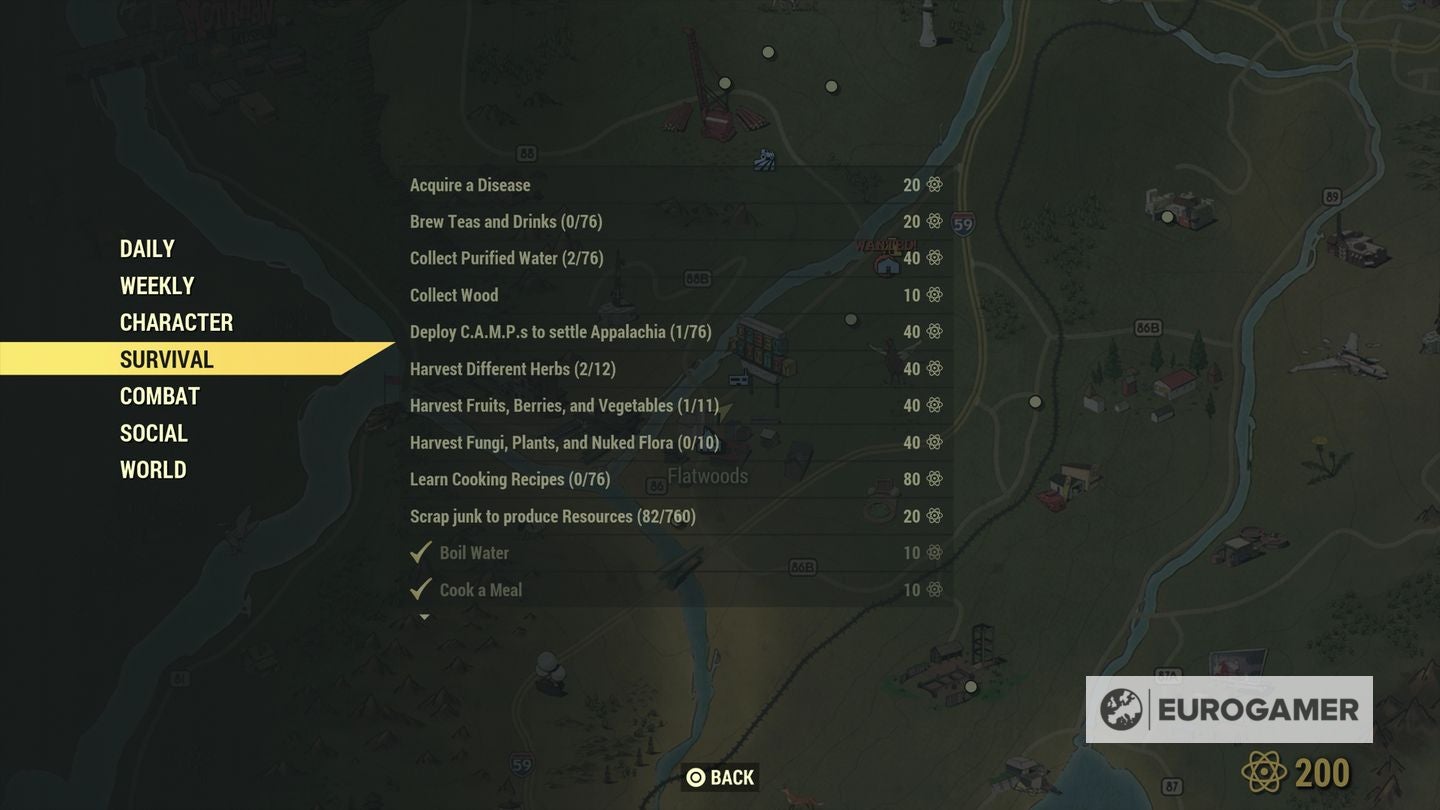 Daily Challenges tend to be the easiest of the bunch, but there are many standard Challenges that are quick and easy to complete. They are as follows:
Note this isn't a complete and exhaustive list. As you complete certain Challenges - from killing enemies to foraging and crafting items - it'll then unlock another set of Challenges along the same lines, except it'll require you to do it in much higher numbers.
Here's the list of default Challenges in Fallout 76, and the Atoms they dish out.
Fallout 76 Character Challenges list - How to get Atoms from Character Challenges
| Character Challenges | Atoms rewarded |
| --- | --- |
| Explore Appalachia for 24 hours | 20 |
| Explore Appalachia for an hour | 10 |
| Collect a Bobblehead, Holotape, or Magazine | 10 |
| Equip a Perk Card | 10 |
Fallout 76 Survival Challenges list - How to get Atoms from Survival Challenges
| Survival Challenges | Atoms rewarded |
| --- | --- |
| Acquire a Disease | 20 |
| Brew 76 Teas and Drinks | 20 |
| Collect 76 Purified Water | 40 |
| Collect Wood | 10 |
| Deploy 76 CAMPS to settle Appalachia | 40 |
| Harvest 12 different Herbs | 40 |
| Harvest 11 Fruits, Berries and Vegetables | 40 |
| Harvest 10 Fungi, Plants and Nuked Flora | 40 |
| Learn a Recipe or Plan | 10 |
| Learn 76 Cooked Recipes | 80 |
| Boil water | 10 |
| Cook a meal | 10 |
| Deploy a CAMP to settle Appalachia | 10 |
| Harvest Wild Plants and Fungi | 10 |
| Scrap junk to produce resources | 10 |
| Scrap 76 junk to produce Resources | 20 |
| Scrap 760 junk to produce resources | 20 |
Fallout 76 Combat Challenges list - How to get Atoms from Combat Challenges
| Combat Challenges | Atoms rewarded |
| --- | --- |
| Craft 76 Grenades | 20 |
| Craft or Scrap Armor 76 times | 20 |
| Craft or Scrap 76 Ranged Weapons | 20 |
| Craft or Scrap a Melee Weapon | 10 |
| Craft some Ammo | 10 |
| Destroy 10 Robots | 10 |
| Fully rank up a Perk Card | 20 |
| Kill 76 Animkals | 40 |
| Kill 76 Anrhropods | 40 |
| Kill 76 Critters | 40 |
| Kill 5 Different Kinds of Animals | 40 |
| Kill 8 Different Kinds of Arthropods | 40 |
| Kill 10 Different Kinds of Creatures | 40 |
| Kill 10 Different Kinds of Critters | 40 |
| Kill 6 Different Kinds of Robots | 40 |
| Kill 76 Human-like Creatures | 40 |
| Kill 76 Insects or Bugs | 40 |
| Kill a Wanted Player | 20 |
| Learn a Weapon or Armor Plan | 10 |
| Mod a Weapon | 10 |
| Mod a piece of Armor | 10 |
| Repair a piece of Armor or a Weapon | 10 |
| Scrap 76 Clothes | 20 |
| Craft a Piece of Armor | 10 |
| Craft or Scrap a Ranged Weapon | 10 |
| Destroy a Robot | 10 |
| Kill a Creature | 10 |
| Kill an Enemy | 10 |
Fallout 76 World Challenges list - How to get Atoms from World Challenges
| World Challenges | Atoms rewarded |
| --- | --- |
| Emerge from Vault 76 | 10 |
| Discover the Overseer's CAMP | 10 |
| Collect 8 Holotape Games | 40 |
| Collect an Issue from 11 Different Magazines | 40 |
| Complete 76 Quests and Events in the Forest | 40 |
| Locate 5 Locales within the Forest | 40 |
| Discover the Ash Heap Region | 20 |
| Discover the Cranberry Bog Region | 20 |
| Discover the Mire Region | 20 |
| Discover the Savage Divide | 20 |
| Discover the Toxic Valley Region | 20 |
| Find the 'Tales from the West Virginia Hills' Holotapes | 40 |
| Find the Overseer's Logs | 80 |
| Find the Overseer's Personal Journal Holotapes | 40 |
| Find the Survivor Series Holotapes | 20 |
| Hack 2 Terminals | 10 |
| Pick a Lock | 10 |
| Use 20 Different Kinds of Bobbleheads | 40 |