Ex-BioShock devs reveal survival sim The Flame in the Flood
Think Huckleberry Finn and Beasts of the Southern Wild meets Don't Starve.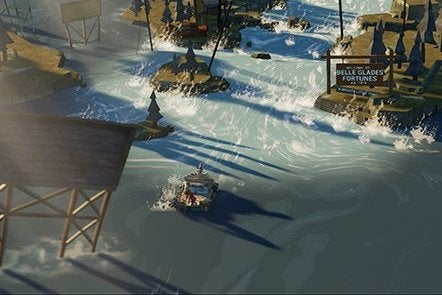 It's a big day for ex-BioShock developers as earlier we saw a team of former Irrational staffers reveal The Black Glove and now we've got a few of their prior comrades launching a Kickstarter for the dreary survival sim The Flame in the Flood.
Looking like a cross between Don't Starve's isometric procedurally-generated roguelike mechanics crossed with The Last of Us' grittier post-apocalyptic America, The Flame in the Flood tasks players with rafting around flooded backwater terrain and hoofing it across the forests, deserts and mountains that make up this rugged apocalyptic environment.
Assuming the role of a wayfarer named Scout and her canine companion Aesop, much of The Flame in the Flood's gameplay will revolve around scavenging for resources, crafting tools, evading predators, maintaining your raft, staying healthy and keeping out of the rain.
It will also feature music from alt-country singer Chuck Ragan featuring The Camaraderie, The Fearless Kin and other special guests.
Developer The Molasses Flood cited its inspirations as Huckleberry Finn, Life on the Mississippi, Heart of Darkness, Mud, and Beasts of the Southern Wild. "In The Flame in the Flood, we want to translate all of the poetry, adventure, quirkiness, and melancholy of those works into video game form," the developer said on its Kickstarter page.
The Flame in the Flood is looking to raise $150K to fund this project and it's already raised $36,223 in its first day. It has until 6th November to make the rest.
Early birds who pledge $15 can reserve a copy of The Flame in the Flood upon its estimated July 2015 release on PC and Mac, though the price will increase to $20 once the first thousand folks pledge that tier. You can also get a digital copy of the art book and soundtrack by donating $35.