Eight-player TowerFall is now a thing
UPDATE: Original game and Dark World DLC coming to Xbox One.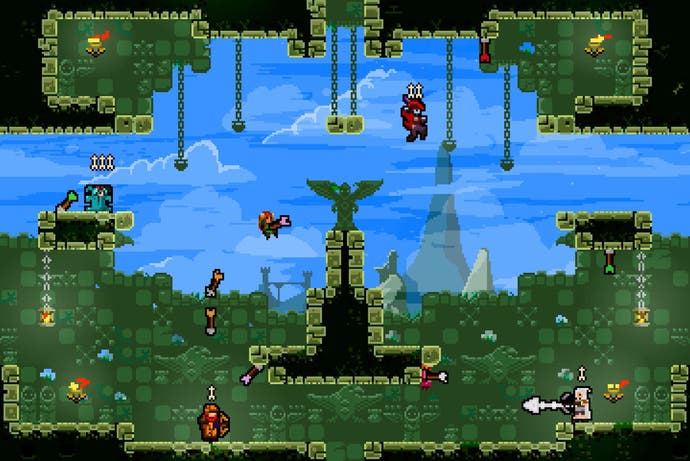 UPDATE 30/08/2016 6.23pm: TowerFall Ascension is coming to Xbox One, developer Matt Thorson said on Twitter.
"No release date yet, but I'm playing it and it's awesome," he stated.
ORIGINAL STORY 30/08/2016 5.18pm: Local multiplayer archery-based platformer TowerFall Ascension now has an official eight-player spin-off.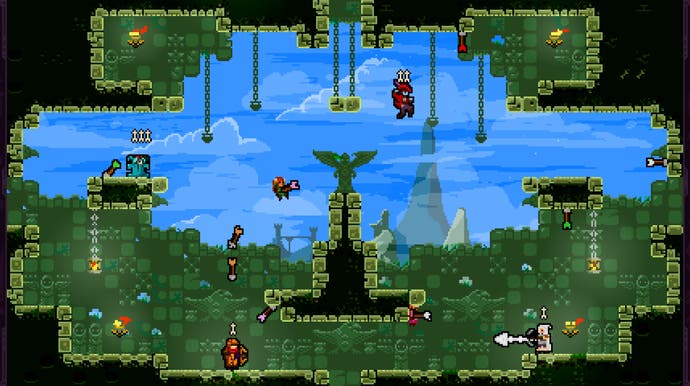 This is not a fan-made mod, but rather comes from TowerFall's creator Matt Thorson, where he's selling the standalone party game for $8.88 on his itchi.io page.
Unfortunately this means that even if you have TowerFall you'll need to buy this expanded version separately.
More bad news: this modded version of the game doesn't contain the single-player campaign and only team modes support eight players. Free-for-all modes only support up to six.
The good news is that this adaptation includes all of the stages from the game's Dark World expansion converted into glorious widescreen.
You can also play this roomier version of TowerFall with two-to-four players, should you want a wider layout.
Thorson noted that controllers are required for this version of TowerFall, which supports Xbox 360 gamepads and DualShock 4s.
TowerFall has been a big hit at Eurogamer HQ and regular contributor Jon Denton highly recommended the local multiplayer title upon its release in late 2014.
"This is the type of game that creates memories and dissolves friendships, soundtracked by the pained swears of the defeated and the uproarious cheers of the victors," Denton said of Thorson's classic in his TowerFall Ascension review.