"Don't waste your time on girlie games" - Master Chief delivers bizarre on-stage presentation at launch of Xbox in Israel
"See you soon Israelis. See you soon Israelis."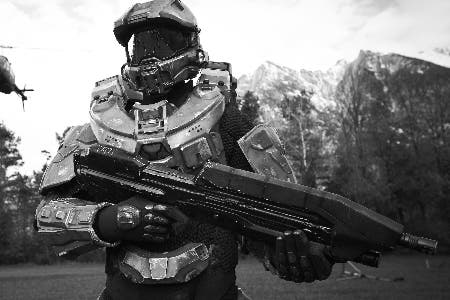 Microsoft has announced the Xbox 360 will launch in Israel seven years after it released in the US.
The console launches in Israel on 21st November, Microsoft announced at its Discovery conference in Tel Aviv yesterday. It comes complete with the Hebrew language, support for local currency, Xbox Live and Kinect.
The announcement was accompanied by a bizarre on-stage appearance by Halo 4 star Master Chief, videoed by attendees and slapped on YouTube.
In a somewhat creepy voice Master Chief tells Israelis he came to "your amazing country to launch the best game ever in the history of human kind, Halo 4, starring the one and only myself".
"So don't waste your time on girly games and do the right thing. It's not going to be easy but it's going to be a lot of fun.
"See you soon Israelis. See you soon Israelis."
The news comes days after it emerged that Sony had gained approval to launch the PlayStation 3 in China, a country where games consoles are technically illegal.
Authorities granted the PS3 a "China Compulsory Certificate" in July, although the machine has yet to formally materialise. Sony first launched the PlayStation 3 in Japan nearly six years ago.