Don't Starve to receive free multiplayer "late this summer"
Planned for Steam first, with 2-4 player support.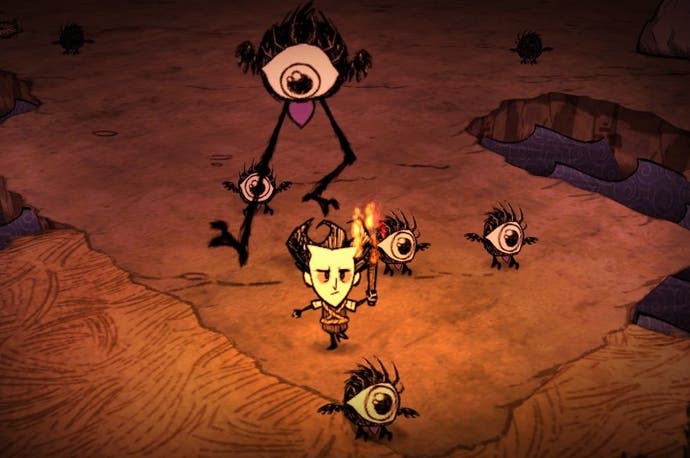 Klei Entertainment's grim, kooky roguelike Don't Starve is going to be getting a free multiplayer mode "late this summer."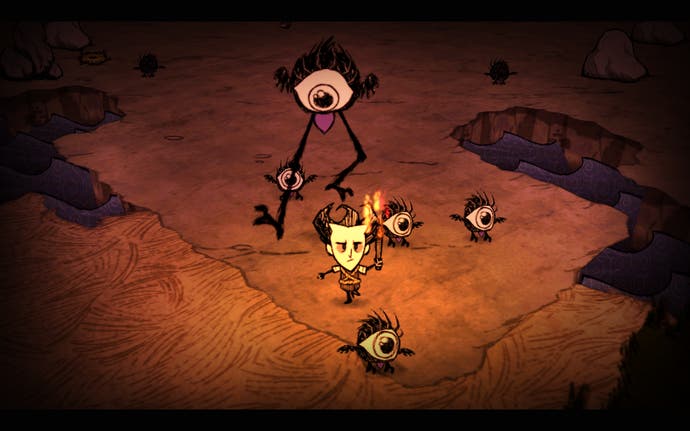 Entitled Don't Starve Together, the mode will allows groups to stave off hunger together in both public and private games. "It will have most of (if not all) the normal features in Don't Starve, balanced for multiplayer, and potentially even add new features," explained Klei's JoeW on the company forum.
When asked about player count, he responded, "We'll see. We believe that Don't Starve Together will support two-four players simultaneously. Could be more, but we are aiming for four minimum."
As far as platforms go, Klei noted "Similar to everything we've done with Don't Starve, it will begin on Steam / Standalone. Beyond that, it's too early to tell," so don't get your hopes up PSN players.
Adding multiplayer to a game that was developed with single-player in mind was not a decision Klei took lightly. "We promised we would make Don't Starve the best single player game that we could. To us, this meant using the resources that we had allocated to Don't Starve and keeping them focused on delivering on that promise," JoeW stated. "We were not willing to sacrifice our goals for the game to work on a multiplayer version."
"A lot of people have voiced their feelings that multiplayer would be perfect in Don't Starve. However, at the time we didn't have the resources to make it happen and we weren't confident that it would actually work both in concept and implementation," he explained. "It was (and still is) important to us that multiplayer would not only be interesting for you to play, but also something that we would feel proud of creating."
Fortunately, the studio expanded in size and more of the team began to solidify its vision for how multiplayer Don't Starve would work. "Over the past few months, we've quietly smuggled in some new people onto our team who immediately said 'Heck yeah, this can be a thing!' and actually threw together a proof of concept. After a couple months and an office-wide session of multiplayer Don't Starve, we were convinced it was worth exploring and bringing it to our community."
While Don't Starve Together will be a free expansion, the price of the game itself is planned to rise to $19.99 upon its alpha launch.