Dirt Rally review
Traction and field.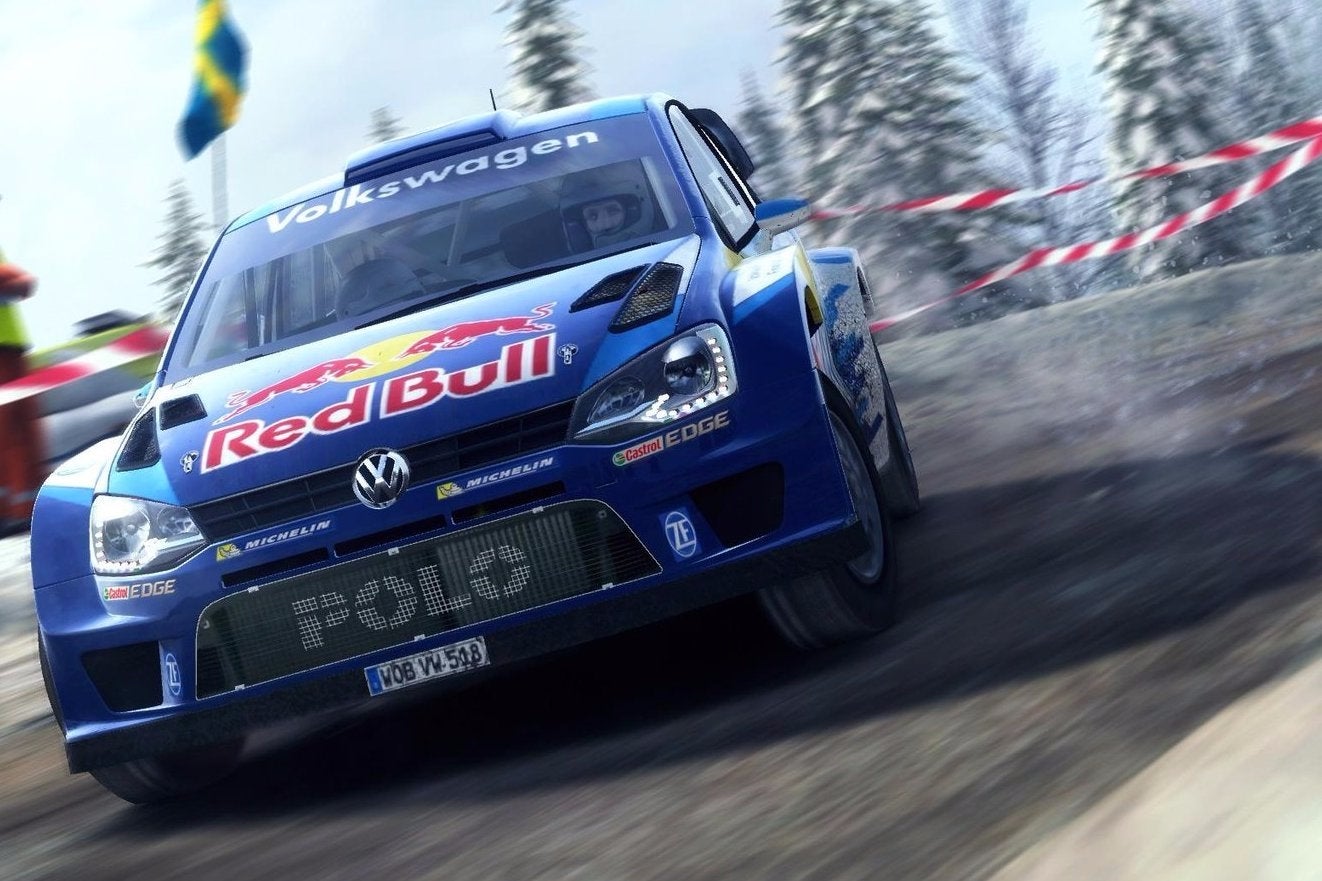 Codemasters goes hardcore with this no-frills, punishing off-road sim, resulting in its best game in years.
There have likely been better ideas in the history of the human race than this. You're strapped tightly into a Lancia Stratos, some 240BHP being channelled through its rear axle, and ahead of you lay a thin gravel road that winds through thick Finnish forest. As another sharp rise in the road sends you flying, pine leaves and birch branches tickling the airborne undercarriage, you start to question the sanity of it all.
What's never in doubt, though, is that this is as exhilarating as driving gets. When it all goes well, anyway. Dirt Rally, Codemasters' continuation of a series that can be traced back all the way to 1998's Colin McRae Rally, is quite possibly the studio's first ever full-on simulation after almost two decades in the driving genre: a game where it's important to understand how to dip the weight balance forwards in a front wheel drive in order to get purchase when entering a gravelled corner, or to attune your right foot to the turbo lag found in an raw Group B monster. More significantly, Dirt Rally's a simulation of the true make-up of many motorsports; the excitement doesn't come easy, and it's balanced out by equal measures of fist-pounding frustration.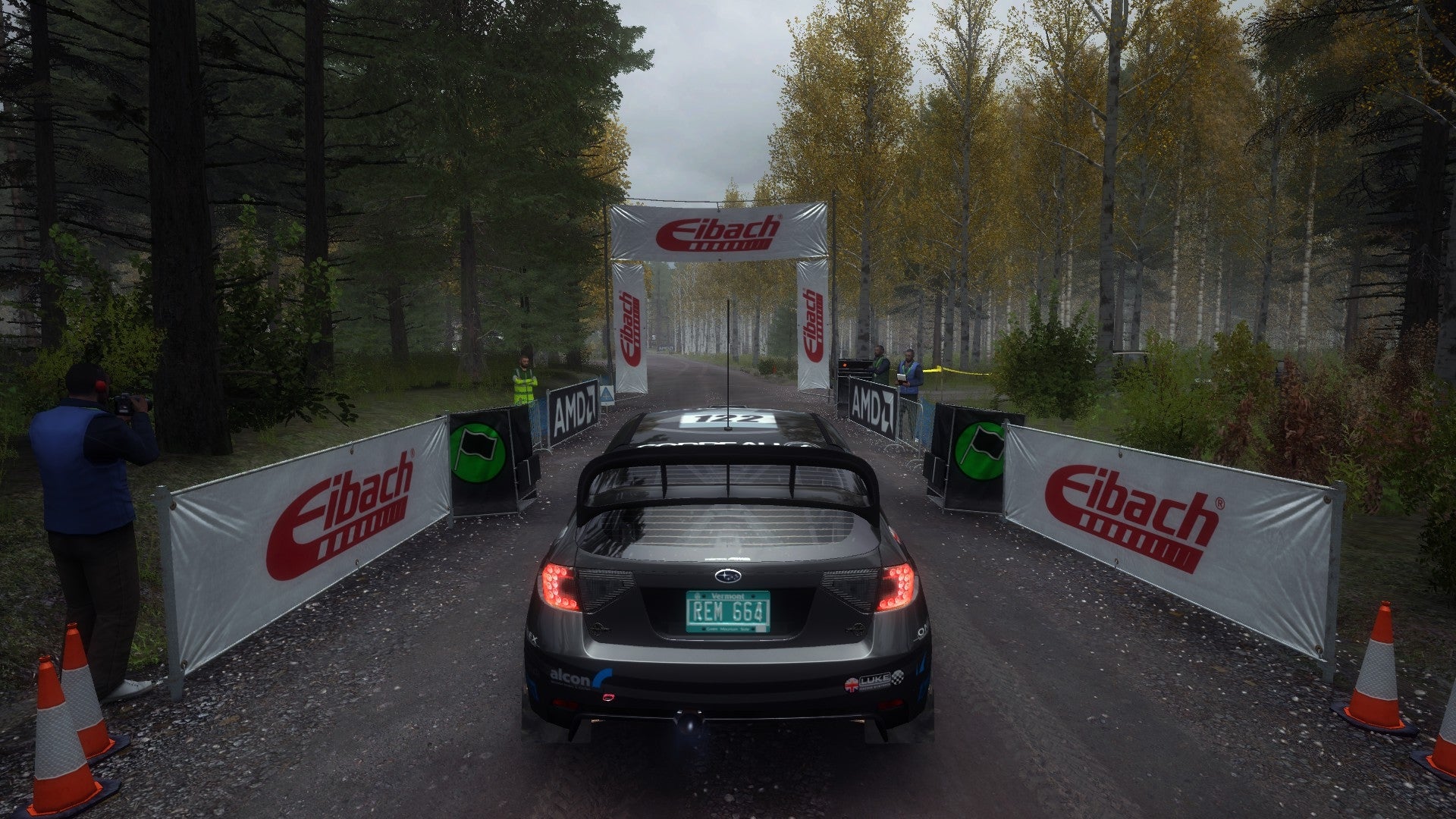 Dirt Rally can be a savagely difficult game, its months in Early Access earning it the reputation of the Dark Souls of driving games. The full and final release is no more forgiving. The safety net of a rewind button, popularised in the driving genre by Codemasters' own Grid way back in 2008 and a genre staple ever since, is no longer there. For the uninitiated it's a cruel omission, but one completely necessary to the authenticity Dirt Rally is striving for. Mistakes will be punished, and often heavily. You will see seconds slip by as your attention drifts and you overshoot a hairpin; you'll see a whole hour of progress tumbling down a mountainside should you be too brave in the latter stages of a delicately balanced championship.
The capacity for such instant catastrophe focuses the player, just as it focuses the game. There's a purity to the challenge, and in in the taming of car and countryside with nothing but the co-driver's instructions in your ear. When it clicks into place - and so well-tuned and crafted are Dirt Rally's elements, it all clicks with engineered ease - you're plummeted into flow state, where that tangle of road, all that horsepower and the stream of directions from your co-driver all inexplicably make perfect sense. It's absolutely thrilling stuff.
The Colin McRae series at its prime was always excellent at ushering players into that zone, but Dirt Rally goes further still. It helps that Codemasters have perhaps looked to another revered off-road game bearing the name of a world champion, Richard Burns Rally. With its sim-like credentials, and a propensity to bite back, Dirt Rally certainly seems closer to Warthog's 2004 game than anything else in the Codemasters stable. Such attitude is backed up by a handling model that runs satisfyingly deep.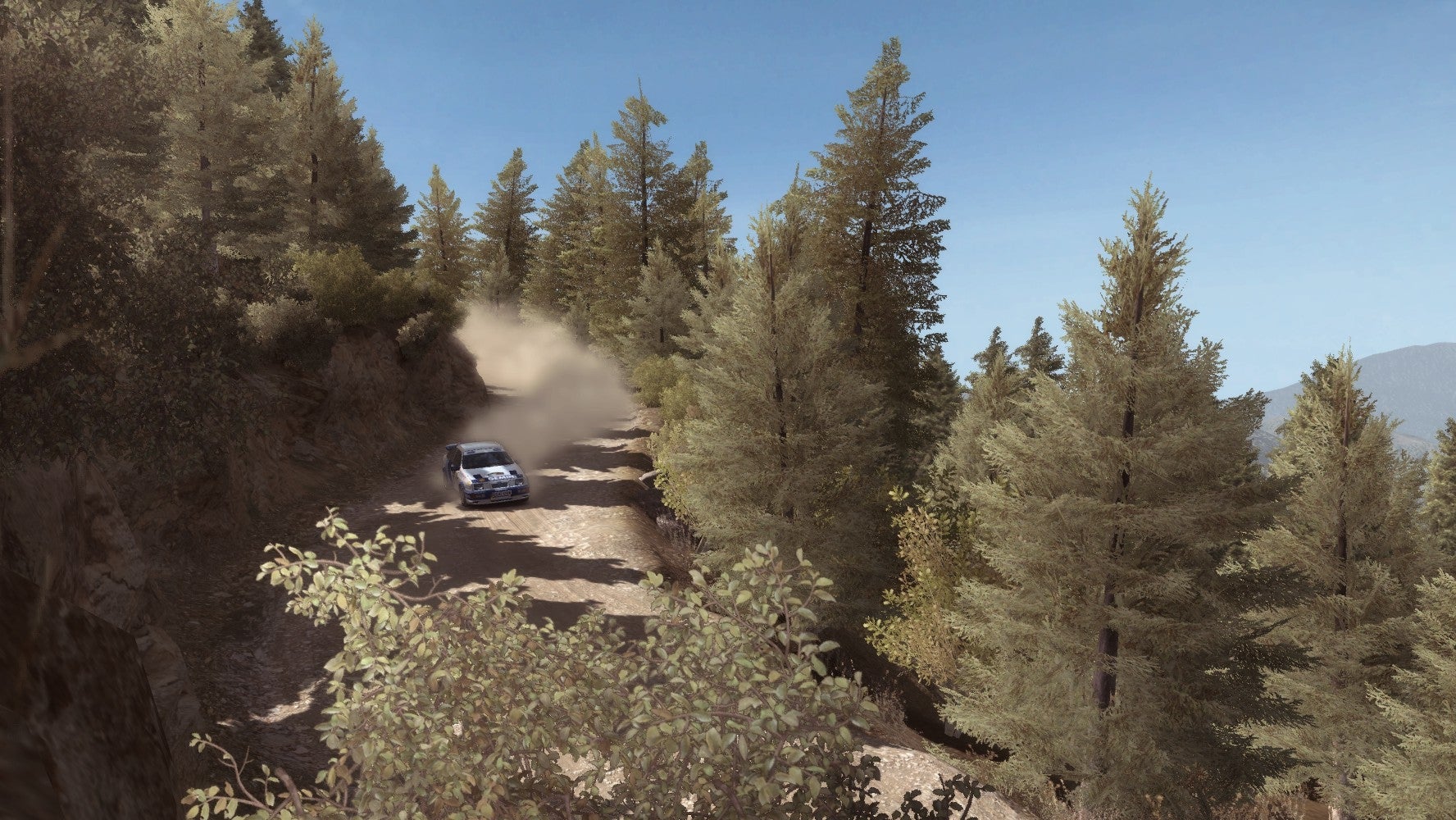 It runs with breadth, too, given the different flavours of off-road driving on offer here, and after just over seven months in Early Access Dirt Rally's acquired a generous amount of ways to drive sideways. There are hillclimbs in the shape of the legendary Pike's Peak, available in its slightly neutered all-tarmac configuration alongside the more traditional, more terrifying gravel-covered original, as well as Rallycross (which comes with the official FIA Rallycross licence, three authentic locations and, currently, the only place for head-to-head multiplayer within Dirt Rally.)
More importantly to those who have watched on with disappointment as Codemasters' off-road series strayed away from its off-road roots, there's traditional rally, and lots of it. Dirt Rally offers a generous selection of cars with distinct characteristics, from the twitchy Volkswagen Polo R campaigned by Sebastien Ogier in the WRC through to the Mini Cooper made famous by Paddy Hopkirk and Pat Moss, via 80s, 90s and 00s classics. They all present their own unique challenges, from learning the aggression needed to coax a front-wheel-drive car to the sensitivity and split second reflexes the sheer speed of modern rides require, their sickening velocity a seemingly ill-fit for the tight ribbons of road they're set loose upon. They're quite spectacular roads, too.
A passion for the sport shines through Dirt Rally's course selection, an assortment of the very best of off-road racing from the dank Welsh countryside and classic stages such as Sweet Lamb to the more glamorous grey of Monte Carlo and the Col de Turini. There are thrills elsewhere, too, from the precarious, vertiginous blasts of Greece to the impossibly dangerous forest trials of Finland, where Dirt Rally's greatest challenges lie. It's there, in the pure speed and the survival horror that comes through seeing the rev needle bounce off the limiter in top gear as pine trees fly past, that Codemasters' new brand of driving is at its very best.
After the excesses that began to weigh down some of Codemasters' driving games, the purity and laser focus found here is more than welcome. The paring back, however, has arguably gone too far in some cases, and there's a feeling that this was pulled out of Early Access a little prematurely. The front-end menu is a thin clutter, refusing to welcome newcomers to what's undoubtedly an intimidating game - there are a handful of assists, tucked away in a pause menu, but there's nothing by way of a tutorial to give a gentle introduction to what's on offer.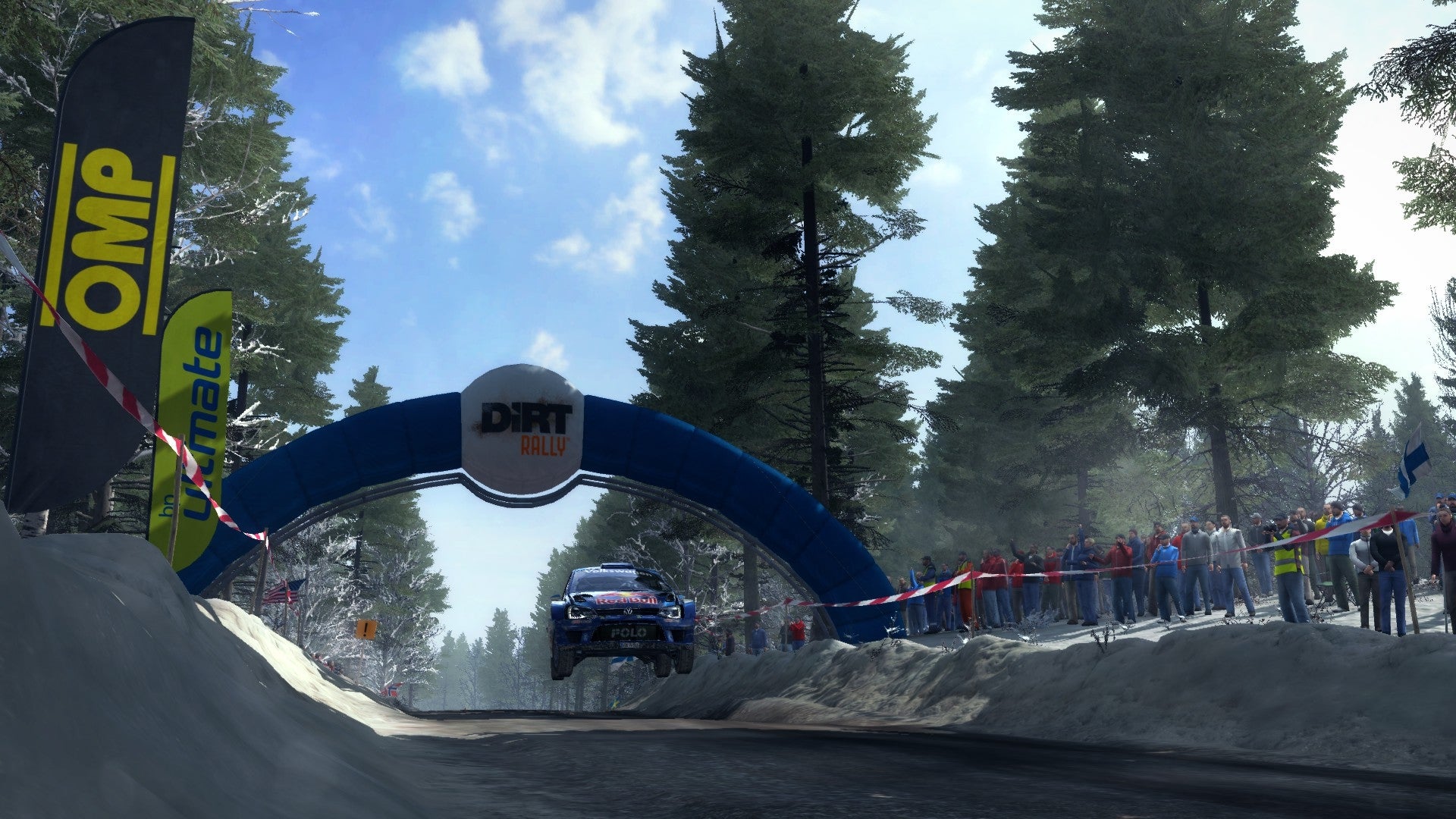 Even if you're well aware that a Scandinavian flick isn't a type of haircut there's little in the way of structure in Dirt Rally, a by-product of the piecemeal approach to development that Early Access entails. A career mode sends you along championships of slowly increasing difficulty, and the straightforward approach works well - without any unnecessary gimmicks, you're left with a points table and a series of multi-stage events where the natural strategy inherent in rallying is allowed to blossom: managing the balance between your bravery and the limits of your talent, as well as any scrapes and dents you inevitably accumulate along the way when you overestimate your own abilities, it's a faithful and rewarding facsimile of the real thing.
It can be frustratingly punitive, though, and Dirt Rally's career mode limits you to cars you've purchased - and asks you to grind a little too much to acquire a half-decent garage. Money can be earned elsewhere, including in faddish but fun daily and monthly events with decent payouts, but Dirt Rally still feels overly restrictive, and displays little imagination when it comes to providing a neat, compelling thread through the disciplines, courses and cars it's compiled. You get the sense such issues will be ironed out by the time of Dirt Rally's console debut next April, but they're still very much present in a PC version that's happy to call itself the finished article.
Considering what thrills Dirt Rally offers, though, it's easy to overlook its shortcomings. Codemasters has been long overdue a return to the form that made its name, when it regularly churned out genre classics such as Colin McRae Rally, TOCA and Grid. Dirt Rally does more than restore some glory to a name that's become slightly tarnished in recent years; in its passionate portrayal of rally, delivered with brutality and beauty, Codemasters has delivered what's quite simply its finest driving game to date.