Face-Off: Dirt Rally
The spirit of McRae is back - along with 60fps gameplay.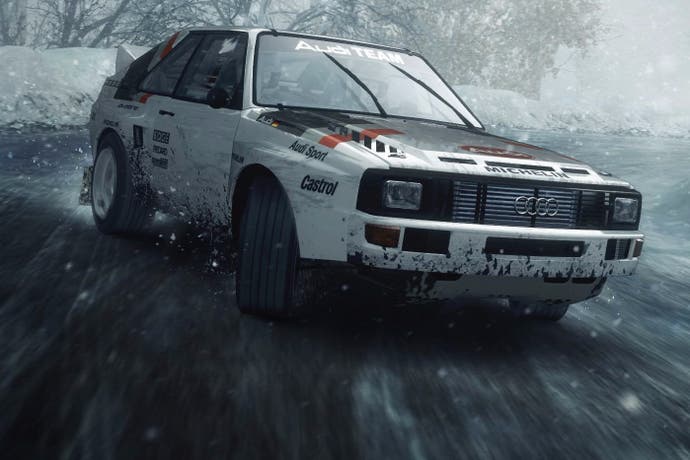 Several months after arriving on PC, Dirt Rally comes to PS4 and Xbox One aiming for a 60fps experience and featuring a handling model that goes back to the series' simulation roots. The game's intricate mechanics appear more advanced than ever before, with accessibility replaced by a heavy learning curve that rewards players that really put the hours in. It's a great comeback for a series that seemed to lose its way during the last generation, with perhaps too much emphasis on arcade-like showmanship and gimmicks. But what we really appreciate here is the return to 60Hz-driven gameplay, something that we could only experience on PC during the last-gen era.
Hitting 60fps on console hardware is no easy task, often requiring developers to make compromises in graphical quality. And as you'd expect, Dirt Rally sees several graphical settings reduced from their maximum PC values in order to deliver this experience. Texture detail is lowered from ultra to high, shadows, particles, and ambient occlusion are knocked down to medium, and draw distances are also dialled back slightly. Smoke shadows and advanced ambient occlusion are also absent entirely.
The impact of these changes varies throughout the game. For example, the reduction in particles sees less dust and debris thrown up by the cars, while the use of lower resolution shadows results in these elements appearing quite rough during pre-race sequences. The lack of ambient occlusion also provides less depth around objects, mainly standing out across roadside barriers and buildings. On the other hand, changes in draw distance, LOD streaming and crowd detail are less dramatic, and aren't so noticeable while playing. Texture quality on consoles doesn't quite match up to the PC release either, so the artwork appears a little softer on close inspection, but there's not a massive gulf in asset quality across the entire game.
In fact, several elements are actually running at max settings on consoles, with shader detail, weather, and track quality all appearing identical to the PC release. Advanced fog and blending are also enabled on consoles: the former delivers a thick veil of mist in snowy conditions, while the latter smooths out edges of trees and foliage across the scene. Curiously, a stronger depth of field effect is also present on console on the horizon, which shows trees and distant scenery slightly out of focus.
In terms of image quality, a full 1080p resolution is delivered on both PS4 and Xbox One, with post-process anti-aliasing, along with matching art and effects work. Texture detail is slightly softened by the anti-aliasing implementation here, with these elements appearing more defined on PC when using traditional multi-sampling - in this case we used 8x MSAA for our assets. In terms of console-specific differences, it's only when looking at distant scenery where we find the PS4 gaining a minor advantage - higher quality textures tend load in at closer range on Xbox One, leaving distant ground details appearing a little blurrier on this version. It's a minor quirk that isn't obvious during gameplay, and the only difference we see on Microsoft's system.
Consoles don't quite match the PC version running maxed out across the board, but the core visuals appear close enough that the PC game mainly offers up a more refined look rather than a revelatory upgrade. You're getting the vast majority of core elements that matter rendered to a similar standard, and while there are some rough edges the core presentation still holds up in many areas. Image quality is crisp, texture detail nicely highlights bumps and grooves on the track, shaders on car bodywork appear realistic, while the lighting model is used to enhance gameplay in night-time races. Trackside scenery here is primarily illuminated by car headlights, and if these break during a crash you're left to finish the course in near darkness. It's a nice touch of authenticity that forces you take a more measured approach to driving than carelessly sliding around corners as you would in Sega Rally.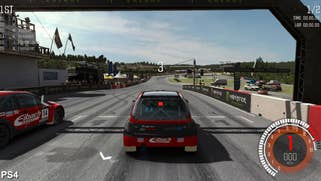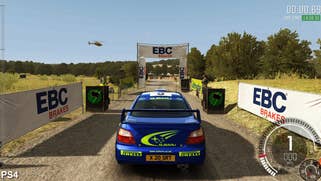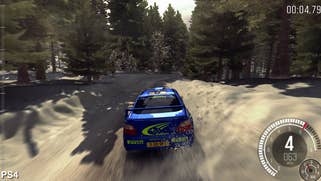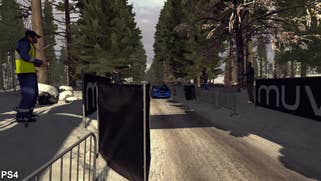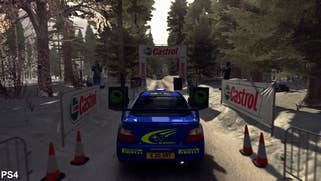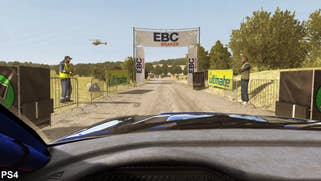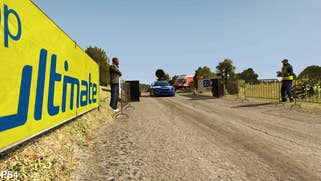 Dirt Rally is a solid-looking driving game, though aiming for 60fps also means that there's fewer resources available for advanced effects work. Shadow resolution is low on consoles, while the lighting model across all versions doesn't have the fullness or dynamic transitions that are a highlight in racing games like DriveClub. In that respect, the game features a clear look reminiscent of the Colin McRae titles on the PS2 and original Xbox, rather than the more effects-laden Dirt games on last-gen consoles.
In terms of performance there is very little to complain about, and from first impressions it's clear that Codemasters is serious about hitting a solid 60fps. For the most part frame-rates on both consoles stick doggedly to that target too, bringing a slick sense of fluidity to motion on screen while extracting a high degree of precision from the controls and handling model. Slight changes in tack surface deliver immediate feedback with regards to steering and throttle control in a way that the old 30fps Dirt titles can't match due to the higher latency incurred by the 30fps update.
Codemasters can't quite manage to sustain a solid 60fps throughout though, with the engine slipping up on a few rare occasions. This mainly happens right after crashing your car, where on PS4 we're confronted by some brief but noticeable tearing that lasts for a few seconds after the race continues. It's distracting and impacts upon the gameplay, making further excursions off the track more commonplace. Meanwhile, minor frame-rate drops appear on Xbox One in regular intervals in the same situation, though this is far less noticeable than the tearing seen on Sony's system and has less impact on gameplay. That said, it's worth pointing out that these issues don't crop up very often at all, with performance holding at a steady 60fps for the majority of our time spent with the game.
Dirt Rally: the Digital Foundry verdict
While we enjoyed the previous Dirt titles there was a sense that the series had strayed a little too far from the roots of the earlier Colin McRae games. Arcade-style handling took the lead over simulation, while visual effects work took priority over frame-rate, with a 30fps update cutting fluidity and gameplay response by half. Dirt Rally brings the series back to 60fps and does so superbly, with impressively realistic handling and smooth motion. It's a great return to form for the series and for the most part, Codemasters delivers across all formats.
Understandably, some graphical cut-backs appear on consoles in order to hit 60fps, but aside from noticeably lower quality shadows the core visuals are only mildly impacted and the presentation appears pretty similar to on PC. Key areas, such as weather, and select effects work appear identical on all formats, and there's very little to distinguish between consoles.
As expected, the PC version takes point, allowing users to dial up effects and asset quality beyond console levels. Higher resolution textures, shadows, and slightly better draw distances allow for the visuals to better hold up at resolutions above 1080p, and this provides a more refined experience overall. That said, Codemasters' conversion work is solid on consoles, and all three versions are well worth picking up for fans of the series looking for the most authentic rally game in years. However, it's the return to a 60fps that pleases us the most, and on that front Dirt Rally certainly delivers.