This 1TB Crucial SSD is the most affordable way to upgrade your PS5
More than double your storage for just £108.
Earlier this year, Sony unlocked the ability for the users to install an aftermarket SSD on their PS5 consoles, which has opened the floodgates for great and affordable options. We recently covered the ADATA and WD options and today we have another great deal, this time on a Crucial SSD.
Thanks to some great Black Friday discounts, the 1TB Crucial P5 Plus can now be purchased from Amazon for just £107.99, down from £157. This makes it the cheapest 'second-gen' PCIe 4.0 SSDs that we have come across so far and one of the most affordable ways to upgrade the storage on your PS5.
The Crucial P5 Plus isn't a budget drive either - at 6600MB/s, it easy clears Sony's 5500MB/s recommendation for the PlayStation 5, and outperforms even the fastest 'first-gen' PCIe 4.0 drives that appeared back in 2019 and only supported speeds up to around 5000MB/s. It's also sizeable, with the 1TB it offers being more than the 667GB of usable space you'll get on a brand new PS5.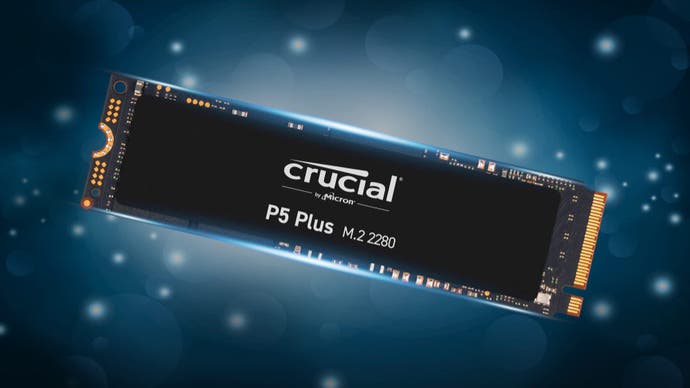 There is, however, one limitation to this SSD. It does not include a heatsink as part of the package, and Sony do recommend a heatsink for use in the PS5. We've run a PCIe 4.0 drive in the PS5 without a heatsink with no apparent issues, but it's probably best to pick up a third-party heatsink for around £10. This Eluteng model is one of our favourites as it's easy to install, compatible with the PS5, and also one of the cheapest options on Amazon.
Of course, the PS5 is not the only thing that can benefit from a fast SSD. If you have a desktop PC with a motherboard and CPU that support the PCIe 4.0 standard then you can see massive improvements in performance by installing the Crucial P5 Plus in your system. At its current price, it's not much more expensive than most PCIe Gen 3 drives, while also being significantly faster. You can expect shorter load times now, and the potential for much more dramatic differences in the future as Microsoft's DirectStorage tech comes to Windows 10 and Windows 11 systems in the months to come.
If you want to check out more SSD options for your PS5, then head over to our PS5 SSD roundup for 2021. Also check out our best Black Friday deals on SSDs and HDDs for 2021. And lastly, don't forget to follow us on @dealsfoundry to get instant notifications for all the best offers and discounts.