Upgrade your PS5 with super-fast SSD storage for 30% off
This XPG S70 drive is also one of the fastest available for PCs.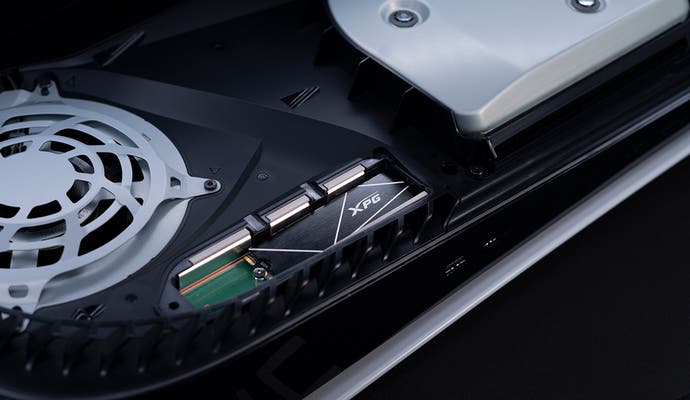 The XPG S70 Blade PCIe 4.0 SSD is down to just £114.58 for the 1TB model over on Amazon UK using the 35% off voucher. This is a fantastic deal for one of the very fastest PCIe 4.0 SSDs on the market, and one that works for both PC and PS5.
The S70 Blade is an M.2 SSD that takes advantage of the faster PCIe 4.0 standard to deliver incredibly fast data transfer rates. Compared to the 3.5GB/s read and 3GB/s write speeds of older PCIe 3.0 drives, the S70 Blade can achieve incredible sequential speeds: up to 7.4GB/s reads and 6.8GB/s writes. That cuts down on file copy times immensely, and improves game load times too - albeit to a lesser degree.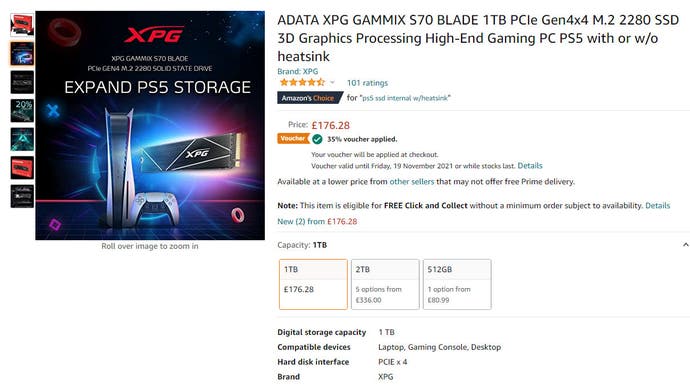 While you can simply plug this drive into any PCIe 4.0 motherboard and get improved transfer rates, the real advantage of a drive like this is for Sony PlayStation 5 users. While the PS5 supports M.2 drives to expand its internal storage, it is incredibly picky about the kind of drives that it can work with. There are a few limitations on the speed and physical size of the drive, including the size of the entire unit with the recommended heatsink installed.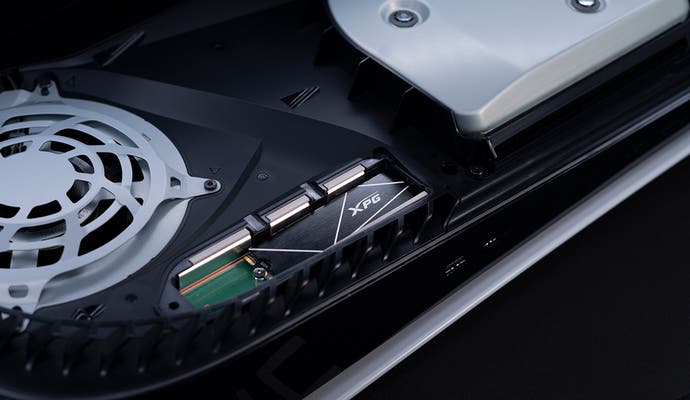 Fortunately, the S70 Blade meets all those guidelines. The SSD is even faster than the internal storage on the PS5, which means the S70 Blade can not just meet the demands of current PS5 games but also any game that could come out in the future.
The S70 Blade also comes with a handy SSD heat sink cover in the package. Having a heatsink is recommended by Sony, as the SSD will need to operate in cramped and potentially hot conditions - and a heat sink ensures performance remains consistently high. The included heat sink cover with the S70 Blade will ensure the drive runs cool and is able to dissipate any excess heat.
The 1TB capacity is currently the sweet spot for these M.2 drives. Not only do you nearly double the internal storage of your PS5 but you don't end up spending a fortune that the higher capacity models currently demand. In the future when the prices go down further for the 4.0 drives then you can always swap out this drive for a larger one - and you can easily put this drive to work in a desktop PC or laptop and still benefit from its stupendous speeds.
If you are looking for more options then check out our roundup for the best SSD options for the PS5 in 2021.
For more deals on this Black Friday, check out our best Black Friday deals SSD and HDD deals. For example, you can currently pick up a 2TB Samsung 870 Qvo SATA SSD for just £124.99 - a real good deal if you value capacity over raw speed. And follow us on @dealsfoundry to get instant notifications delivered to your phone every time there's a great new deal.