Best SSD for PS5 2022: our recommended drives and heatsinks
Digital Foundry tested, Digital Foundry approved.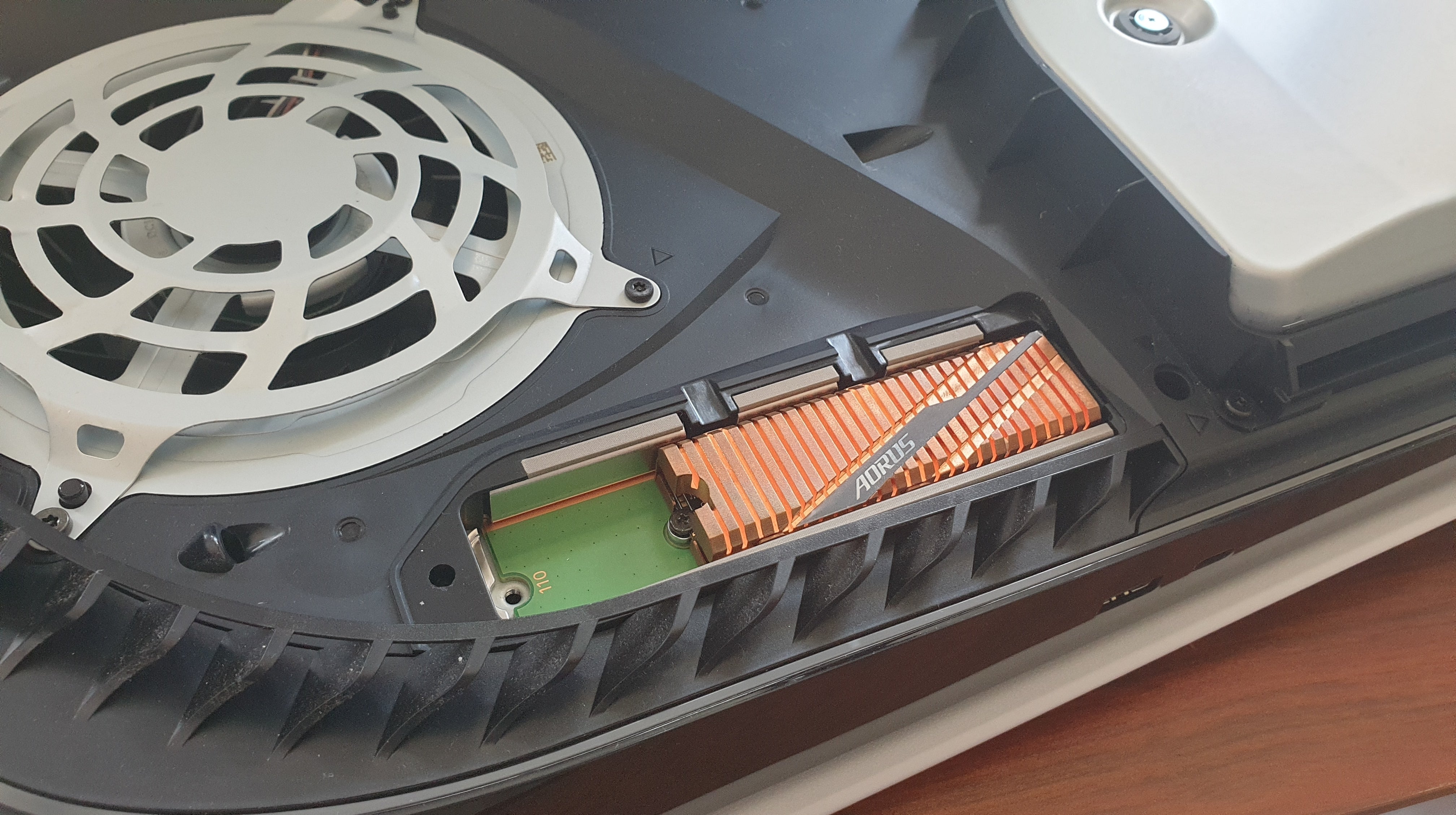 Last year, Sony finally added the ability to install your own SSD in the PS5. Now, it's easy to add tons of extra internal storage for PS5 games in just a few minutes - and this article aims to explain everything you need to know about choosing the right drive.
The key point here is that Sony isn't making its own official drives - instead, standard PC NVMe SSDs from a wide range of manufacturers will work, as long the drive is fast enough and physically fits inside the PS5. This decision by Sony should make upgrading your storage cheaper in the long run, but the requirements are a little complicated.
That's why we've prepared this blog to recommend the best SSDs for the PS5, based on our extensive testing. We've also covered the best PS5-compatible SSD heatsinks, dug into the requirements in more detail and answered your questions.
Best PS5 SSDs

There are already loads of PS5-compatible SSDs, but these are the ones that we've tested and can recommend. Our top picks are at the top of the table, with drives that offer less performance or are worse value towards the bottom.
With very small differences in terms of real world usage, we'd strongly encourage you to go for one of the cheaper options in your region - as long as it's from a brand you trust.
We're still testing new drives and heatsinks as they become available, so feel free to leave a comment below or tweet @wsjudd if there's a drive you think should be listed here.
---
Compatible heatsinks for PS5 SSDs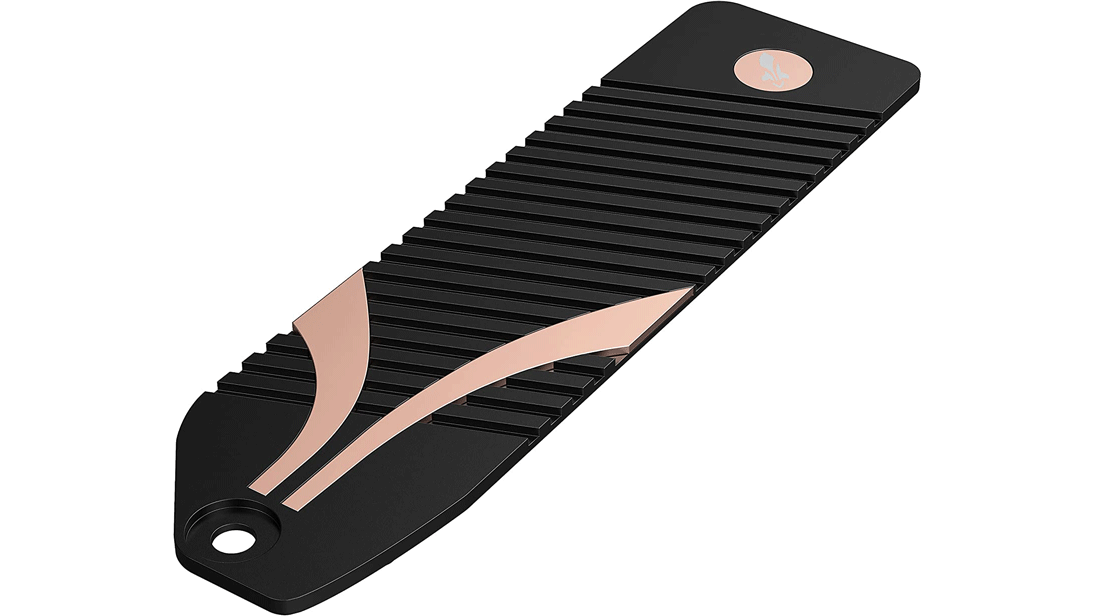 Here are some standalone NVMe SSD heatsinks that meet the height requirements for the PS5. We've tested and confirmed the ones below work, but many others should also be fine as long as they are physically small enough!
UK links
US links
---
---
PS5 SSD requirements
Now that we've had a look at our recommendations, let's take a look at the requirements in case you're considering a drive that we haven't listed. First of all, only the fastest solid state drives are officially recommended: NVMe PCIe 4.0 SSDs with a sequential read speed of 5500MB/s or faster. (Drives this fast have only been available since last autumn.) These drives use a compact M.2 form factor and measure 22mm across, and can be anywhere from 30mm to 110mm long (most consumer drives are 80mm long, a form factor also known as 2280). So far, all pretty straightforward - but the tricky part is yet to come.
The most onerous requirement is that your PS5 SSD needs to have a heatsink or some other cooling apparatus, which needs to fit inside the shallow slot Sony has provided for internal expansion. The combined drive and heatsink need to be 11.25mm (0.442") or shorter, which rules out some drives that come with non-removable heatsinks that are taller than this. There are even specific requirements about where that height can be - there's 2.45mm of space below the SSD for the heatsink and 8 millimetres above, so heatsinks with thick bottoms (!) may not work even if their total height is within spec.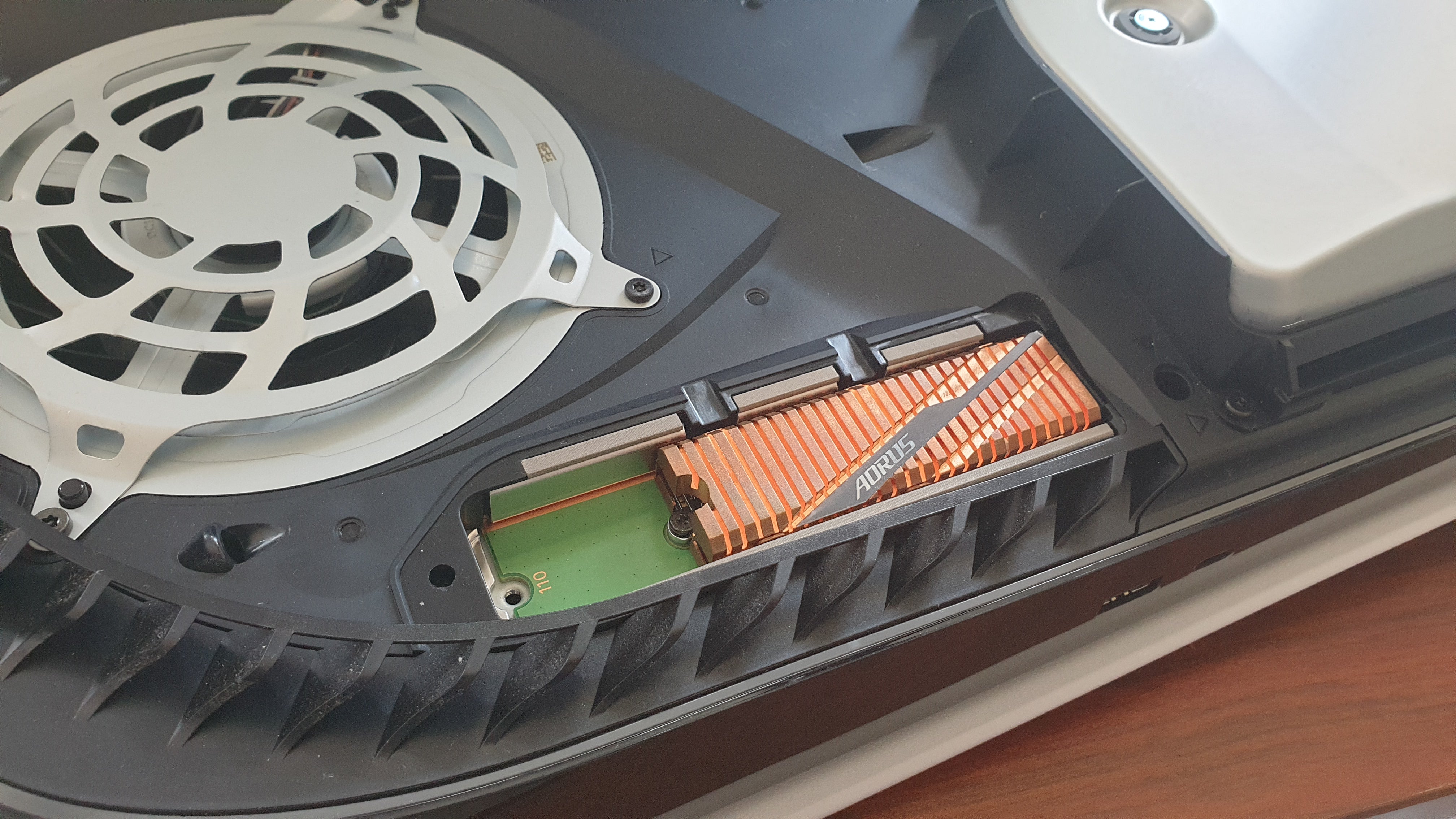 That means you'll need to either buy a drive with a short heatsink already installed - like the WD SN850 ($250/£218) or Seagate FireCuda 530 ($255/£220) - or buy a drive without a heatsink then add one yourself, before installing the newly upgraded drive into the PS5.
These drives are expensive, normally retailing north of $200/£200 for a 1TB model, but unfortunately that's not unusual for a drive of this calibre- and demand may well see these prices trend higher for a short while as everyone rushes out to upgrade their PS5. We have a full list of recommended drives and heatsinks above.
Interface
PCIe Gen 4.0 (x4) M.2 NVMe SSD
Capacity
250GB, 500GB, 1TB, 2TB or 4TB
Heatsink
Required - either built-in or added yourself
Sequential reads
5500MB/s recommended
Form factor
2230, 2242, 2260, 2280 or 22110
Total size w/ heatsink
110 x 25 x 11.25 millimetres
4.33 x 0.984 x 0.442 inches
Heatsink max height (below SSD)
2.45 millimetres
0.096 inches
Heatsink max height (above SSD)
8 millimetres
0.314 inches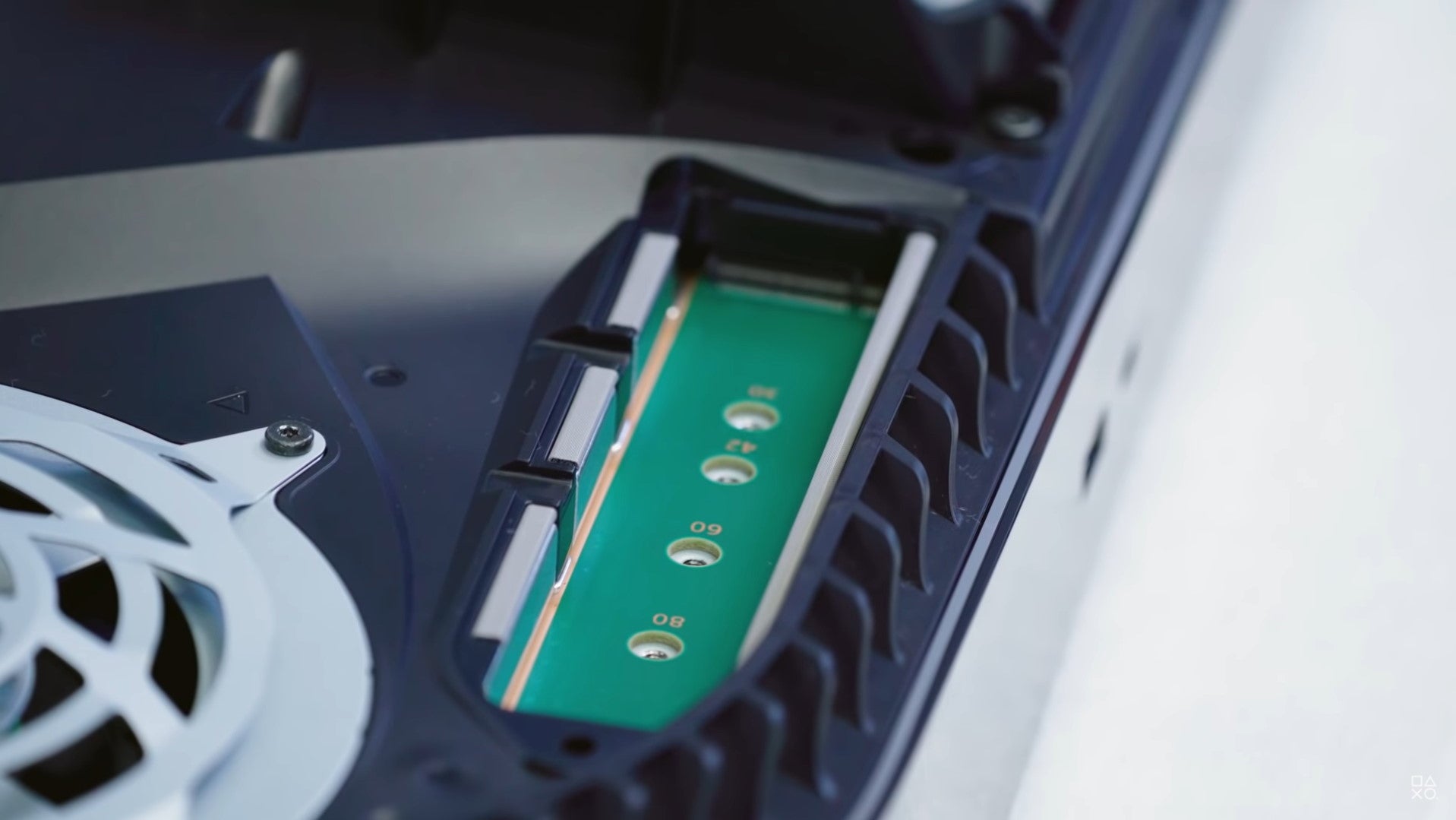 That's pretty much everything of note, but you can have a look at Sony's complete requirements here, which also include some guidance on the installation procedure. For what it's worth, I installed a couple of drives to check they'd physically fit, and the process is very straightforward - take off the PS5's shell, unscrew the drive cover, remove the drive screw and spacer, put the spacer in the position marked 2280, insert the drive, screw it in through the spacer, then replace the drive cover and shell. All told, it'll probably take most newcomers only a few minutes to complete, so don't be too worried about it!
---
What's the best external SSD for playing PS4 games on PS5?
If you fancy an external SSD to play PS4 games, whether on PS5 or PS4, we have some thoughts on the matter.
See our full best portable SSD recommendations here for our pick of the fastest drives - or our best external drives for PS4 article here, if you'd like recommendations for slower but cheaper external hard drives as well.
We've also included quick "where to buy" links for the US and UK below if your adblocker is disabled (thanks!). Remember that these drives do work great on PS5, but you're only able to run PS4 games from external drives, even external SSDs like these.
Frequently asked questions
Is a heatsink really needed?
Only long-term testing will reveal the answer for sure, but Sony's recommendation is that you use a heatsink to ensure consistent performance. We've used SSDs in the PS5 for a few weeks now without a heatsink and didn't notice any issues, so you could always get the drive first and buy a heatsink later if you notice any stutters or slowdowns in your games. Generally, hot SSDs will just run slower, not die outright, so you shouldn't worry about it too much. That said, as heatsinks can be found for as little as £5 to £10, getting one is a relatively small extra on top of a relatively expensive high-spec drive. Personally, I'd get it just to be on the safe side.
Does [some SSD] work with the PS5?
If it meets the specifications and physically fits in the SSD slot, there's no reason why not. Remember that most drives don't come with the slim heatsinks that are required here, so you may need to ignore drives with tall pre-installed heatsinks or add a heatsink to drives that don't come with one. If you do find a drive that looks like it meets the specs, let me know in the comments or on Twitter (@wsjudd) and I'll update the article accordingly.
Does the console come with the standoff and screw?
Yes, the standoff and screw are pre-installed to suit the largest drive size the PS5 supports (22110). You'll probably need to move this to the area marked '2280', as this matches the vast majority of consumer NVMe PCIe 4.0 SSDs. The screw unscrews (surprise, surprise) and the spacer can just be picked up and dropped into place once the screw is out.
Can I leave the cover off to fit taller drives and heatsinks?
Technically, yes, but the metal cover wouldn't exist if it didn't serve a purpose. Whether that's aiding thermal transfer of heat away from the drive, preventing ingress of dust or moisture or a combination, it's best to keep this cover in place if at all possible. It's also quite a thin cover, so removing it wouldn't massively expand the number of drives that would fit.
We hope this article was useful!
Will you support the Digital Foundry team?
Digital Foundry specialises in technical analysis of gaming hardware and software, using state-of-the-art capture systems and bespoke software to show you how well games and hardware run, visualising precisely what they're capable of. In order to show you what 4K gaming actually looks like we needed to build our own platform to supply high quality 4K video for offline viewing. So we did.
Our videos are multi-gigabyte files and we've chosen a high quality provider to ensure fast downloads. However, that bandwidth isn't free and so we charge a small monthly subscription fee of £4.50. We think it's a small price to pay for unlimited access to top-tier quality encodes of our content. Thank you.
Support Digital Foundry