The ever-popular Logitech MX Master 2S is down to £40 in the Amazon Spring Sale
A mega mouse for a lot less.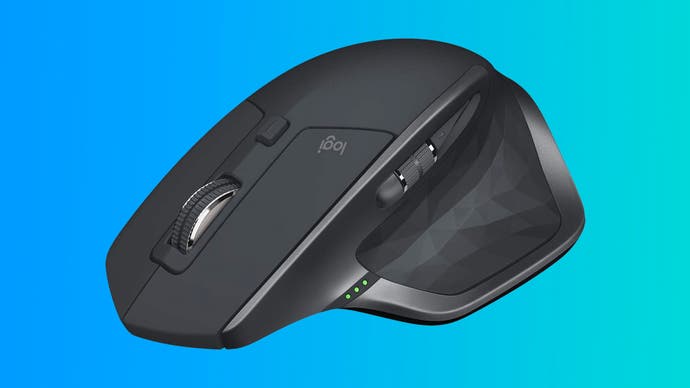 One of the most popular office mice of the last few years, the Logitech MX Master 2S, is down to £40 in the Amazon Spring Sale after a £25 discount. If you're someone in need of a mouse upgrade for your setup at home or at work, this is a prime candidate.
Now the MX Master 2S may not be one of the best gaming mice money can buy, but then again, the MX Master 2S isn't meant for that purpose. Instead, it's designed as an office workhorse, with a comfortable shape, helpful features and long-lasting battery life - qualities that make it one of the most well-regarded mice around.
A 4000 DPI sensor is snappy enough for general office work, while the contoured shape of the Master 2S's chassis make it one of the most comfortable mice to use for those long working days. Personally speaking, I've used a Logitech MX Master mouse of some form at university and at home for the last three years, and they're ridiculously comfortable to use. You get a full complement of buttons which feel marvellously tactile under finger, as well as the benefits of a speed-adaptive scroll wheel that changes between discrete, clicky steps and hyper scrolling modes depending on how quick you're scrolling. There's also a thumb wheel for horizontal scrolling - a lifesaver for plenty of creative work.
Options for connecting the Master 2S are plentiful, with it working over either the Logitech Unifying USB-A Receiver or over Bluetooth. What's more, you can also connect the Master 2S to up to three devices, and switching between them is practically instantaneous with a button on the mouse's underside. This is particularly handy for power users who just want to use one mouse for everything. On the point of power users, the Master 2S also works with Logitech's clever Flow feature. This means that if you've got devices connected both to the Master 2S and the same Wifi network, you can literally drag and drop files from one computer over to the other while maintaining a seamless connection with the mouse itself. It's a clever piece of software trickery, and one I use every so often, working on both a Mac and PC at the same time.
Logitech reckons the Master 2S will last for 70 days on a single charge, giving you two months or so's worth of usage before you'll need to charge it back up again, which makes for some rather serious endurance. However, if you do get caught in a pinch, you can charge it up for just three minutes and get a day's worth of charge out of it.
£40 for one of the most legendary office mice you can buy today is quite the deal, and if you're someone in need of an upgrade, then the Master 2S is definitely a mouse to consider.
And, of course, if you're hungry for a wide range of deals on a wide range of gaming hardware, then be sure to check out our Amazon Spring Sale deals guide where you can find even more excellent discounts.