Best gaming mouse 2022: DF's top wired and wireless gaming mice
Recommendations for all budgets, game genres and hand sizes.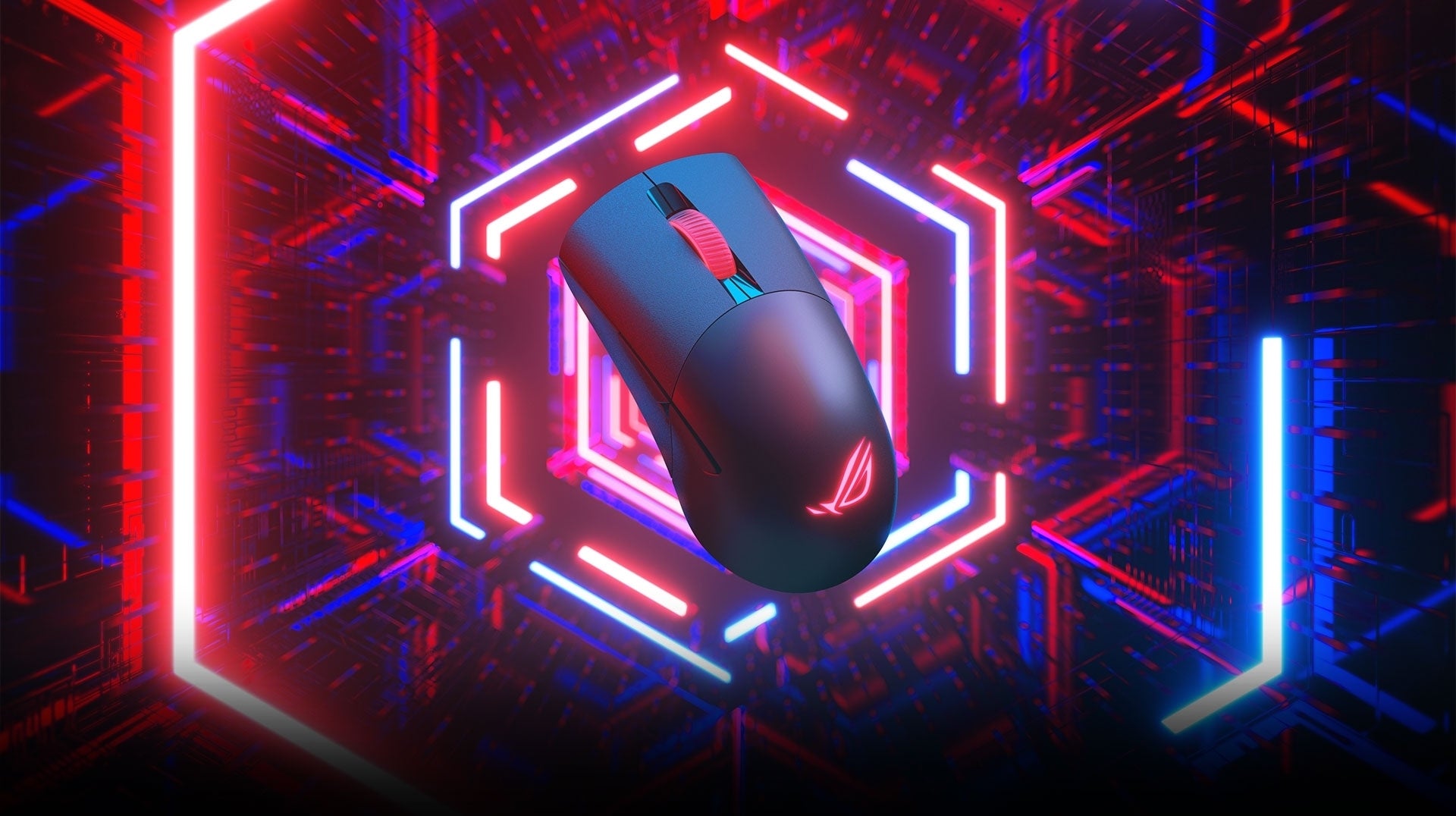 Finding the best gaming mouse is a challenge, but we're here to help. I've tested hundreds of gaming mice over the years so I'm pretty confident in these gaming mouse recommendations. I've also included a general guide so you can choose the right gaming mouse based on your favourite games, hand size and more at the bottom of the page.
It's also worth mentioning that unlike choosing the best graphics card, there's no clear best gaming mouse on the market - but there are definitely better and worse options based on our extensive testing. While we have taken what critics and users think when making our selections, these are still just starting points to guide your own experimentation, rather than a definitive ranking. Don't worry if your favourite mouse didn't make the list - we probably considered it, but ultimately went with a different option.
To make things easier for you, we've got quick links to our eleven current recommendations - and to our detailed guidance on choosing the perfect mouse to suit you, including how to measure your hand size, whether wireless is worthwhile and other common questions. Click through to the topic you're interested in below, or read on for the full article!
Best gaming mouse 2022
1. Glorious Model O
Best gaming mouse overall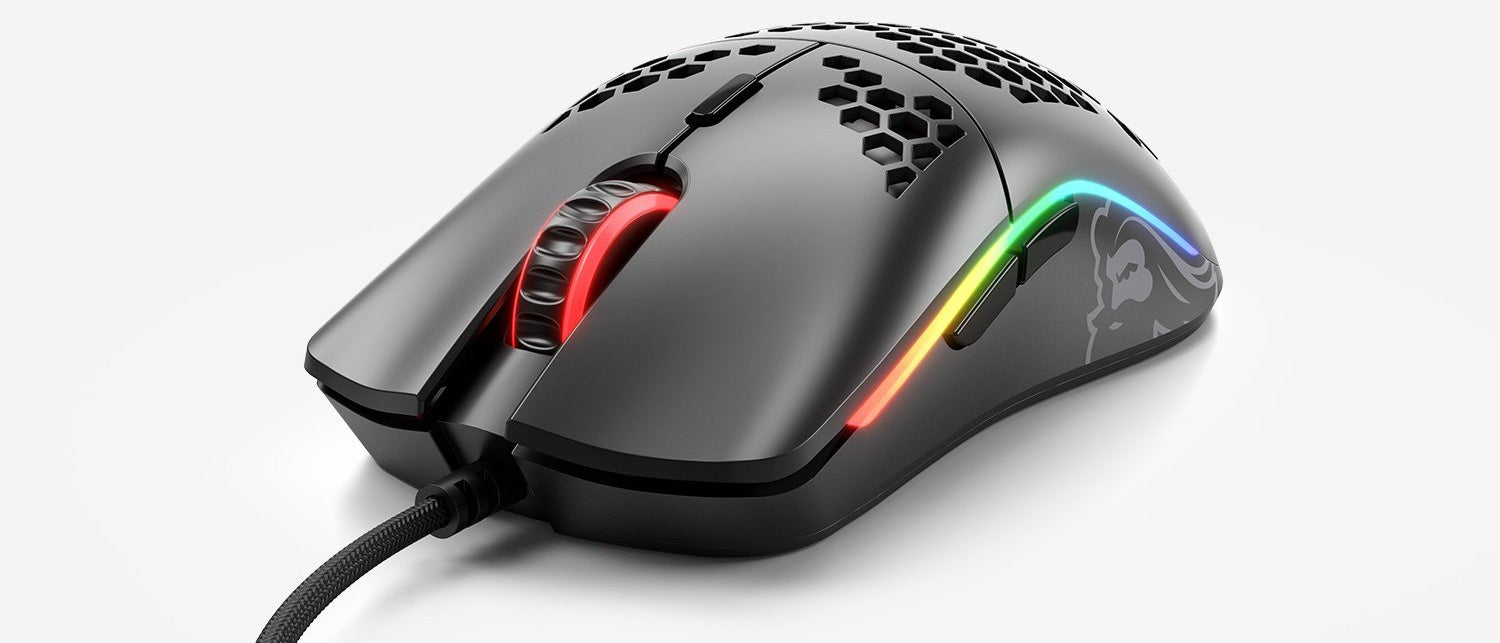 Glorious is a newcomer to the PC gaming space, but the team has captured the zeitgeist for ultra-light gaming mice on their first attempt. The Model O weighs in at just 68 grams thanks to its honeycomb design, yet this modern gaming mouse still feels solidly built and comfortable in the hand. In our testing, the light heft of the Model O makes it noticeably easier to flick onto a target in shooters like Counter-Strike - even when compared to a svelte mouse like the 80g Logitech G Pro Wireless or the 91g SteelSeries Rival 110.
The Model O's cable is also novel, with a super flexible paracord-like material used instead of a more usual rubber or braided cable. This makes the mouse almost feel wireless. There are surprisingly few sacrifices elsewhere too, with an industry standard PixArt 3360 optical sensor, a soft notched scroll wheel, clicky Omron buttons and RGB lighting. The software is also decent, with full access to the settings you need and little else to distract you. The Model O measures 128mm/5" long and 63mm/2.5" wide and uses a symmetric design (apart from the side buttons) so it should be suitable for almost all right and left-handed users.
Best of all, the Model O is affordably priced compared to other ultralight designs, at £50/$50 for the matte version and £5/$5 extra for a glossy design. That makes it easy to call the Model O the best gaming mouse we've ever tested.
Alternatives? Check out our roundup of the best ultra-light gaming mice for FPS!
---
2. Logitech G502X Plus
Second-best gaming mouse overall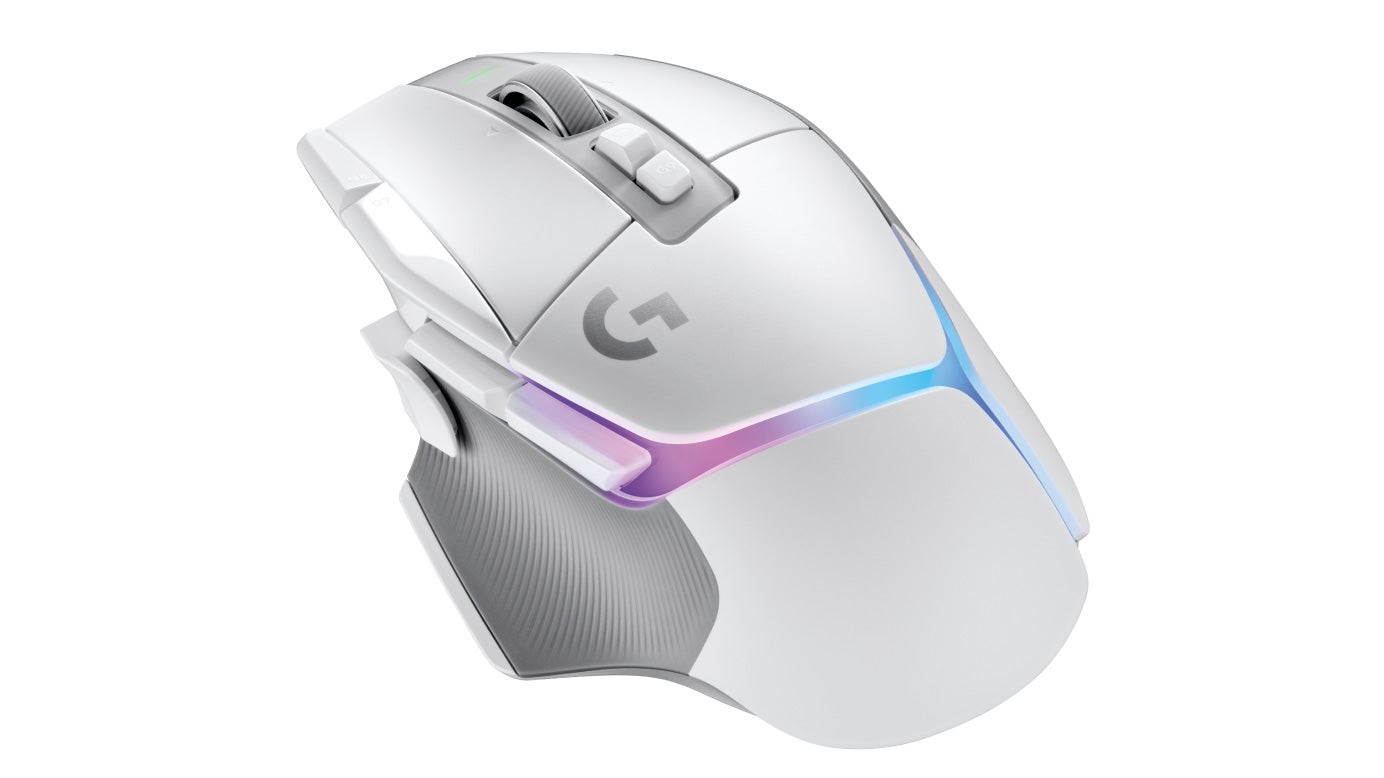 The $150/£150 G502X Plus is Logitech's latest iteration on their immensely popular G502 series, which is known for its large number of programmable buttons, dual-mode infinite/ratcheted scroll wheel and wide, comfortable design. The flagship G502X Plus - and the more affordable wired G502X (£70/$80) and G502X Lightspeed (£120/$140) - makes some sensible changes in order to update the mouse for a new generation.
First of all, the mouse acknowledges the popularity of optical switches, switching to a hybrid optical-mechanical design that offers the fast feedback of opticals and the tactility of mechanical switches. The weight has also dropped substantially (100g for the G502X Plus vs 114g for the G502 Lightspeed) - a response to the continuing trend towards ultra-light options - and optional weights are no longer an option. Finally, the thumb button has been made reversible and even removable, allowing it to fit a wider range of hand sizes and user preferences. RGB lighting is only found on the wireless Plus model, but looks fantastic with a diffuse look and a nice retrowave gradient out of the box.
Taken together, the G502X Plus feels like a much more modern mouse than its predecessor, while maintaining the characteristics - the features, the ergonomic right-handed design and relatively high weight - that made it popular in the first place. If you hated the G502 Hero because of its heavy design, then you won't be converted by the G502X, but if you liked that older model or simply don't mind a heavier mouse if the features are up to par, then you'll find plenty to appreciate here.
Note that at present, the G502X models are too expensive to recommend for most people, but as price drops inevitably occur and stock of previous iterations dries up, the G502X will come into its own as a high-performance (and no doubt highly popular) option.
3. SteelSeries Rival 3
Best budget gaming mouse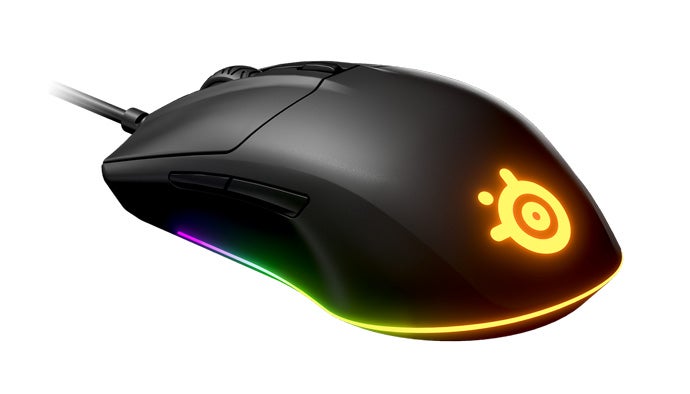 The Rival 3 is a top-tier budget mouse for small to medium-sized hands. It has a surprisingly low weight of 77 grams, making it technically an ultra-light, and a good shape with matte plastic that's easy to manoeuvre in claw or fingertip grip styles. The sensor is a top optical, branded as the TrueMove Core, and seems very similar to the well-respected PixArt 3330. The Rival 3 also includes RGB lighting and six buttons, which is a great haul for a budget mouse.
Now for a few negatives: while this mouse is an ambidextrous shape, there are only side buttons on the left side, and these are quite slim. The mouse's cable is also subpar, being made of rubber and staying quite inflexible, making a mouse bungee a wise move. The mouse feet are also a bit worse than those found on more premium mice. However, both of these elements can be upgraded by the user, so they're wise cost savings that don't hurt this mouse's potential in any meaningful way.
All in all, the Rival 3 is a fantastic value gaming mouse and a great successor to the Rival 110.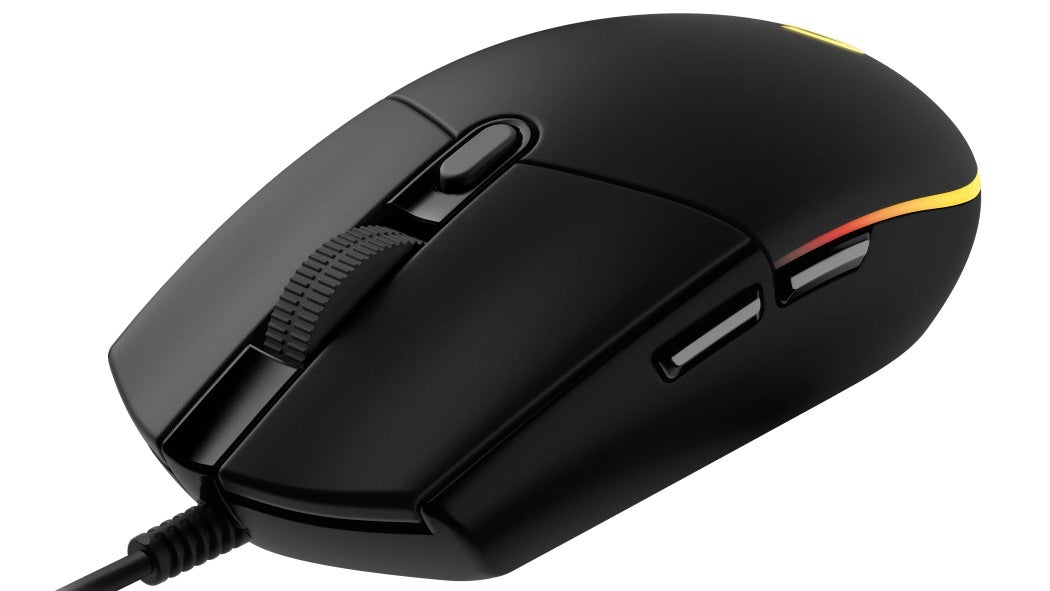 Another strong budget mouse is the Logitech G203 Lightsync. The Lightsync model is very similar to its Prodigy predecessor, but includes better RGB lighting that allows for smooth gradients instead of solid colours. Otherwise, you get the same specs and features as before, including a reliable optical sensor, pleasant clicks and that comfortable flat shape, which is much beloved by legions of G102, G203, G305 and G Pro owners. This budget mouse is well worth considering for anyone that prefers a claw or fingertip grip with small to medium hands.
4. Corsair Katar Pro Wireless
Best budget wireless mouse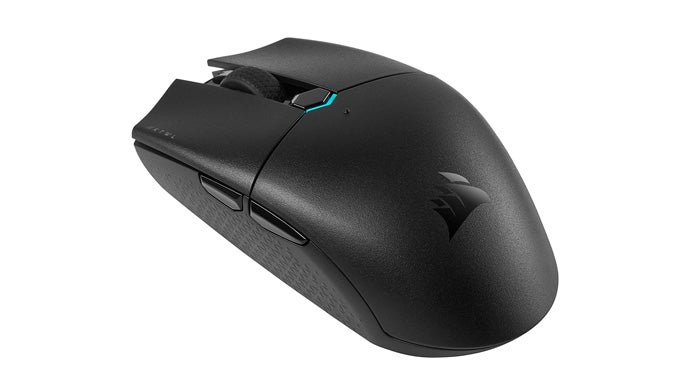 The Katar Pro Wireless belongs to a rare group of wireless gaming mice that are both relatively affordable and actually perform just as well as their wired counterparts. The KPW's strong points include its long battery life (135 hours on a single AA battery), low-latency 2.4GHz and backup Bluetooth connection and an acceleration-free optical sensor that performed well in our testing. The only criticism I can make is the shape, which due to its relatively short length is best suited for smaller hands in fingertip grips. Thankfully, the grippy matte finish on the sides of the mouse make it pretty easy to move, even for fast flicks in games like CS:GO.
Like the Logitech G305, another excellent mouse we also recommend in this category, you can swap in a Lithium Ion AAA battery with an adapter to lower the weight significantly - from 98 grams to around 80 grams. This reduces battery life slightly and changes the balance, but the mod makes it feel more responsive in the hand so I personally prefer it.
Although it isn't wireless, the Katar Pro XT is worth considering too. This wired variant has a lighter weight (73g vs 96g), a higher spec sensor (PixArt 3391 vs 3325) and a lower price point (£35/$30). Thanks to a soft and flexible cable, it almost feels wireless when used with a mouse bungee, making it a canny budget choice.
5. Asus ROG Keris Wireless
Best wireless gaming mouse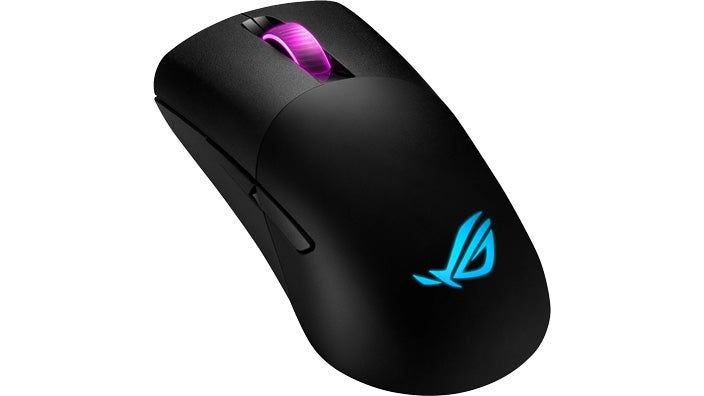 While wireless gaming mice have historically lagged behind their wired counterparts - at times, literally - the gaming industry of 2022 appears to have cracked the secret of reliable, low-latency wireless mousing. Asus seems to have quietly become one of the best makers of wireless mice, with the ROG Pugio 2 catching our eye late last year and now it's the turn of the ROG Keris Wireless, an even better option that offers both Bluetooth and 2.4GHz wireless support.
This £90/$90 mouse offers a streamlined ergonomic design and a comfortable 79g weight that should appeal to all but the most serious ultra-light mouse fanatics.
The switches beneath the left and right mouse buttons are interesting too - they're clicky ones of ROG's own invention, although quieter Japanese Omrons are included in the box. Swapping them is a simple case of removing two screws from the bottom of the mouse and then the top shell, pulling the old switches out with your fingers and inserting your favoured replacements. You can also choose to change the side buttons to silver or pink, if you prefer them to the standard black. As well as the delights of making a mouse feel truly your own, the easy-open design also makes replacing old or worn components easier, making this mouse a safer long-term investment.
Combined with the recent PixArt 3335 optical sensor and a shoelace-style cable for optional wired mousing, the Keris performed well in our testing too, even in demanding shooters like Call of Duty Warzone and CS:GO where heavy or awkwardly shaped mice quickly become apparent. With no real weaknesses, the Keris Wireless quietly became my go-to mouse on my work PC, beating out even more expensive options like Razer's excellent Viper Ultimate and Logitech's G Pro X Superlight. While the specs aren't ground-breaking, the ability to open up your mouse and customise its components is both practical and jolly good fun. If you're looking for a mouse that's a little different but still nails the essentials, the ROG Keris Wireless delivers.
The Keris is also available wired at a lower price (£57/$70) and weight (62g vs 79g).
6. Logitech G Pro X Superlight
Best premium gaming mouse

The G Pro X Superlight is arguably the best gaming mouse on the market - save for its high cost. Wireless gaming mice may put some people off, but from years of using the Superlight (and its predecessor) and empirical tests, the G Pro X Superlight is just as responsive and reliable as a wired mouse. It's also extremely light, tipping the scales at just 63 grams, yet it lasts weeks between charges (Logitech quote 70 hours on their site). Its long battery life is thanks to a highly power-efficient Hero 25K optical sensor, which also performs extremely well in games. This accuracy - combined with the mouse's streamlined shape, low weight and lack of cable drag - make the G Pro X Superlight an absolute pleasure to use, even in the most demanding titles like Rainbow Six: Siege, CSGO or Valorant. We're happy to recommend it to most gamers, given its medium size (125mm/4.9" long, 63.5mm/2.5" wide). Even if you have never considered wireless mice before, the Superlight is good enough to make an exception. It's also available in three colours - black, white and pink.
As we said, the Superlight is expensive for a mouse, so the earlier and cheaper G Pro Wireless remains a great choice. It offers the same shape and an extremely similar sensor, but weighs around 25 per cent more, includes RGB lighting and side buttons that can be moved to the left or right. If you're not a super competitive gamer, the original GPW is probably a better pick.
7. Glorious Model I
Most comfortable gaming mouse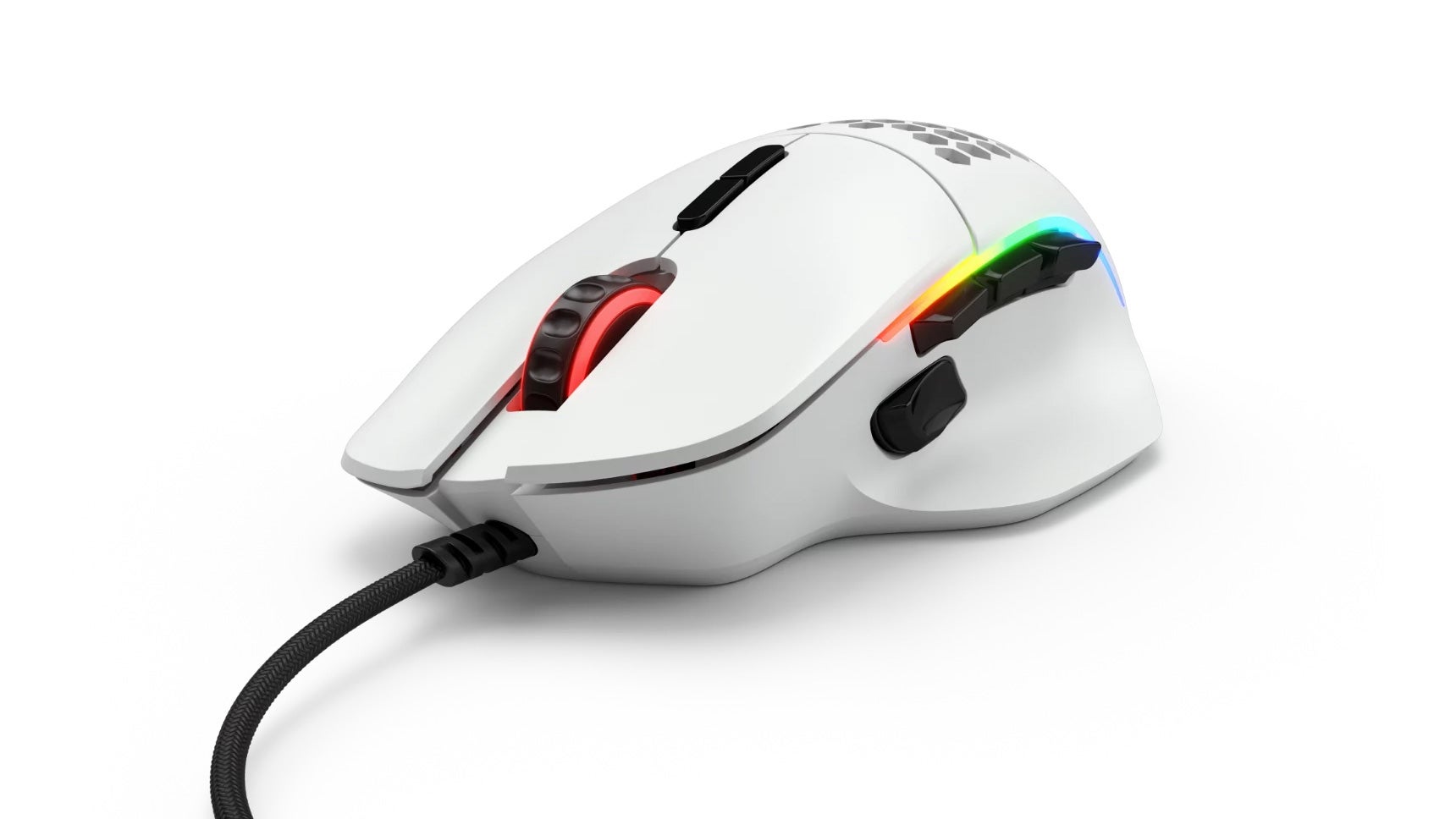 The $60/£60 Glorious Model I is my new favourite mouse, offering a high button count and a wide, comfortable shape that compares favourably to two incredibly popular mice: the Razer Basilisk V3 and the Logitech G502 Hero. Unlike those mice though, the Model I features a high-quality flexible cable that makes it feel almost wireless, an ultra-light 69g design and high-quality mouse skates.
The effect is transformative - you still get the ergonomic right-handed design that so many people love, complete with a shelf for your thumb and four side buttons, but you also have a dramatically better package for first-person shooters and other fast-paced, competitive games. The side buttons are also replaceable, allowing you to opt for different shapes or flat panels that remove the buttons you don't need.
The only feature that Glorious haven't replicated from the ($50/£49) Basilisk V3 and ($33/£40) G502 Hero is a fancy scroll wheel. Both of these mice offer a wheel that can transform between a stepped, tactile mode and an 'infinite' scroll mode where the wheel spins freely. The Model I's scroll wheel is entirely standard, so you might still consider Razer or Logitech's offerings if this feature is important to you.
8. Razer Viper Mini
Best gaming mouse for small hands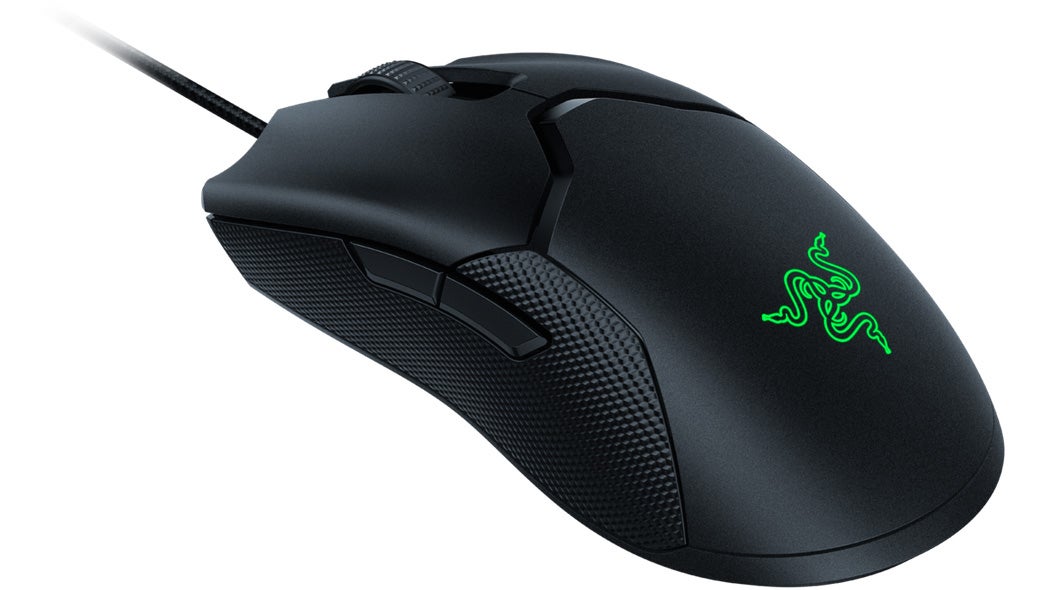 The Razer Viper Mini is an ideal mouse to choose if you have small to medium-sized hands, thanks to its low profile design, diminutive dimensions of 118mm by 62mm and low weight of 60 grams. The PixArt 3359 optical sensor is a strong recent release and features accurate 1:1 tracking, while optical switches under each button should offer a small latency advantages against traditional alternatives. The Viper Mini also includes a great cable, which is quite flexible and feels almost wireless in a bungee. In games like Call of Duty Warzone and Valorant, we found the Viper Mini responsive and comfortable regardless of the circumstances. The mouse also comes with RGB lighting in the form of an illuminated logo and tail light, which can be controlled in Razer's Synapse software. Overall, this is a great gaming mouse, especially given its relatively low price.
9. Corsair Sabre RGB Pro Wireless / Sabre RGB Pro / Sabre Pro
Best gaming mouse for large hands
The £90/$100 Sabre RGB Pro Wireless, its wired counterpart the £50/$60 Sabre RGB Pro and the £45/$55 also-wired, non-RGB Sabre Pro are our new favourite mice for people with larger hands.
Learning lessons from the trend towards ultra-light mice, the wired Sabre Pro mice use trendy super-flexible shoelace cables to make them feel almost wireless and are lighter than you'd expect; the wired RGB model weighs just 74 grams and the non-RGB 69 grams. Meanwhile, the wireless RGB model is just 79 grams - a good result for a wireless, full-bodied mouse of this size. The relatively large dimensions (129x70x43) make this mouse ideal for a palm grip, but a claw is workable too depending on your hand size. Comfort curves in the buttons and a rougher texture on the sides make these ergonomic mice easier to wield too - important for low-DPI, high-speed styles.
The wired mice also support a bleeding-edge 8000Hz polling rate, which independent tests have shown does increase responsiveness slightly over the more standard 1000Hz - at the expense of a small percentage of system performance, only likely to be noticeable on low-end machines. (The RGB Pro Wireless is limited to 2000Hz in its 2.4GHz mode, while Bluetooth is a savagely low 250Hz - definitely not the best for gaming!)
Corsair's iCUE software remains one of the best in the industry for setting custom lighting, macros and mouse settings, and the effects are impressive - especially if you're already using Corsair peripherals or components for a nice synchronised look. Alternatively, if you're not fussed about RGB then you can pick up the vanilla Sabre Pro to save £5/$5 - which is an option I wish more manufacturers provided. Either way you go, you're left with an exceptionally strong choice for anyone with medium to large hands, at very reasonable price point.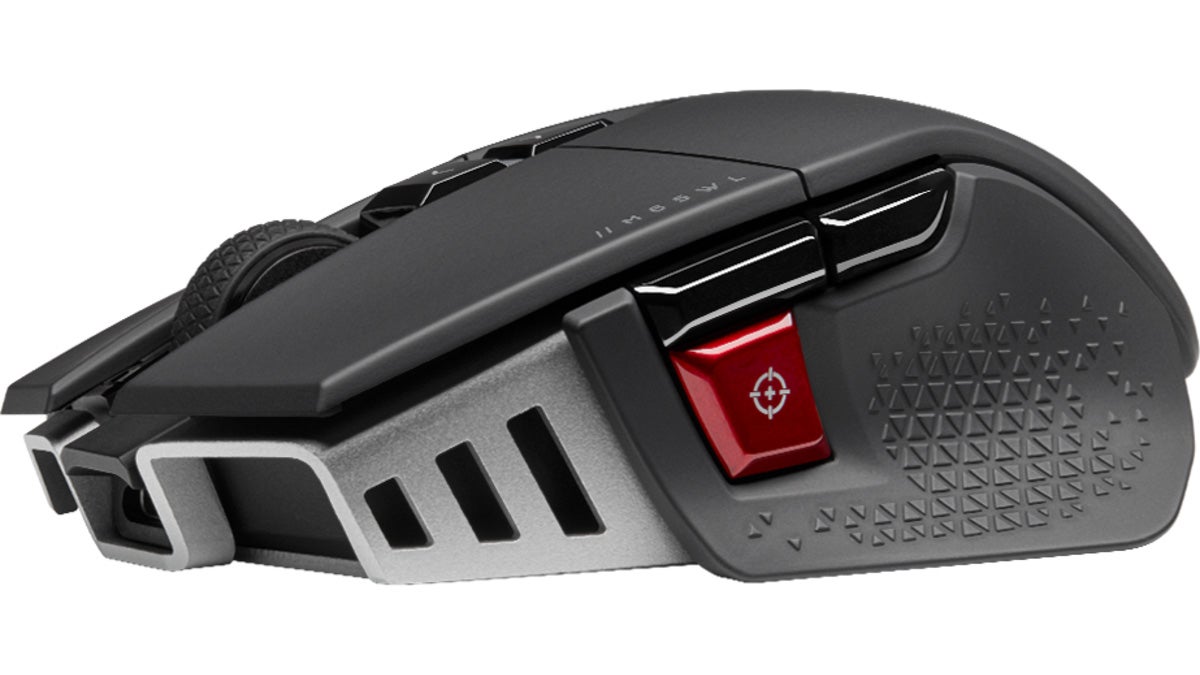 If you prefer a weighty mouse, consider instead the Corsair M65 RGB Ultra or Corsair M65 RGB Ultra Wireless. The original M60 mouse debuted for Corsair in 2012, and the angular design, low-sensitivity 'sniper' button and three-zone optional weights are definitely a product of that era. The Ultra versions we're recommending were released in 2021, with slightly more streamlined designs and updated internals - but the same looks and features. The updates include high-end 'Marksman' optical sensors, Omron optical switches and six-axis gyros on both RGB Ultras. There's also low-latency 'Slipstream' 2.4GHz wireless (plus Bluetooth and USB-C connectivity) on the wireless model and 8000Hz polling on the wired model. It's great to see a successful update to a winning formula, and the new M65 models serve as a great alternative to the Sabre RGB mice above that make up our primary recommendation to this category.
10. Corsair Scimitar RGB Elite
Best MMO mouse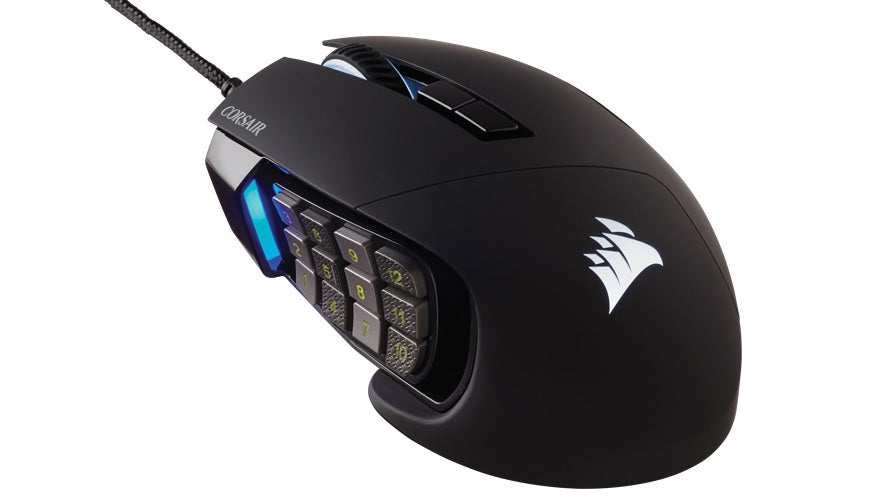 If you like to play games that require lots of different keys for your spells and abilities, choosing a mouse with plenty of side buttons can a nice way to keep up. The Corsair Scimitar RGB Elite is our pick for the best MMO mouse, thanks to the twelve buttons arranged in a grid on its side panel. Varying textures make it easy to identify each button in tense situations, and the entire grid can be moved forward or back to suit your hand size.
The mouse is about the same length (120mm) but wider (78mm/2.9") and heavier (122g) than the other mice on this list, which aids comfort but doesn't allow for as precise mouse movements. Still, a top-notch PixArt 3391 optical sensor and nice clicky buttons make this well-suited for most game genres. Corsair's software is also extremely powerful, giving you the tools you need to set up each button with the right macros.
Overall, we think the Scimitar RGB Elite is the best option for MMO gamers, just squeezing out our previous pick, the Razer Naga Trinity. This mouse's replaceable side panels make it better for FPS gaming, but we prefer Corsair's software and button layout.
11. Vaxee Zygen NP-01
Best esports mouse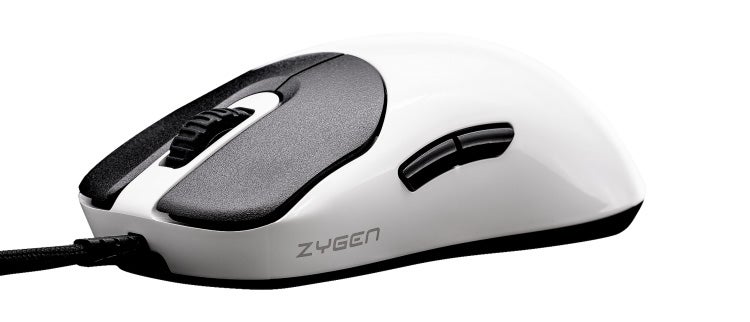 The Vaxee Zygen NP-01 is a no-excuses-given $60/€65 mouse for competitive gaming, with a unique right-handed ergonomic shape and a soft braided cable. Refreshingly, there's no RGB lighting and no prominent branding whatsoever, giving the mouse a clean, even office-friendly appearance, with black accents (buttons, scroll wheel, cable) on a glossy white shell. (If you prefer something even more stealthy, a full matte black version is also available.) This mouse has it where it counts, with a very tactile scroll wheel, clicky buttons and PixArt's high-end 3389 optical sensor. The NP-01 is also esports-friendly, with all settings (DPI, lift-off distance, polling rate) controllable via buttons on the bottom of the mouse, so there's no software to install. Overall, this mouse feels great to use and has become my mouse of choice as I claw my way back up the upper echelons of CS:GO matchmaking!
12. Roccat Kone XP
Best RGB gaming mouse
The £80/$90 Roccat Kone XP takes RGB to the next level with a semi-transparent design and a total of 22 LEDs, allowing lighting to spill out from the entire body of the mouse - save the side buttons and grips. The effect is tremendous, and gives the Kone XP a unique look in a sea of similar mice with RGB scroll wheels.
Elsewhere, the Kone XP retains the advantages of the rest of the Kone lineup: a wide, comfortable design, a ton of buttons (15!) and high-quality components throughout. The latter includes a PAW3370-based optical sensor, 'Titan' optical switches for left/right click and a super-flexible 'Phantom Flex' cable. Most of these keys are on the left side of the right-handed mouse, with four thumb buttons, a lower shelf that acts as a modifier key by default, and two additional buttons near the left mouse button that are mapped to DPI adjustments by default.
All of these features do mean that the mouse is far from an ultra-light at 104 grams, but it's unsurprising given that the Kone XP competes with the staggeringly popular Logitech G502 Hero (121g) and Razer Basilisk V3 (101g).
Overall, while the RGB lighting catches the eye, it's the comfortable shape, high button count and well-considered components that make this mouse worth considering.
How to find the perfect gaming mouse
The first step is normally to identify what games you're going to be playing most often. Most genres will be perfectly playable with any kind of mouse, but competitive titles such as PUBG, Counter-Strike, DotA 2, StarCraft 2 or Fortnite place higher demands on mouse precision, making mice with accurate optical sensors and light weight designs more desirable. Similarly, MMOs like World of WarCraft will benefit from having a higher number of buttons than normal for binding your most-used spells and abilities. The first four mice we recommended above are all suitable for FPS and MOBA games, while the last is designed expressly for MMOs or other games that require a large number of hotkeys. If you're playing games outside of these genres, choosing any of the mice on the list will be just fine.
Secondly, your hand size will determine how comfortable a given mouse is to use. Most people will be happy with a medium-sized mouse, including the first two recommendations, while those on the outer edges of the bell curve should start with our 'for small hands' and 'for large hands' recommendations. To find your hand size, keep your fingers together and measure from the tip of your longest finger to your wrist.
Small hands: Less than 170mm (6.7")
Medium hands: Between 170 and 195mm (6.7" - 7.7")
Large hands: More than 195mm (7.7")
You can also measure your hand's width from the bottom of your hand, across your knuckles and past your thumb. You can compare these two hand measurements, length and width, with a mouse that you're considering. A mouse that is about 60 per cent in both dimensions should be suitable for your hand size.
For reference, my hand size is 200mm x 100mm, so I personally look for mice that are around 120mm x 60mm. Different grip styles can also influence your ideal mouse size; claw and fingertip grips will hover around the 60 per cent mark, while palm grips are flatter and therefore mice that are closer to 70 per cent of your hand size will feel more comfortable.
Setting a game type and a hand size should narrow the field of potential options substantially. From here, we would recommend mice that include optical sensors (eg the PixArt 3310 and above), low weight (~95g or less), a smooth shape and at least two side buttons. In terms of manufacturers, some of the best-trusted brands are BenQ Zowie, Logitech and SteelSeries, but mice from Corsair, Finalmouse and Razer are also popular and could be worth considering.
Of course, there are also specs and features that are relatively unimportant and should be considered last when choosing a mouse. I would place high maximum DPI settings, RGB lighting and good software into this category for most people, although of course all three features are nice to have. Extremely high (>3200) DPI options aren't evidence of a good sensor, RGB lighting is normally covered by your hand and most mice software include similar functionality with varying degrees of usability.
Finding the best gaming mouse for you can be a lengthy process, but it is also a rewarding one. We hope this guide has given you at least a place to start; good luck!
Frequently asked questions
How much DPI do I need?
It depends on the games you play, but 3600 DPI is probably sufficient for most purposes. For accuracy's sake, training yourself to use a lower DPI like 400, 800 or 1200 may be beneficial.
What options are there for left-handed PC gamers?
The short answer is that most left-handed gamers survive using symmetric mice, with few true left-handed gaming mice available. We've included several of the former above, and we are looking for true left-handed mice to test and include on this list in the future.
Can you recommend some gaming mouse mats?
Sure, we have a full roundup of the best gaming mouse pads.