Best gaming mouse pads 2022
Thick or thin, big or small, speed or control?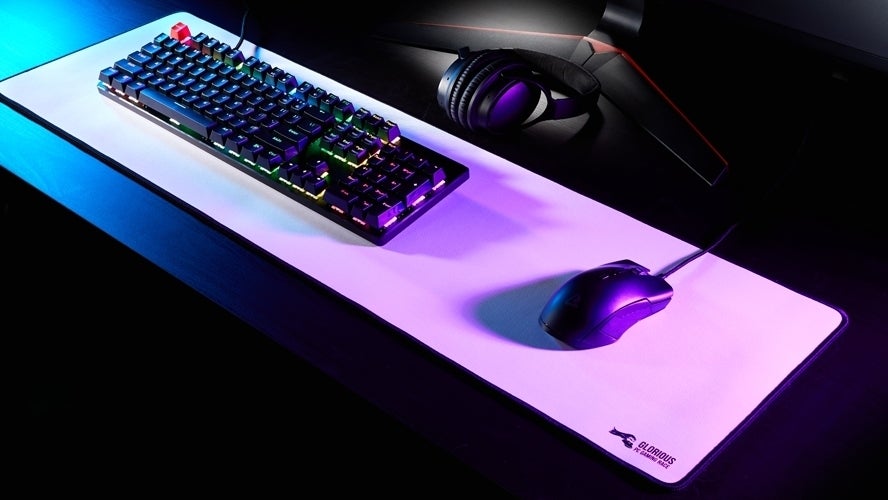 Here at Digital Foundry, we've weighed in on some of the top gaming peripherals on the market, from the best gaming mice and mechanical keyboards to recommended gaming headsets and monitors. Now it's time to look at an underappreciated part of your gaming arsenal - the humble mouse pad or mouse mat. This surface affects how your mouse movements are translated into in-game actions, so it makes sense to make sure you're not being held back by an old, dirty or simply unsuitable mouse pad. That's why we're taking a look at the best mouse pads, from cheap and cheerful budget options to the best premium examples available.
We've gone with seven battle-tested recommendations, and we'll continue to add and update these picks over the coming months as new models pass over our desk. As well as making recommendations, we'll also look at the more basic principles of mouse pad design and explain what options are out there by answering some frequently asked questions and laying out the most common terms in a glossary. Let's get started with some great entry-level options, before we move onto more specialist examples.
Note: Please disable ad blockers if you can't see current US and UK prices below each item.
Best cheap gaming mouse pad: SteelSeries QcK Medium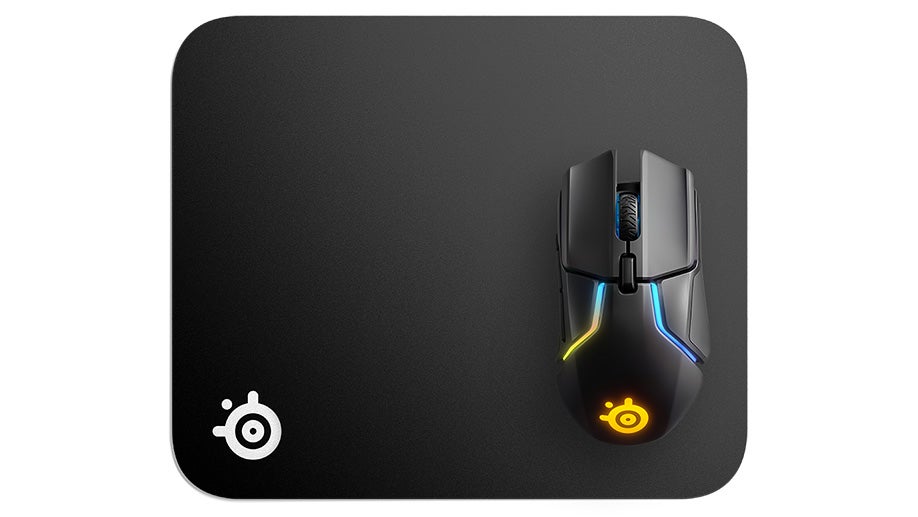 You don't have to spend a lot to get a good mouse pad. SteelSeries' QcK Medium is our favourite cheap option, offering a good gaming surface at a reasonable size - (32x21cm, 13x11") - for less than a tenner. Note that you are giving up some niceties here, like a thicker design and a more durable stitched edge, but these are understandable omissions given the price. Regardless, you're left with a highly usable cloth pad that's easy to take to LANs and will fit even in cramped conditions.
Alternative pick for Americans: PureTrack Talent Series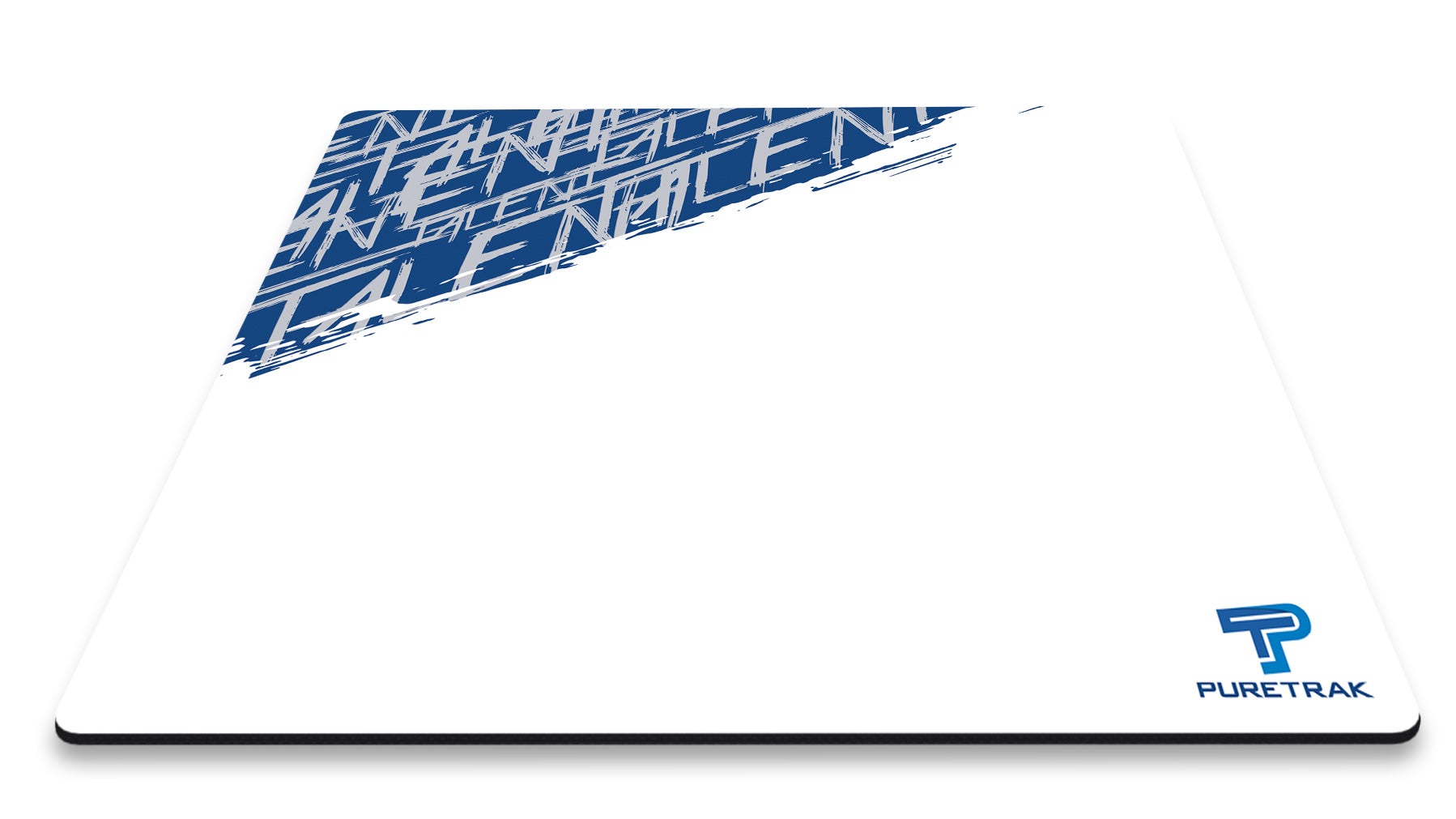 Alternatively, if you're in the US, you might consider Talent Series mouse pads from smaller firm PureTrak, which similarly don't come with a stitched edge but do offer a good level of thickness (6mm) ideal for uneven surfaces and some interesting designs. Apart from a strong smell for the first day we didn't have any issues gaming in CS:GO or Hades. The SteelSeries QcK Medium remains our overall choice, but at $13 these 12.6x10.6" mousepads are a reasonable upgrade pick.
Best mouse pad for gaming: Corsair MM350 Champion Series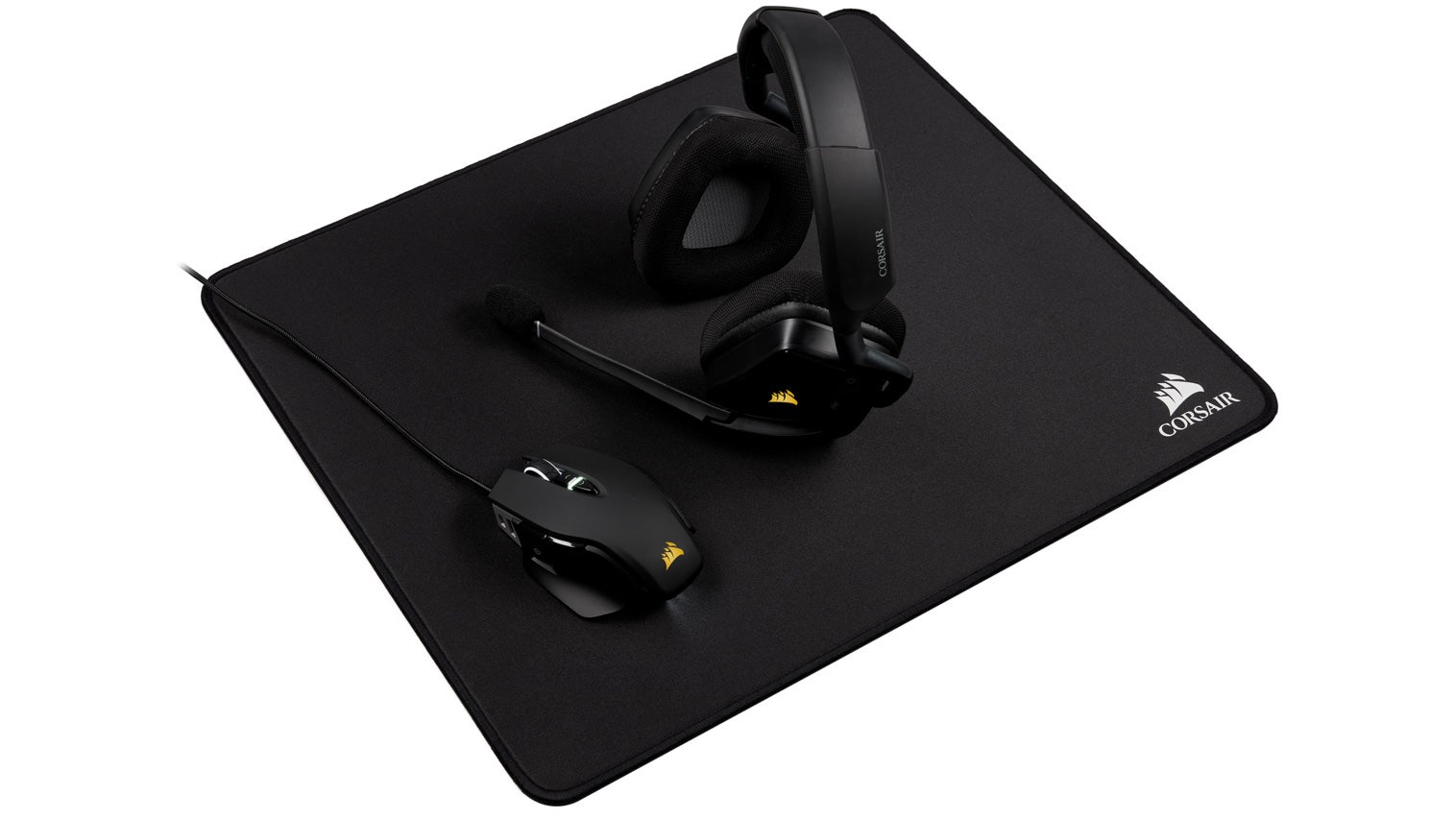 Thicker mouse pads provide added comfort and help guarantee a flat surface even on a bumpy desk, so the 5mm-thick Corsair MM350 Champion Series is a natural choice here. We tested the X-Large 45x40cm (18x16") size, which provides more than enough space for 180-degree flicks in CS:GO at 400 DPI. The stitched edge is flat and soft, protecting the mouse pad without affecting comfort as some poorer mouse pads do. All in all, this is a strong option for anyone looking for a good balance between speed and control in games of all genres.
If you prefer mouse pads with a design, we recommend this blue camouflage "Hailstorm" pad from Sades. It's the same size as the Corsair MM350 Champion Series, at 45x40cm, and offers the same flat stitched edges and a good surface that mixes speed and control.
Best mouse pad for control: Zowie G-SR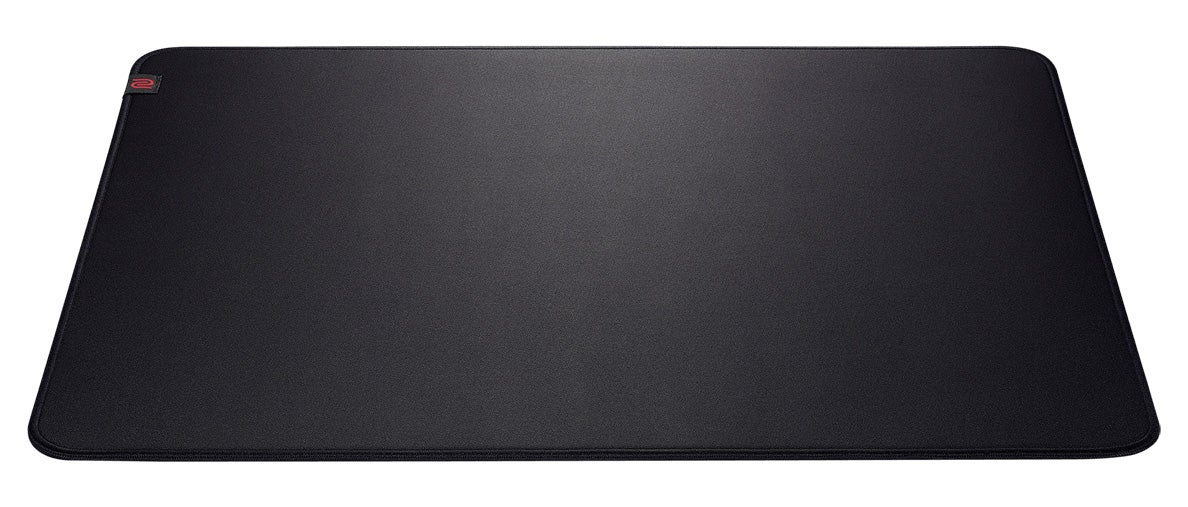 The most popular mousepad among CS:GO professional players is this one, the Zowie G-SR. The large 47x39cm (18x15") size provides enough space for gaming at any sensitivity level, while the slightly rough surface is ideal for maximising control, allowing you to stop your mouse on a dime once you see an enemy's head poke out of cover. That means you'll need to push your mouse a little harder to glide, but in games where accuracy is everything, this mousepad is certainly worth it. Unfortunately, this mouse pad has become hard to find as of late, so we're looking to replace this recommendation in the near future.
Best hard mouse pad: Corsair MM800 RGB Polaris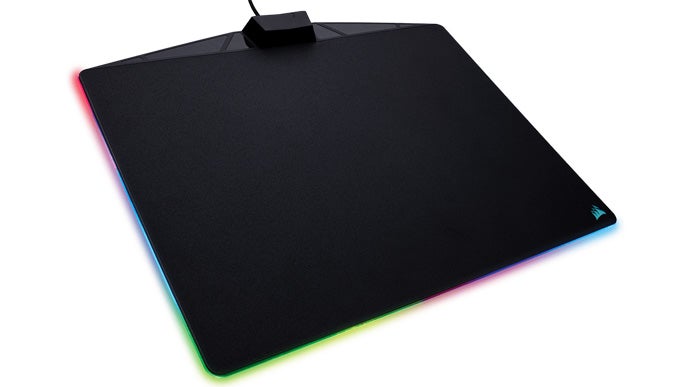 If you prefer a hard metal mouse pad, the Corsair MM800 RGB Polaris is a nice choice that offers a good mixture between speed and control. Unlike most RGB mouse pads on the market, this one includes a USB passthrough port - which can be a convenient place to plug in a wireless mouse dongle. The MM800 is large enough for most people too, at 35x26cm (14x10").
Best desk pad for control: Fnatic Dash XD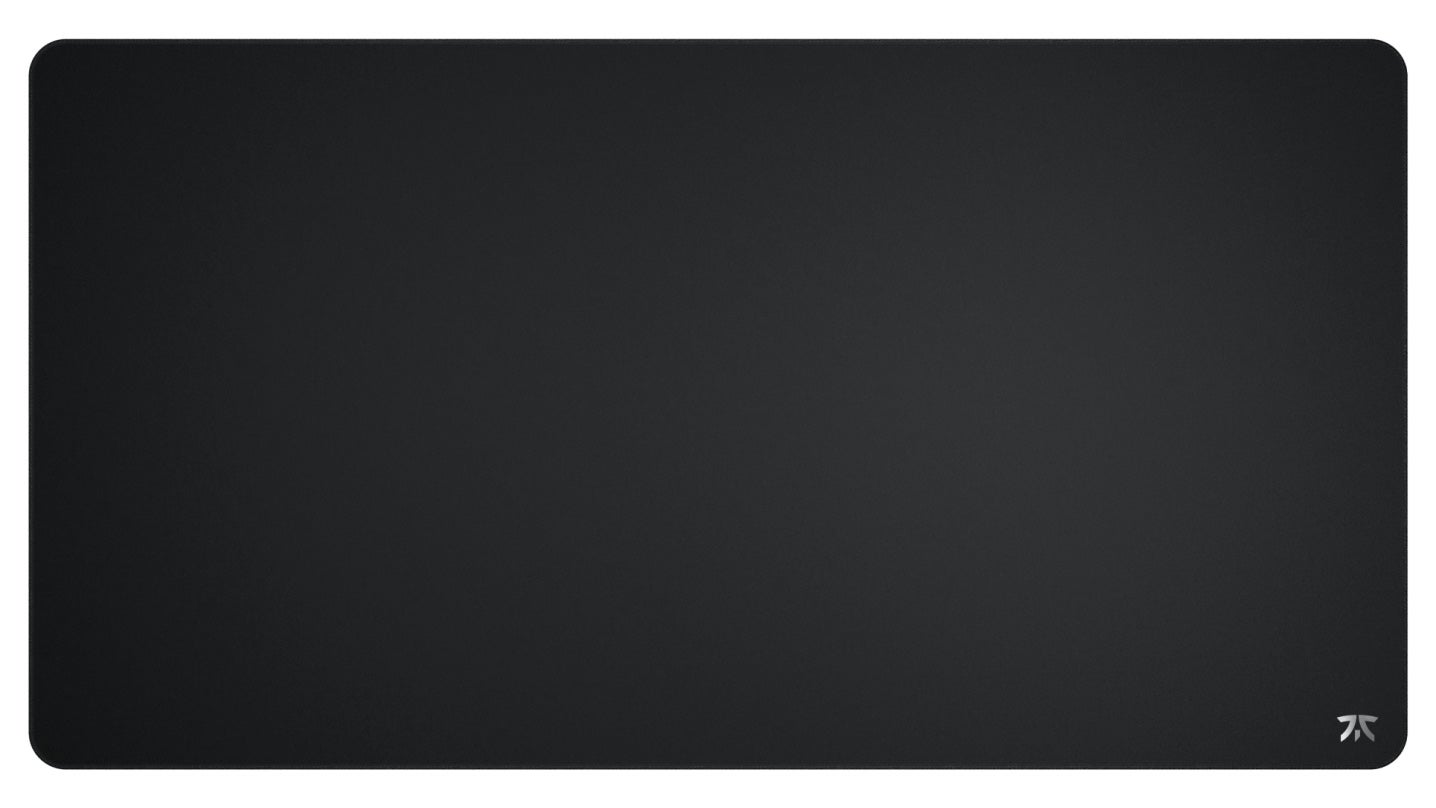 The best full-size desk pad for control we've tested is the Fnatic Dash XD. At 95x50cm, it fits on even narrow desks while also providing enough space to rest your forearm on its surface. The stitched edges of the mouse pad are the best we've ever tested and are almost impossible to feel, unlike lesser mouse pads that are often raised or even scratchy at their peripheries. The surface on the Dash is textured to provide a good mixture between aim and precision, making it a good choice for ultra-light mice set to low sensitivities - a setup preferred by CSGO professionals. The branding here is minimal, with a small but reflective Fnatic logo in one corner adding a touch of quality. If you like the sound of the Fnatic Dash but don't want a desk pad, a smaller 49x37cm option is also available - the Dash L. Both variants offer excellent performance and are linked below.
Best desk pad for speed: Glorious Extended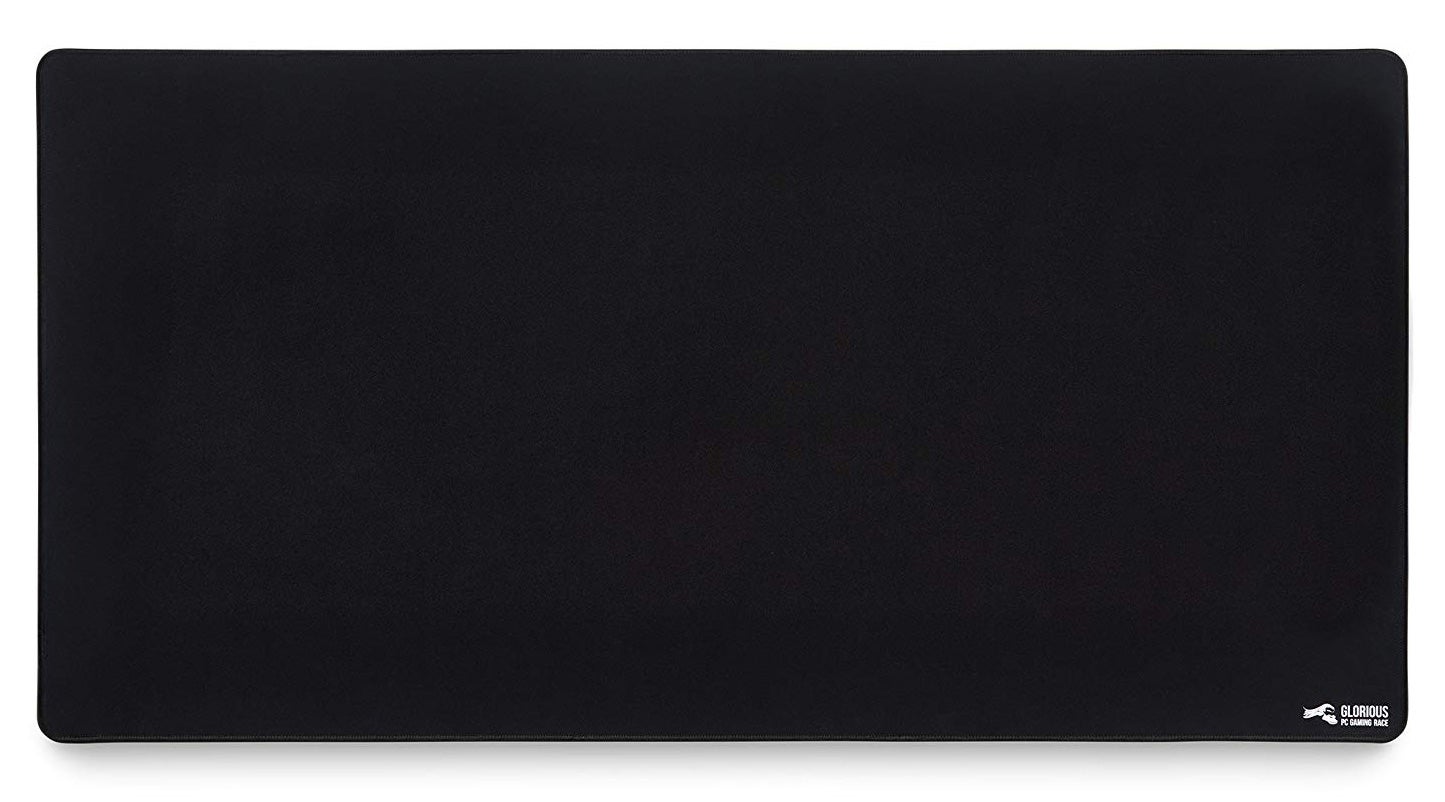 Glorious are well known for their cheap but well-made gaming mouse pads, with the Extended offering more than enough space for your keyboard, mouse and other peripherals at 28x91cm (11x36"). If you need a larger size, you can pick up the taller XXL Extended at 46x91cm (18x36") or the ridiculous 3XL Extended which is 61x122cm (24x48"). No matter which size you choose, you get stitched edges for long-term use and a durable, machine-washable design. Glorious get bonus points for offering a "stealth" option, which omits the logo, and a white colourway.
Best RGB desk pad: SteelSeries QcK Prism XL Neon Rider Edition
The Neon Rider is an iconic weapon skin from CS:GO, and now it's also a great-looking RGB mouse pad (and matching Sensei Ten mouse, natch). This desk pad is relatively short at 90x30cm, allowing it to fit easily even onto cramped desks, while still offering a comfortable 4 millimetres of thickness. The SteelSeries Engine software allows you to select from dozens of effects, as well as potentially syncing the lighting between the pad and other SteelSeries peripherals like headsets, keyboards or mice. The surface of the mouse pad doesn't quite outperform our picks above, but still offers a good blend of speed and control that should be suitable for playing competitive games at a high level - or just enjoying a spot of Warzone with the squad.
If you prefer a more neutral design or a bigger size, our previous pick -the XPG Battleground XL - remains another great option that's available at a lower price.
Glossary of terms
Material: Different mouse pad materials will affect the feel, longevity and portability of the pad. Softer materials like cloth can be rolled up, saving space, and offer a comfortable place to rest your arms. Meanwhile, harder materials like metal or plastic can't be rolled up, but provide a flatter surface that can be more resistant to wear.
Thickness: The depth of a mouse pad affects how it feels to use and often how comfortable it is as well. While materials like plastic or metal can be quite thin, cloth and other soft materials can vary in thickness from 2mm to 5mm or more. Thicker pads will generally be flatter and more comfortable, but thinner options can fit under a keyboard more easily.
Size: Mouse pads are often available in multiple sizes, from compact models barely bigger than a mouse to desk pads that can be a metre wide or more. As a general rule of thumb, the lower your mouse's DPI setting, the bigger the pad you'll need. For DPIs under 1000, we recommend a large or extra-large pad.
RGB: Some mouse pads have lighting built into the perimeter of the pad to improve their appearance. This lighting can be a single colour, but more commonly multiple colour options and effects are available. More premium pads have software-controlled RGB, potentially with multiple lighting zones, which can be synced with other RGB-encrusted PC components or peripherals for a synchronised look.
Wireless charging: A small proportion of mouse pads include built-in wireless charging, which can be used to recharge wireless mice from the same brand or Qi-enabled mobile devices like smartphones or headsets. This is convenient, but these mouse pads tend to be premium options due to their added complexity.
Frequently asked questions
Why do I need a gaming mouse pad?
The best gaming mouse pads have carefully calibrated surfaces, allowing you to choose between slicker options optimised for speed or rougher surfaces that provide better control. Using a good gaming mouse pad also ensures your mouse feet won't wear down quickly or unevenly, lengthening your mouse's useful lifespan. Gaming mouse pads are also offered in large sizes, providing more mousing space - ideal for mice used at low DPI settings. Other features, like perfectly flat edges, RGB lighting and even wireless charging are also available.
How do I choose the right gaming mouse pad?
Start with materials. Plastic or metal hard pads are great for use on uneven surfaces, like badly worn desks, while cloth pads are more comfortable and machine-washable. From here, consider whether your play style emphasises speed (fast games with constant mouse movement like Fortnite) or control (tactical games like CSGO). Size comes next - generally, you'll want as big as possible, although high DPI mice allow for smaller pads. Finally, consider the features like wireless charging for a Logitech Lightspeed mouse and RGB for that gamer look.
How much should I budget for a good mouse pad?
Entry-level mouse pads are available from around £10/$10 or less, and it's often possible to get them for free with purchases of other products or from a friend. A professional-grade mouse pad can be had for £20/$20, while fancier models made from more exotic materials, offering extra thickness or other features can cost anywhere up to £50/$50. Unless you have very particular requirements, we don't recommend spending more than £25/$25 on a mouse pad unless you're going for top-end components and peripherals throughout.
What do the pros use?
Esports pros in games like Counter-Strike, Fortnite and League of Legends tend to use relatively large mouse pads, thanks to their preference for lower DPI settings than the average gamer. For shooters, weapon choice also affects mouse pad size, with snipers generally using higher DPI settings (and therefore smaller pads) than riflers. Mouse pads from Zowie are the most popular choice for CSGO players, specifically the Zowie G-SR and G-SR-SE, with examples from SteelSeries (QcK Heavy, QcK+) and Logitech (G640) also proving to be common picks.
Got a question we didn't cover?
We'd be happy to answer it for you! Get in touch via the comments below, or for more reliable replies, use Twitter - @wsjudd. Thanks for reading all the way to the end and we'll see you on the next article!