Grab 4TB of NVMe SSD storage for just £203 in the Amazon Spring Sale
Crucial's P3 SSD is a strong performer for the money too.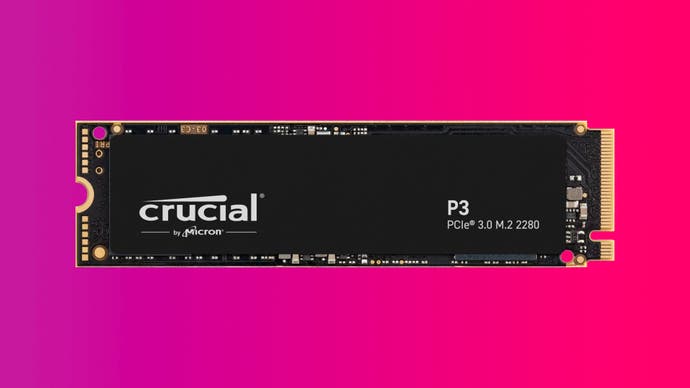 I'll cut straight to the chase with this one. The Crucial P3 PCIe 3.0 SSD in 4TB form is down to £203 in the Amazon Spring Sale at the moment, giving you the chance to grab a massive NVMe SSD for a lot less.
This price works out to around 5p per GB, which is an excellent price for high-speed PCIe 3.0 storage. Sure, it might not be as good value as spinning mechanical hard drives, which nowadays is three times cheaper, but the fact is that this P3 is a significantly faster and more reliable choice. With read speeds of up to 3500MB/s, it's no slouch and actually matches some of the more affordable PCIe 4.0 NVMe drives we've covered before, such as the Kingston NV2. Random IOPS figures are also impressive, at 650K/700K for reads and writes, which means that loading games off the P3 should be speedy, too.
As this is a PCIe 3.0 drive, the P3 works on a wider range of motherboards and laptops than PCIe 4.0 alternatives, and you should be able to install this drive into plenty of motherboards from years gone by and use it to speed up an older system that may still be running an HDD or even a SATA SSD that, at its very fastest, will be six times slower than the P3.
You could also just chuck the P3 into a spare M.2 slot you've got on your motherboard if you just want to add a shedload more storage to an existing system for cheap. 4TB of NVMe storage isn't too be sniffed at, especially given the amount of space on offer. I've always maintained that you can never have too much storage, and having an extra 4TB of capacity is rather useful for storing games or media on, especially if you've got a large collection of media and games, like I have.
Installation, as with any NVMe M.2 drive is one of the easiest things you'll ever do, as it's literally one screw - and on some motherboards, not even that! And as the P3 doesn't have any moving parts, it's also much more reliable and resistant to damage from magnets, drops, knocks and so on. Crucial rates the P3 to have an MTBF (mean time between failure) of 1.5 million hours, which is roughly equivalent to 171 years, meaning you're likely to give out before the drive does, and is just there to give you extra peace of mind about the reliability of the P3.
£203 for 4TB of NVMe storage isn't to be sniffed at, especially when it's on a drive as reliable and well regarded as the Crucial P3. Whether you're upgrading an older system or adding more storage into your own system on the cheap, this is an amazing deal and one of the best we've seen in the Amazon Spring Sale.
For more recommendations, check out our roundup of the best SSDs for gaming, and of course, if you're hungry for a wide range of deals on a wide range of gaming hardware, then be sure to check out our Amazon Spring Sale deals guide where you can find even more excellent discounts.