Kingston's 1TB NV2 SSD is back to just £49
A really low price for a terabyte of storage space.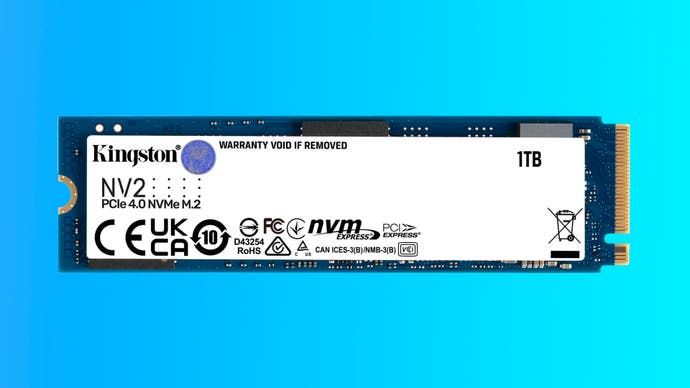 It's pretty cool that we can now get a terabyte of storage on a very small piece of tech, and that we also don't have to break the bank to do so.
The Kingston NV2 NVMe PCIe 4.0 SSD fits that description, as it's now dropped down to under £50 thanks to a better than half-price discount at Amazon:
Yes, for just £49 you can add 1TB of storage space to your PC, a pretty good upgrade for the cost especially for a PCIe Gen 4 drive.
US shoppers can also get the Kingston NV2 1TB SSD for cheap, as it's just $50 at Amazon US, you can find it here.
There are some caveats of course, the NV2's 3500MB/s read and 2100MB/s write speeds make it about half as fast as WD's SN850X SSD. That doesn't mean you won't notice a difference, especially if you're upgrading from a PCIe Gen 3 drive or older mechanical hard drives or SATA SSDs that max out at around the 550MB/s mark.
You can still game on the NV2 just fine, but due to it being a QLC drive that doesn't feature a DRAM cache, it isn't as suitable for intensive tasks such as video production. Of course, the sheer size for the cost make it a great choice purely for media storage and playback, but it's also a great option for an OS drive on a less-powerful machine.
It's really encouraging to see SSDs like the Kingston NV2 go under the £50 mark now. It might not be the flashiest drive around, or have a heatsink to help it keep cool or be compatible with a PS5, but it's got a big capacity, is reliable and well-reviewed.
If you want to know when other SSDs, microSD cards, and other storage components drop in price then make sure you're following the Jelly Deals Twitter where we let you know when we've spotted a big discount or a good deal pop-up.