This 55-inch Philips OLED at £989 is the best Black Friday TV deal so far
The same 4K panel as LG OLEDs, plus Dolby Vision, Ambilight and Alexa.
The best Black Friday OLED deal is for the Philips 55OLED754, the company's entry-level OLED model. The 754 OLED was released earlier this year for £1499, and since then it has gradually dropped to £1099. For Black Friday, it's breached the £1000 barrier, and now costs £989 at both Amazon and AO. It's rare to see a current-gen OLED for just three figures, especially one so fully-featured as the Philips 754.
So why is this 4K HDR TV worth buying? Most importantly, it's because it uses the same OLED panel as the LG B9 which costs £100 more. That means gorgeous colour reproduction, especially in HDR, plus nearly infinite contrast thanks to the perfect blacks possible with OLED tech. The 55OLED754 is also a good choice for gaming, with reasonable input lag (30ms), nearly instantaneous pixel response times and superb motion handling.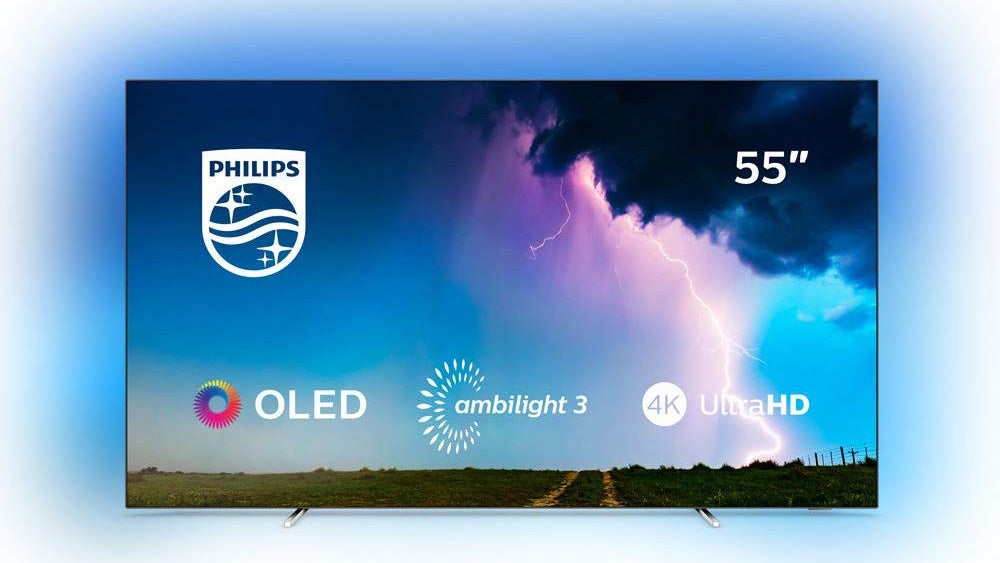 The Philips TV supports for the full range of HDR standards - HDR10+, HLG and Dolby Vision - so you'll be able to watch HDR content from almost any provider. Reasonably powerful 40W speakers with Dolby Atmos support are also included, so you're covered on the audio front too. The remote control even includes Amazon Alexa support, so you can ask your TV to play your favourite show without lifting a finger.
Philips' signature feature is also on board, Ambilight. This projects light on the wall behind your TV, matching the colour and intensity of whatever is on-screen. The effect is that your TV feels a whole lot bigger, with films and games becoming more immersive. Of course, this can be disabled if you prefer not to use it.
If you're planning on picking up a new console on launch (or upgrading to an RTX 3000-series graphics card when they debut next year), you may want to opt for a TV with more future-proof HDMI 2.1 ports like LG's critically acclaimed B9 or C9 OLEDs. The expanded bandwidth of the new ports opens the door to 4K 120Hz gaming, which could be incredible on the games that support it. However, if you're planning to upgrade again in the next three-ish years, then you can probably go without HDMI 2.1 for the moment. After all, there aren't any HDMI 2.1 sources at all right now, so adopting a wait-and-see approach could be for the best.
So, we reckon Philips 55OLED754 for £989 is the best OLED TV deal we've found so far this Black Friday - but what do you think? Let us know in the comments below - it's always good to know about other OLED options at the ~£1000 price point!
You should also check out our round-up of the best Black Friday 4K TV deals for more options, including the best budget TVs we've discovered so far. We've also got dedicated hubs for the best PS4 Black Friday deals, the Xbox One Black Friday deals and the Nintendo Switch Black Friday deals. So many deals, so little time...