AMD announces powerful new Threadripper 3960X and 3970X CPUs and new-socket TRX40 platform
Plus: the Ryzen 3950X release date and a $50 overclockable APU.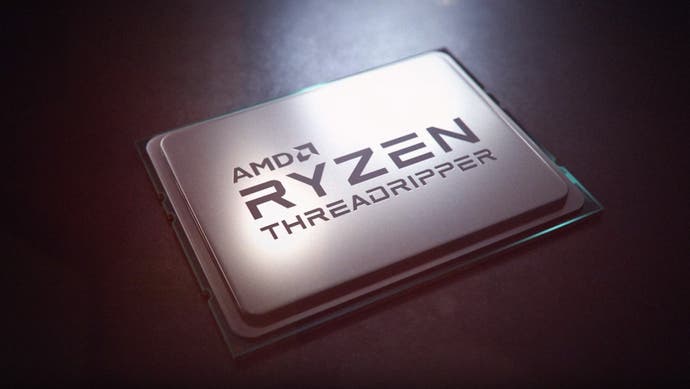 AMD announced two new processor families today, including the next generations of its Threadripper and Athlon processors, plus a release date for the long-awaited third-gen Ryzen flagship, the Ryzen 9 3950X. Here's what you need to know from the biggest set of AMD CPU announcements since the first Zen 2 processors were revealed earlier this year.
First up: the Ryzen 3950X. As we learned when it was announced at E3 2019, this high-end Zen 2 processor has an unparalleled sixteen cores and thirty-two threads. It should also be a powerful processor for gaming, with AMD quoting a maximum single-core boost frequency of 4.7GHz, with 72MB of combined L2 and L3 cache and a 105W TDP. Despite the modest TDP, AMD is recommending a 280mm or larger all-in-one liquid cooler for the 3950X. AMD's latest AGESA 1.0.0.4 microcode update is required for the new processor.
| | Cores/Threads | Base/Boost Clock | TDP | Price |
| --- | --- | --- | --- | --- |
| Ryzen 5 3600 | 6/12 | 3.6GHz/4.2GHz | 65W | $199 |
| Ryzen 5 3600X | 6/12 | 3.8GHz/4.4GHz | 95W | $249 |
| Ryzen 7 3700X | 8/16 | 3.6GHz/4.4GHz | 65W | $329 |
| Ryzen 7 3800X | 8C/16 | 3.9GHz/4.5GHz | 105W | $399 |
| Ryzen 9 3900X | 12/24 | 3.8GHz/4.6GHz | 105W | $499 |
| Ryzen 9 3950X | 16/32 | 3.5GHz/4.7GHz | 105W | $749 |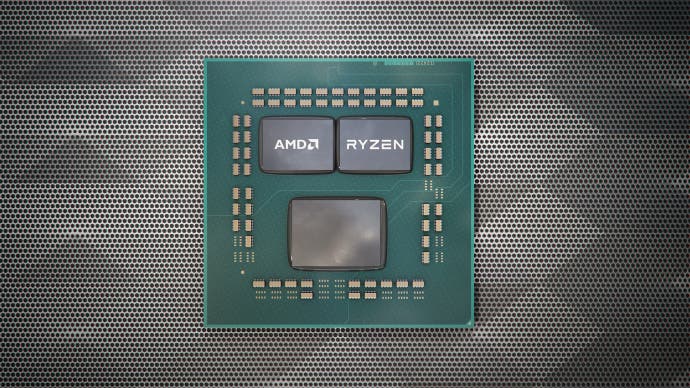 We'll perform our usual batch of game tests and benchmarks once the 3950X has reached us, but ahead of that AMD has provided some figures comparing the 3950X with Intel's consumer Core i9 9900K and professional Core i9 9920X in a variety of games. Each title was run at 1080p and high settings on a system running an RTX 2080 and 3600MHz of dual-channel G.Skill memory.
The 3950X performs marginally better than the 9900K in Fortnite, Hitman and Middle-Earth Shadow of War; about the same in Deus Ex Mankind Divided, Apex Legends and Devil May Cry 5; and slightly worse in GTA 5, Civilization VI and CS:GO. Annoyingly, the fps counts here are described as "up to" and no figures are provided for the Intel processors, so beyond a general sense of competence it's hard to glean too much.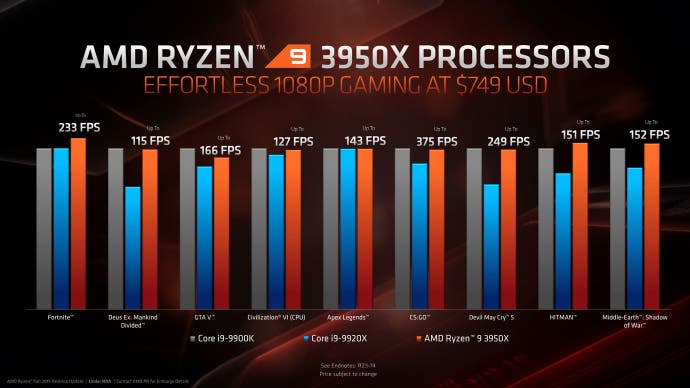 It's a similar story for content creation workloads, where AMD quote "up to" a 79 per cent advantage for the 3950X against the 9900K in Cinebench R20, 42 per cent in Adobe Premiere and 46 per cent in DaVinci Resolve. In every test, there's a significant gap between Intel's processors and the 3950X.
The processor should also draw much less power than the 9920X and slightly less than the 9900K; AMD's stats show around 173W from the wall for the 3950X, 205W for the 9900K and 304W for the 9920X.
AMD is also introducing an eco mode for the Ryzen 3600X and up, which reduces TDP with a corresponding drop in performance. For the 3950X, that should reduce temperatures by up to 7°C, reduce power draw by up to 44 per cent while retaining up to 77 per cent of performance. There are a whole lot of "up to" qualifiers in those claims, so expect some real-world analysis in our upcoming review.
So performance and power is interesting, but when is this chip going to be available and how much will it cost? Well, the 3950X debuts on November 25th and costs $750 in the US; UK and EU pricing has yet be revealed. By comparison, the 3900X retails at $500, the 3700X costs $330 and the 3600X retails for $250.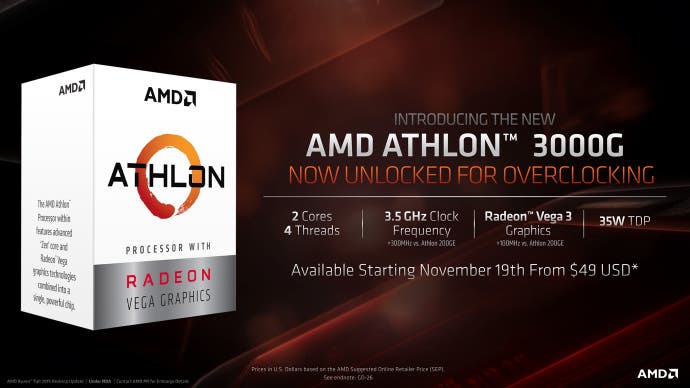 Next up is the Athlon 3000G, AMD's latest APU which combines processing and graphics into a single, low-cost AM4 chip. AMD claim that "for about $50 US, you can get an unlocked two core, four thread CPU with enough graphics performance that you can actually play a game." At 720p and low settings, this 3CU graphics solution is capable of generating up to 140fps in Rocket League, 63fps in Fortnite and 150fps in CS:GO - not bad.
Note that this is a Zen+ rather than a Zen 2 part, so there won't be a massive uptick in performance compared to the last-generation Athlon 200GE, but CPU clocks have risen 300MHz to 3.5GHz while GPU clocks have been increased 100MHz. More importantly, the 3000G is unlocked, allowing CPU and memory overclocking. Furthermore, despite being a 35W chip it actually comes with a 65W cooler, so there's thermal headroom there to play around, with AMD including a few figures from a 3.9GHz overclock. The 3000G releases on November 19th.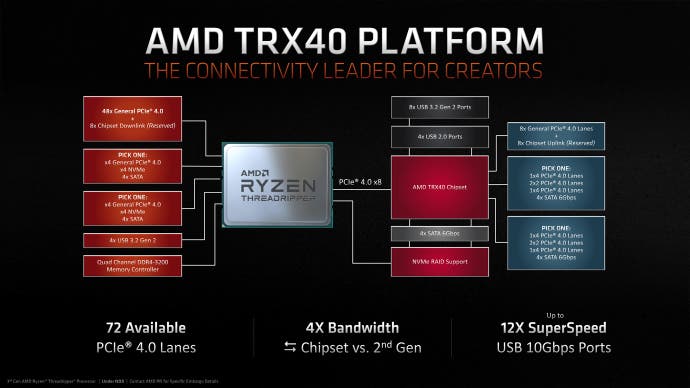 Third-gen Threadripper forms the final part of AMD's announcements, and includes two processors for now: the 24-core 3960X at $1399 and the 32-core 3970X at $1999. These chips include five dies, one I/O die and four processing dies. As part of the move from 12nm Zen+ to 7nm Zen 2, AMD is reporting a generational performance lift in the range of 40 to 60 per cent thanks to improved IPC, faster clock speeds and a larger cache.
Both chips operate between 3.7 and 4.5GHz and boast at least 140MB of combined L2 and L3 cache; you can see the full specs in the table below. As rumoured, these chips require a new platform, TRX40, and a new socket, sTRX4, as the pin count is the same but the pin layout has been changed, likely to support greater numbers of PCIe lanes. As well as the new chips requiring new boards, existing processors also won't work on the new motherboards - there's no backwards or forwards compatibility here. However, existing 250W or higher Threadripper coolers work on the new processors.
| | 2970WX | 2990WX | 3960X | 3970X |
| --- | --- | --- | --- | --- |
| Cores/Threads | 24/48 | 32/64 | 24/48 | 32/64 |
| Base Frequency | 3.0GHz | 3.0GHz | 3.7GHz | 3.8GHz |
| Turbo Frequency | 4.2GHz | 4.2GHz | 4.5GHz | 4.5GHz |
| Cache (L2+L3) | 76MB | 80MB | 140MB | 144MB |
| TDP | 250W | 250W | 280W | 280W |
| Process | 12nm Zen+ | 12nm Zen+ | 7nm Zen 2 | 7nm Zen 2 |
| Socket | TR4 | TR4 | sTRX4 | sTRX4 |
| Lanes | 60x PCIe 3.0 | 60x PCIe 3.0 | 72x PCIe 4.0 | 72x PCIe 4.0 |
| Launch Price | $1299 | $1799 | $1399 | $1999 |
In terms of performance figures, AMD has provided comparisons to the Intel Core i9 9980XE, with the 3960X ranging from 22 per cent to 54 per cent faster in compilation, transcoding and other tasks; the 3970X is 36 per cent to 90 per cent faster than the 9980XE in the same selection of workloads. As usual, take these manufacturer-provided performance figures with a grain of salt, but these are certainly impressive results if they accurately reflect to real-world performance.
We won't have too long to wait either, as the new Threadripper chips and TRX40 motherboards debut on November 25th, the same day as the 3950X. Second-gen Threadripper will remain on sale, likely at lower price points, to bridge the gap between the $749 Ryzen 9 3950X and the $1399 Threadripper 3970X.
So, there we have it - a new flagship Ryzen processor, a new budget APU and two new Threadripper HEDT CPUs on a new TRX40 platform. It's all exciting stuff, and we look forward to testing out these chips once they're available.