DICE cancels Battlefield 5's 5v5 mode
Retreat.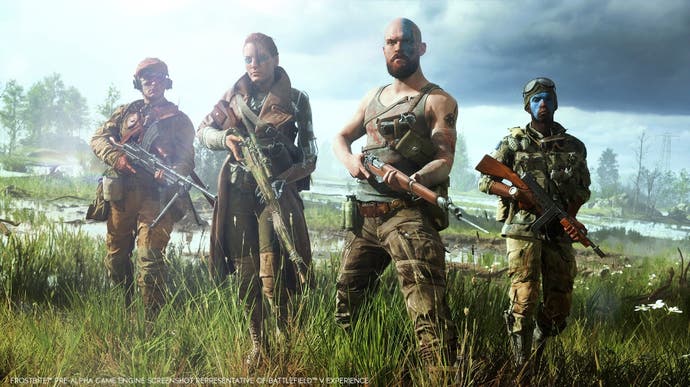 Battlefield 5's planned 5v5 mode is cancelled, DICE has announced.
In a post on EA's website, senior producer Ryan Mcarthur said the cancellation was a tough decision, but it took it in order to deal with bugs and release new content quicker.
"The added focus on improving the quality of the experience and adding more of the content you want has led us to step back from our original plans to offer a competitive 5v5 mode," reads the statement.
"Not creating this mode was a tough decision, but vital for us to more quickly reach our bug-crushing and content goals."
Mcarthur added: "This change in focus allows us to better deliver on our promise of new content that we know our players will love, as well as providing new ways to enjoy some of our more intense existing modes."
Reading between the lines, it sounds like the 5v5 mode failed to spark the interest DICE had hoped for, and it decided it would be better to focus on improving areas of competitive Battlefield 5 that already exist, rather than spent time and resources on building something new that might not have moved the needle.
5v5 always felt like it would have been an odd fit for Battlefield, which is known for its large-scale battles. The move was seen as an attempt to create something a bit like what you'd see in a Call of Duty game. Interestingly, the upcoming Call of Duty: Modern Warfare is expanded the close quarters multiplayer the series is known for with 10v10, 20v20 and potentially a mode for over 100 players.
As part of the announcement, Mcarthur discussed the current status of Battlefield 5, and said the next game update, 4.4, contains fixes for stuttering issues, desyncs seen on hitboxes, as well as some tweaks to the Commorose. (There's no word on a tweak to the Camaro.) Expect two new infantry maps and an increase in max rank.
Moving on to update 4.6, which is scheduled for release in September, DICE will launch the Operation Underground map on Conquest, Team Deathmatch, Breakthrough and Squad Conquest. Operation Underground is a reimagining of Operation Métro "and it's something that we're having a ton of fun playing internally".
"It's being worked on by the map's original creator, and while it absolutely has the familiar spirit of Métro which long-time fans will enjoy, the gameplay feels really fresh," Mcarthur said.
And beyond that, expect this:
"We will then turn our attention to the Pacific, the return to Iwo Jima, and two more locations that you'll deploy on this side of the holidays. This is going to be a huge update for us, with new weapons, vehicles, factions, and visuals supporting the new maps coming with this Chapter."