Devil's Third budget almost equal to all of Itagaki's previous budgets combined
Money no object for THQ?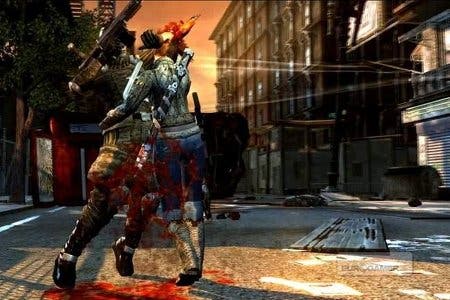 THQ's high-profile financial troubles might have resulted in the closure of studios and the cancellation of an unknown number of titles, but for one game on its books, money, it seems, is no object.
The budget for Devil's Third, the action game in development at the studio founded by Ninja Gaiden creator Tomonobu Itagaki, is close to the entire war chest for all his previous games combined.
That's more money for Devil's Third than all the money Itagaki had to spend for over 30 titles.
"The one thing that's completely different between the Eastern publisher and Western publisher is the budget. I've made more than 30 games, and if you put a little bit more [money] into the one I'm making now, Devil's Third, I could make all of the 30 games I made before. That's the big difference. The budget you use for the promotion is completely different too. Those are the biggest differences.," he told Game Informer.
Earlier this month THQ announced a round of job cuts. An SEC filing logged by the publisher detailed a comprehensive "restructuring plan" that would see "up to" 240 personnel let go.
"Selling, general and administrative" departments were all affected. There was no mention of developer cut-backs at THQ's internal studios, however.
"The majority of the restructuring plan is expected to be implemented by March 31, 2012, with the remainder completed by September 30, 2012," read the filing.
That news came after THQ had been threatened with a Nasdaq stock exchange delisting over its falling share price.
In January THQ denied cancelling its 2014 line-up of games - but the future of ambitious Warhammer 40,000 MMO Dark Millennium Online remains uncertain.
THQ cancelled Company of Heroes Online and WWE Online last year, axed its kids boxed games business, and has refocused on "high-quality core games".
Projects THQ has in development are: Darksiders 2, Metro: Last Light, the Obsidian South Park RPG, Devil's Third, a new game from former Assassin's Creed head honcho Patrice Désilets, and Guillermo Del Toro collaboration Insane. The publisher is also rumoured to be making Dawn of War 3 and Company of Heroes 2. A Space Marine sequel is on the cards as well.
Last year, THQ bet big on Homefront, but it turned out poorly, and developer Kaos Studios was closed.
A Homefront sequel is planned to right the wrongs of the first game, and is in development at Crysis 2 multiplayer studio Crytek UK.
As for Itagaki, he's not worried about THQ's financial position - indeed he insisted Devil's Third is still on for a 2013 release.
"Of course there are some changes but there is no problem," he said. "It's the same as before."