Destiny: The Taken King promotional Red Bull quest and bonus XP detailed
UPDATE: North America only. 30-minute XP buff for every can you drink.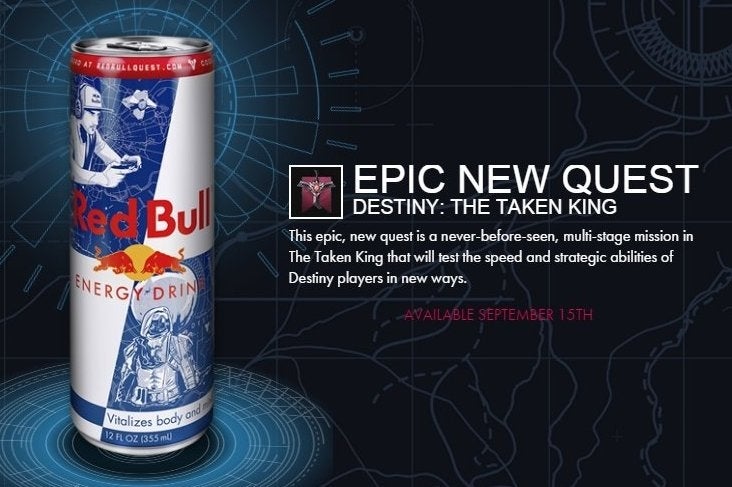 UPDATE 24/06/2015 8pm: "Activision has confirmed to EG that the Red Bull promotion is limited to North America."
ORIGINAL STORY 24/06/2015 4.27pm: Activision and Red Bull have detailed the exclusive in-game quest and bonus XP buffs for upcoming Destiny expansion The Taken King that players can unlock with packs of the energy drink.
For now this seems to be a US-only promotion, but we've asked Activision if it will also roll-out here in the UK.
Each promotional can of Red Bull will contain a code for one Focused Light consumable, which increases in-game XP gain by 50 per cent for 30 minutes.
Red Bull drinkers will be able to start redeeming these codes via quest.redbull.com from 1st July.
There will also be an "epic" new quest for Destiny: The Taken King to "test the speed and strategic abilities of Destiny players in new ways".
Quests are mini-missions in the game that usually only equate to a few minutes of gameplay.
This particular quest will become available to Red Bull purchasers on 15th September and will remain exclusive until 31st December of this year.
The fact that Activision and Red Bull have revealed the full details of this promotion today comes as something of a surprise. The existence of a Red Bull and Destiny tie-in has been known for a while (it was actually one of the first places we saw The Taken King named before Bungie officially revealed it), the timing of this announcement is sure to raise eyebrows among the Destiny community.
This week has been a turbulent one for Destiny's loyal playerbase, after the controversy surrounding The Taken King's pricing and special editions.
And despite word of extra Destiny content for all platforms when the game's Sony timed-exclusive items arrive on Xbox, details of exclusive items for Red Bull purchasers now leave Bungie with only more questions to answer.
The developer has said it will talk more about how it will "honour" players that have played Destiny during its first year on sale in the weekly Bungie update, due online tomorrow.