Demo Derby-style Dirt Showdown announced
Coming May 2012, to complement Dirt 4.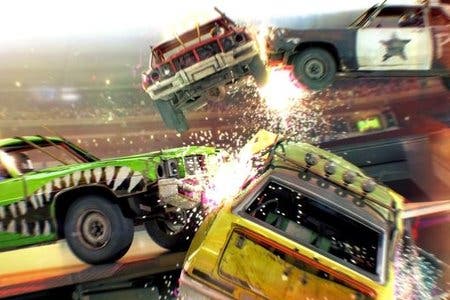 Codemasters has Demolition Derby-style racing game Dirt Showdown. It's due out for PlayStation 3 and Xbox 360 in May 2012.
This is an additional release in the Dirt series - there will still be a Dirt 4.
As such, Showdown is free to pursue new things - things like smashing and crashing, gymkhana, pyrotechnics and screeching crowds.
There's stunt-focused racing, standard racing and demolition-obsessed racing. The simple goal of one demolition races is to smash every other car on the track. Lovely.
Handling has been simplified. It allows stunts - one of the pillars of Showdown - to be performed more easily.
Modes are available offline, in single-player or split-screen, and online, in multiplayer for up to eight people.
Showdown also has multiplayer challenge features that work in a similar way to the renowned Autolog system from Need for Speed: Hot Pursuit.
There will be three types of vehicles to pick from: racing (includes muscle cars, SUVs), Hoonigan (includes Ken Block's Fiesta) and Demolition (strong, powerful vehicles).
There's a video of Dirt Showdown on GameSpot.