Razer Edge gaming tablet transforms into PC, console and mobile console
Is this your everything machine?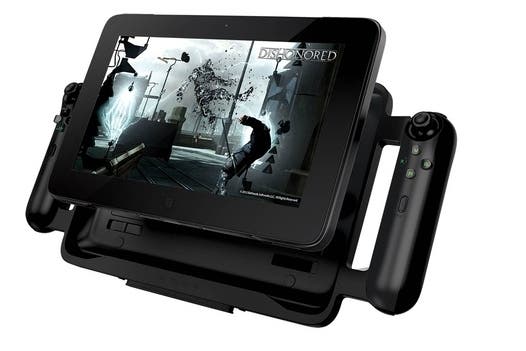 Behold Razer Edge, a Windows 8 tablet powerful enough to play all current PC games and boasting a nifty array of peripherals capable of transforming it from tablet into home console, mobile console and desktop PC.
With nothing attached it looks and behaves like a tablet; with a keyboard dock it behaves like a PC; with two cylindrical rumbling controllers attached either side it behaves like a mobile console; and with a docking station it behaves like a console.
It's "the world's first tablet designed for PC gamers", if you listen to Razer, and "the most powerful tablet in the world". It was also known as Project Fiona last year.
There are two Razer Edge models: the Edge and the Edge Pro. Prices start at £650 for the Edge, and Pro prices go up to £1000. They're due Q1 2013, but only in the US.
Digital Foundry's motherboard Richard Leadbetter had this to say:
"What separates the Razer Edge from other high-end Windows tablets - aside from its various peripheral add-ons - is the inclusion of the Nvidia Kepler graphics core. We've seen a similar combination of Intel ultra-low voltage CPU and GeForce GPU before in the Acer Aspire Ultra M3, where we witnessed some surprisingly strong performance: Battlefield 3 ran well at medium settings, Crysis 2 played nicely at very high while Skyrim was smooth even on the high graphical preset.
"...future PC releases may struggle to run well on it."

Richard Leadbetter, Digital Foundry
"However, while the Acer features the standard GeForce 640M, the Razer has the 640M LE, which sees clock speed diminish by 20 per cent, which will undoubtedly impact performance significantly. This should be a worthwhile games machine and the base $999 price-point sounds pretty reasonable, but future PC releases may struggle to run well on it."
Gizmodo had a go on the Edge Pro at CES. First impressions: it's a bit fat but it's shaped and built well and feels light. Of the accessories, the two "mobile console" controllers added "a good bit of heft" and the keyboard (not out until Q3) had keys that felt a bit small. No mention of the dock.
Performance wasn't bombastic; Rift was running on low settings although Dishonored was "flawless" and Dirt Showdown "totally fine". But apparently performance "totally blew away" that of the Dell Ultrabook and MacBook Air.
Steam's Big Picture worked "flawlessly".
But more importantly, Gizmodo thought the Razer Edge Pro had enough quality - with the keyboard - to be considered as "your everything machine".
Razer Edge Pro specs:
Processor: Intel Core i7 Dual core w/ Hyper Threading Base 1.9GHz / Turbo 3.0GHz
Memory: 8GB DDR3 (2x4GB 1600MHz)
Video: Intel HD4000 (DX11), NVIDIA GT 640M LE (2GB DDR3, Optimus Technology)
Display: 10.1" (IPS, 1366x768), 10-point capacitive touch
Operating System: Windows 8
Storage: 128/256GB SSD (SATA-III)
Network: Intel WLAN (802.11b/g/n + BT4)
Others: Stereo speakers, Codec supports 7.1 (via HDMI), HD Webcam (front-facing, 2MP), Array microphones, Dolby Home Theater v4, USB 3.0 x1 (green, SuperSpeed), Audio jack (3.5mm, 4-pole, stereo out / mic in)
Razer Edge specs:
Processor: Intel Core i5 Dual core w/ Hyper Threading Base 1.7GHz / Turbo 2.6GHz
Memory: 4GB DDR3 (2x2GB 1600MHz)
Video: Intel HD4000 (DX11), NVIDIA GT 640M LE (1GB DDR3, Optimus Technology)
Storage: 64GB SSD (SATA-III)
All the other stuff is the same as the Edge Pro