Razer unmasks Project Fiona
It's a dedicated PC gaming tablet.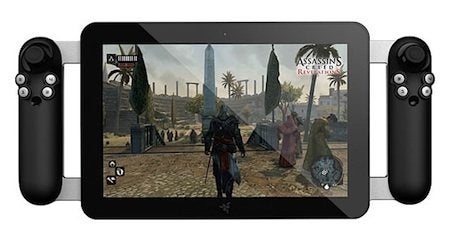 Gaming hardware specialist Razer has taken the wraps off the mysterious Project Fiona - it's an ambitious PC gaming tablet.
As seen at the CES show in Las Vegas this week and pictured below, the device features integrated dual controllers, a multi-touch screen, in-built accelerometers and a custom-built hybrid user interface.
More precise tech specs are currently thin on the ground, but Razer confirmed it will be powered by an Intel Core i7 Ivy Bridge processor. Similarly, battery life wasn't mentioned.
Its announcement insists that the tablet is capable of running current generation PC titles, as well as any other titles built with a touch screen in mind. Developers won't have to modify their games to run on the device but will have the option to include additional functionality should they see fit.
According to Engadget, the hardware manufacturer hopes to launch in either Q3 or Q4, at a price point below $1000.
"While multi-touch screens have become the de facto user interface for tablets, they are not the right interface for serious PC gaming," scommented Razer CEO Min-Liang Tan.
"The user interface we have designed for Project Fiona allows all existing PC games to be played right out of the box and also provides game developers new opportunities as they develop next-gen games on a highly-intuitive platform.
"Both developers and gamers are going to love the new user interface that combines the best of a gamepad, multi-touch screen and accelerometers for an all-new gaming experience on-the-go."