Data miners think they've uncovered evidence of NPCs coming to Apex Legends
Spider better not be an actual spider.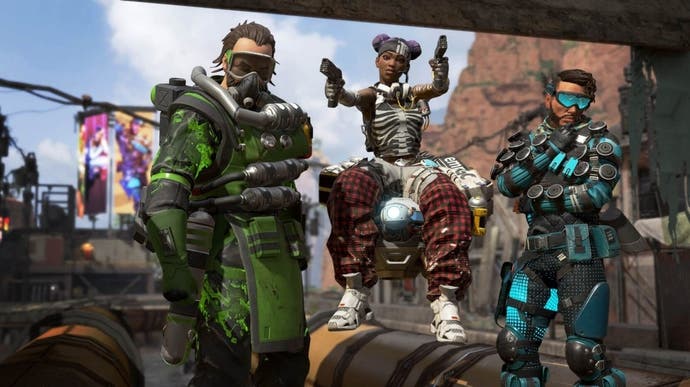 Data miners pouring through the back end of Apex Legend's recent update have discovered what appears to be clues about yet-to-be-announced weapons, a night mode, and NPCs.
Just like the Havoc energy rifle that was first unveiled by people rummaging around in the back end, Twitter account RealApexLeaks has reportedly located details of a remote turret and flamethrower. It's unclear if the weapons will be up for grabs for the general populous or restricted to certain legends; maybe the rumoured Octane or Wattson.
So, here's the reported evidence of the new weapons (thanks, Dexerto):
And here's the code about a night mode:
It's talk of NPCs that's fascinating me most, though. The tweets raise more questions than they answer - Will they be in training only? Is this to cut down matchmaking times? Is there a new mode in the works? - but names seemingly include Spider, Goliath, and Prowler.
Of course, there's no official word as yet from Respawn, so until then, we need to take this with a healthy dollop of salt.
Respawn has declared war on Apex Legends cheaters - although don't expect the developer to reveal its plan of attack. In a post on reddit, Respawn community manager Jay Frechette said the makers of the brilliant battle royale have banned over 355,000 players on PC alone through Easy-Anti-Cheat.