Darksiders 2 bonus gear unlocked by playing its predecessor
"Legendary" armour and scythe.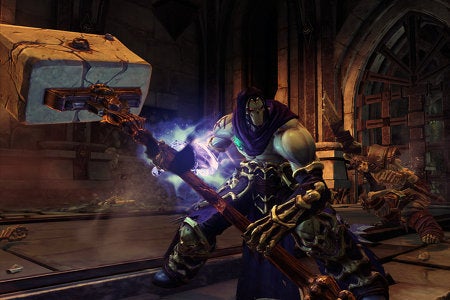 Darksiders 2 will reward players who've played the its predecessor by rewarding them with extra equipment, publisher THQ has announced.
Simply by playing the first game you'll receive a level five legendary armour piece called the Pauldron of the Horsemen that boosts all of Death's stats and critical damage in Vigil's sequel.
Those who completed the original game will get the Chaos Fang, a snazzy scythe that increases Death's damage.
Darksiders is available both on disc and as a full digital download on Xbox Live, PSN and Steam.
Our Christian Donlan previewed Darksiders 2 and quite liked what he saw. "Darksiders never hides its many influences. It continues to wear them proudly, in fact: choice pieces of shiny armour dropped by some of the very best in the business," he wrote.
Darksiders 2 is due later this year on Xbox 360, PS3, Wii U and PC.