Dark Souls 3's Ashes of Ariandel DLC is out early on Xbox One
UPDATE: Not anymore. But the release has been brought forward a few hours.
UPDATE 24/10/2016 4.49pm: Dark Souls 3's Ashes of Ariandel DLC is no longer available early for Xbox One players, as it was released by accident.
The good news: it will be out slightly earlier now for everyone.
As per the following statement Namco Bandai sent Gamespot, Ashes of Ariandel is now due today at 3pm PST (11pm UK time) on Steam, and 9pm PST (5am UK time) for console.
"Due to a logistical error, the Dark Souls 3 Ashes of Ariandel DLC was made available for download for a short period of time for Xbox One players. We have since corrected this scheduling error and the Dark Souls 3 Ashes of Ariandel DLC will now be available on October 24, 2016 at 3 PM PDT for Steam players and October 24, 2016 at 9 PM PDT for console players. We regret any confusion this may have caused to players and Dark Souls 3 fans; we look forward to seeing everyone within the world of Ariandel."
If you're already playing, then consult our full Dark Souls 3: Ashes of Ariandel guide and walkthrough if you need a hand.
Original Story 21/10/2016 8.54pm: Dark Souls 3's Ashes of Ariandel DLC isn't supposed to launch until 25th October, but Season Pass owners on Xbox One have been able to download it early.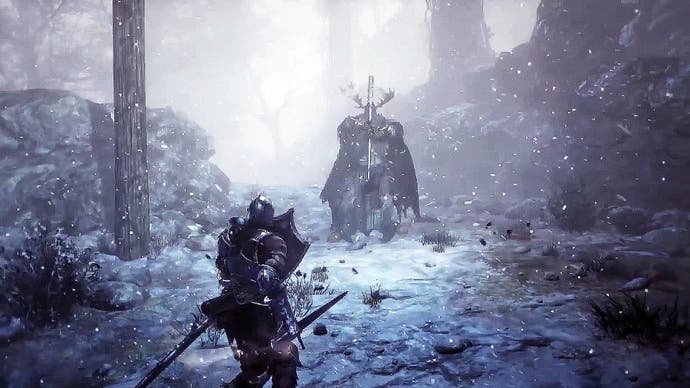 As widely reported on Reddit and the Dark Souls 3 FextraLife Wiki, the early download seems to work for everyone with an Xbox One, no weird trick required.
Some early sources said they needed to boot the DLC up in offline mode, but now word is it works just fine online.
So long as you have the Season Pass, the new content should immediately start downloading. You'll first receive an 850MB update, then the actual DLC, which is 1.5GB.
To access Ashes of Ariandel, you'll have to warp to the Cleansing Bonfire at the Cathedral of the Deep, an area unlocked in the game's first quarter or so. There will be an NPC there that offers access to the new content.
A couple of Redditors noted that they were unable to access the DLC after having slain every boss, as the new NPC wasn't there, but others who'd made similar progress found him no problem, so your mileage may vary. Worst case scenario, it doesn't take very long to reach the Cathedral of the Deep should you be re-playing the game.
I played an hour of Ashes of Ariandel last month at Namco Bandai's Tokyo HQ and found it "stands up to the best of Dark Souls 3's content." Here's hoping the full package holds true to that. I've yet to try its new PvP arena. Sounds exciting.