Dark Knight Rises' Bane cast as Sam Fisher in new Splinter Cell movie
Does he have the conviction?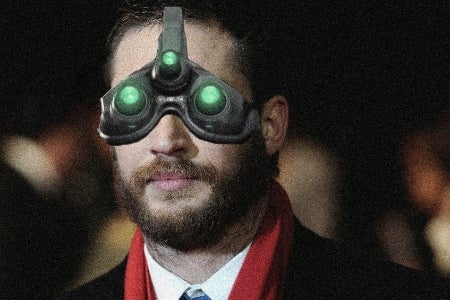 The Dark Knight Rises and Inception star Tom Hardy has been cast as the lead character in Ubisoft's new Splinter Cell movie.
Hardy will play Sam Fisher in a story scripted by Eric Warren Singer, who penned 2009 Clive Owen thriller The International.
The news follows Ubisoft's recent signing of Inglorious Basterds star Michael Fassbender for the upcoming Assassin's Creed film.
The Splinter Cell movie is still early in production, Variety reports, without a studio or director attached.
"Tom Hardy is currently one of the biggest talents in the film industry, and he has a phenomenal ability to take on complex and varied roles with his broad range of acting skills," Ubisoft Motion Pictures boss Jean-Julien Baronnet said. "His involvement in the 'Tom Clancy's Splinter Cell' movie is exciting news for movie and video game fans alike.
"Meanwhile, Eric Singer is one of the most talented writers of the moment, and we're confident he'll bring a fresh approach and create a thrilling story while still respecting all the codes and traditions of the franchise that are so important to fans."
Ubisoft's Assassin's Creed film is scheduled to shoot next summer. Tom Hardy's take on Splinter Cell's goggled hero is likely not far behind.