Cult classic murder mystery Deadly Premonition is now backwards-compatible on Xbox One
So says Mr. Stewart.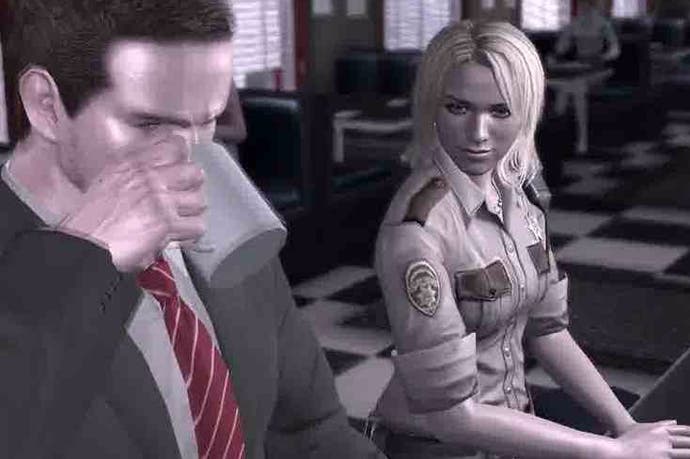 Cult classic murder mystery Deadly Premonition is now backwards-compatible on Xbox One.
That, according to the few moments I just spent cutting and pasting games into a spreadsheet, now brings the number of Xbox One compatible Xbox 360 games up to 452.
Directed by Hidetaka "Swery" Suehiro (who recently attempted, unsuccessfully, to raise money for new game The Good Life), Deadly Premonition is a small-town murder mystery that's heavily, and unabashedly, inspired by David Lynch's seminal Twin Peaks. It's part detective thriller, part open-world adventure, part survival horror, and is, to put it mildly, a little rough around the edges.
It's mostly ugly, often awkward, and occasionally downright boring, but also unexpectedly ambitious for such a low-budget title, and almost always endearing.
You can do actual, real police work for one thing, tailing any one of the town's quirky citizens as they go about their daily routine; you can grow a beard, play darts, fish, run errands for the locals, or listen to protagonist Francis York Morgan's lengthy ruminations on the classic genre movies of the 80s - which may well be one of my favourite things in all of gaming. What's more, it's surprisingly touching - when it's not obsessing about sandwiches, of course.
If you already own the original disc version of Deadly Premonition, you just need to pop it in your Xbox One to play, and digital copies will automatically show up in the "Ready to Install" section on your console. A cursory glance at the Xbox Marketplace also suggests that you can still buy it if you've yet to experience the game's idiosyncratic splendour.
Reviewing the Director's Cut in 2013, Oli Welsh said, "it's worth suffering Deadly Premonition's rickety construction and lumpy pacing for York, and for Greenvale [...] It's an authentic and unselfconscious game, and the laughs, pathos and charm it possesses are real".